Excerpted from 'George Steinbrenner's Pipe Dream: The ABL Champion Cleveland Pipers' by Bill Livingston. Published by Kent State Univ Pr. Book can be purchased online at Amazon.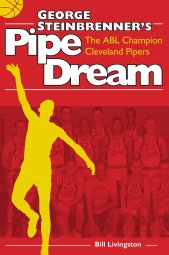 The Cleveland Pipers were an American industrial basketball team that played in the short-lived ABL. New York Yankees legend George Steinbrenner got his start in pro sports ownership there.
The Pipers' signing of Jerry Lucas was an astonishing triumph, which even at the time bore the seeds of an appalling defeat. It was based on George Steinbrenner's shrewdness and vision, but it was doomed by his deceptions and history of financial struggles. It was a necessity for leaving the crumbling ABL, joining the NBA, and bringing throngs of fans through the "Jerry-built gate," as the Plain Dealer's Jimmy Doyle punned of the Pipers' prospective attendance boom.
So high were the stakes for admittance to basketball's major league, however, that paychecks were expected to be punctual, irregularities at the banks rectified, and sweeping promises reinforced by the one thing on which Henry Steinbrenner was not going to release his grip – the family fortune.
Signing Lucas made George Steinbrenner the wonder of the basketball world. It got him to the last stride before the final hurdle. In order to clear it, George came close to forming a "super team" with the best players from the Steers and the Pipers, plus Lucas. He almost beat bigger odds than anything Henry ever encountered either in the hurdles of his youth or the shipping storms and treacherous shoals of his maturity.
But so shaky were the underpinnings of the deal that, when it shattered, it left George Steinbrenner $250,000 in debt and the Pipers and their investors with over half that in losses. It revealed Steinbrenner to be just what the Cincinnati Royals had charged he was – a man whose word you could bank on, as long as you put up the money.
The collapse of the Pipe dream left the ABL unable to prolong a wounded second season past New Year's Eve in 1962. It made Lucas the equivalent of a free agent, but it also called into question his truthfulness and the business acumen of his Columbus adviser, Joe Hardy, in agreeing to the deal in the first place.
Cleary had long harbored at least a few doubts about Lucas, whose class rank, said Ohio State coach Fred Taylor, was in the top 4 percent of the School of Commerce. "Studies were easy for Lucas because he had what amounted to a photographic memory," Cleary said. "And there's a lot of memory work involved in college."
The negotiations with Steinbrenner eventually left Lucas with his own sense of moral rectitude intact, although others felt it had been compromised. His deal with Steinbrenner gave him little else. "I never saw any of that money," he said.

Steinbrenner began laying the groundwork for the deal at the same ABL meetings late in the regular season in which indecisiveness about the Finals playoff format led to such controversy. At the meetings, Steinbrenner, the openly mutinous owner of a team that faced expulsion after trying to break away on its own terms, dictated the schedule and travel arrangements for the next season. Even by the loose standards of the ABL, he would seem to have been a strange leader to follow. But such was the personal magnetism of Steinbrenner that again he pulled it off.
"George was the type of guy that you had confidence in him because he was so self-confident in himself," said the Rens' Gordon. "When he did or said something, in his mind he was 100 percent right."
Steinbrenner wanted a schedule reduction to 65 games. This clearly was an inducement to Lucas, who had been troubled by his knees, even before a sprain limited him severely in Ohio State's second straight national championship game loss to Cincinnati.
The next ABL season would begin on Thanksgiving Day in 1962 or in early December. Lucas was slated to be in school, working on his degree, until December. The schedule would also consist mostly of games within the division to contain travel costs.
Speaking at the Central YMCA banquet in Cleveland on April 10, Lucas said of Cincinnati's three-year $100,000 offer, which included a new car, "I told the Royals I wasn't interested in their offer. It wasn't interesting to me in any fashion. I haven't changed my mind about pro basketball. I still don't want to play it."
"You won't get this boy with money," Steinbrenner said dismissively of the Cincinnati sales pitch.
Details of what the Pipers were planning to pique Lucas's interest quickly leaked to the press. It reportedly included about $100,000 in salary for three seasons, which Steinbrenner refuted, saying, "I'm not even thinking in terms of three years." That was true, but the reports were otherwise accurate. The Pipers offered options to buy lucrative stocks, provide an executive job with a company that could position Lucas for a business career after basketball and pay for his education.
"Lucas's contract is the most attractive offer I have ever seen," Sharman told Sudyk. "It overshadows any contract held by Wilt Chamberlain, the best-paid performer in pro basketball."

On April 11, a victory salute to the champion Pipers was held at the Hickory Grill in downtown Cleveland. Barnett received the biggest ovation. During the festivities, Steinbrenner said he had locked up a basketball lease with the Arena. He also said he was "leaning to the ABL" as a future home for his team, despite the persistent rumors of a merger with Syracuse. But Syracuse was now several exits back down the highway to basketball heaven that the NBA represented to Steinbrenner. He was heading there like a human calliope, pealing with empty promises, steam-driven by his own hot air.
For his part, Lucas had dropped out of college in order to pay the bills married life had brought. He had arranged roughly 50 speaking engagements around the state, for $50 to $100 per speech. Lucas's determination to speak to high school players in an attempt try to teach them his own values had already cost him $15,000. Saperstein had offered the money to play with the U.S. All-Stars on a tour against the Globetrotters.
Lucas instead formed a barnstorming team from his teammates at Ohio State, including John Havlicek, Mel Nowell, Bob Knight, and Joe Roberts, who played a 10-game schedule against semipro teams in the state. The "Fabulous Buckeyes" opened by overwhelming a Newark, Ohio team 121–49. Lucas's schedule of semipro games and his travel to Cleveland, Canton, Bucyrus, and other towns to give speeches were proof that neither he nor his wife, Treva, was born to wealthy parents. They needed the money.
Increasingly, it was apparent that Lucas wasn't all that unshakable in his refusal to play pro basketball. He met with Mark McCormack, who represented professional golfers Arnold Palmer and Gary Player and would found International Management Group, the Cleveland-based sports marketing conglomerate that would become a global force in player representation. Afterward, Lucas denied any agreement with the agent, sticking to his mantra that he didn't know what he was going to do.
Sudyk concluded on April 6, 1962, "Despite all his public statements, Jerry Lucas, three-time All-America from Ohio State, will play professional basketball." Included in the story was the possibility that Lucas's signing with the Pipers, which Sudyk rated as no better than an "outside chance," could lead to an NBA invitation and to the Buffalo Bills' Ralph Wilson finalizing his purchase of the team at last.
Characteristically vague, Steinbrenner would say only that "Ralph's share of stock is different, but nothing's definite."
So strong was the interest in all things Lucas that Lebovitz in his "Ask Hal" feature in the Plain Dealer fielded a question about why Lucas wore plain white socks at Ohio State although his teammates wore socks with two vertical scarlet stripes. The stripes were actually a baseball-style stirrup, which, Lebovitz said, made Lucas's arch feel uncomfortable.
The socks were elasticized and were also objectionable because of the "tension" they put on in his lower legs with their snug fit. "Would you say he's lessened his sox appeal?" Lebovitz asked.
In the meantime, the Fabulous Buckeyes were playing up to their name. In a game against the Akron Tramonte Black Label team, which was bolstered by three Pipers – Cox, Barnhill, and Warley as well as former Piper Grady McCollum, he of the halftime trade to Hawaii – the Fabulous Buckeyes won,79–73. Lucas, although reportedly 20 pounds underweight, scored 37 points. The four ABL players combined for 42.
That game and victory in an invitational tournament in Charlestown, West Virginia, helped prove to Lucas that the pros were no tougher for him to master than numbers in a telephone book were to memorize.

Cobbledick said in the April 21 Plain Dealer that no decision was expected from Lucas for at least six weeks. It took only three and a half. On April 30, Lucas met with the Pipers, after which a confident Steinbrenner said, "It's like no other contract which has been presented to an athlete. Jerry is very impressed, and we are very impressed with him."
After lunch at the Union Club, Steinbrenner made his formal offer at the Cleveland Athletic Club.
In what today would be called his "q score," meaning the familiarity a target audience has with a celebrity or product, Lucas ranked very high.
Strangers greeted him warmly on the streets of downtown Cleveland and urged him to sign with the Pipers. In touring the Cleveland waterfront, Lucas amazed Steinbrenner by chatting with a Japanese sailor in the seaman's native tongue.
After a tour of prospective apartments in the West Side suburb of Rocky River, Lucas and his wife headed back to Columbus. Steinbrenner said Lucas had been the Most Valuable Player of the West Virginia semipro tournament. "He seems to be getting excited about basketball again," said Steinbrenner.
On May 12, Lucas said he would reveal his plans by the end of the week.
On May 14, he played golf with Royals' executives.
On May 15, he signed with the Pipers.
Exactly what kind of a contract with what riders and stipulations would be a matter of controversy, but it seems clear that the first agreement was with the Pipers and Steinbrenner, with the understanding that the team would play in the ABL.
By signing a name as big as Jerry Lucas, Steinbrenner foreshadowed the American Football League's New York Jets signing of Joe Namath on January 2, 1965.
The problem was that Steinbrenner's coup occurred in the neglected backwater of pro basketball, not in pro football, a telegenic sport that was growing quickly in popularity with the presence of a TV set in almost every American home.

Lucas gave the story of his signing to Sports Illustrated because he had become close to the magazine's writers, who had virtually lived with him for the Sportsman of the Year story. LeBron James, 52 years in the future, revealed his return to the Cleveland Cavaliers on the SI.com website to a writer at the magazine, Lee Jenkins, with whom he had grown close.
Steinbrenner had begun his pitch by talking about education, Lucas revealed in the story. George was well aware that such emphasis was how Ohio State beat out 150 other schools for Lucas's services.
The Pipers promised a 70-game schedule, according to the Sports Illustrated story. Apparently, like the 76-to-83-game schedule played by ABL teams in the league's first year, the revised schedule – of maybe 65 games, as Steinbrenner wanted, or maybe 70, as the magazine said – was expanding or contracting as the situation warranted.
The aim was that the season would not begin until Lucas finished school in December. The contract was for two years, not three, giving Lucas more leeway to plan for whatever the future held. The stock and investment portfolio alone "virtually assured me an income for years," said Lucas.
All in all, the investments were worth $40,000 and Lucas's salary was to be $10,000 per year. The $60,000 "adds up to far less than the Cincinnati offer," Lucas said. "But to me it is much more in long-range terms."
Lucas said he felt the Pipers would draw better with him on the team. (How could they not?) He also said Steinbrenner had showed him the books, and that the team lost $170,000 on the season.
The Pipers were also pursuing Havlicek. There was even a parenthetical insert in the story by Sports Illustrated editors: "(Teammate and fellow All-America John Havlicek will probably join Lucas at Cleveland. –ED)."
This was either an early instance of the infamous "Sports Illustrated jinx" or another in a long list of might-have-beens for Cleveland sports fans.
Addressing his responsibility as what would decades later be termed a "role model," Lucas said he had conflicting ideas to the very end about playing professionally. He had been told many times over the last six weeks by parents he didn't even know that they wanted their boys to grow up to be like him.
"On the one hand, I felt I should not [turn pro], because you can set an example for children by showing them there are many more important things than money," said Lucas. "On the other hand, I have come to realize how quickly I would be out of the public eye if I did not continue my athletic career, and how I would consequently be less able to achieve many of the things with youth and youth organizations that I hope to."
This was the same argument the Press's Gibbons had advanced earlier.
Many of these quotes appeared verbatim – the Fabulous Buckeye's memory was at work again! – in Cleveland newspaper stories after the Pipers' own press conference at the Pick Hotel.
"Sports Illustrated offered [Lucas] a sizable sum of money," wrote Heaton, meaning for the exclusive story of his decision, "but in a truly Lucas gesture, he told them to use the money to send magazine subscriptions to orphanages. That's the type of fellow the Pipers will have going for them in the title defense next winter."
The payment, according to Columbus Dispatch sports columnist Paul Hornung, was $500. Hornung, setting the cynical tone for his column, called the gesture "noble – and a pretty good deal for SI."
The coverage of Steinbrenner in Cleveland was effusive. The stormy team president announced he would soon be stepping down as president.
Years later, the nicest thing a Plain Dealer profile of him could say was that his image "took a pasting" as Pipers' president. But it was peaches and cream after the Lucas signing.
"It seemed to be a publicity stunt," Heaton wrote in a "Pinch-Hitting" column for the vacationing Cobbledick. "Those who scoffed at the Pipers' audacity forgot one thing. George Steinbrenner is a master salesman and he has been selling young men for a long time."
Heaton then referred to the "Bay Village squire" and his recruiting successes in the Cleveland area for Purdue, where Steinbrenner had been an assistant football coach.
Heaton ended the column triumphantly by saying that with Lucas "Cleveland has the two top college personalities of last season. Ernie Davis is already in the Browns' fold, with Art Modell, another young salesman, beating the Buffalo Bills."
Two athletic celebrities of similar magnitude would not be in Cleveland at the same time again until 2014, with the return of James and the Browns' drafting of Johnny Manziel.
"Signing of Lucas Is Job Well Done," read the headline on Gibbons's column in the Press.
"Almost as interesting as Lucas in this modern success story is Steinbrenner, the embattled president of the Pipers," wrote Gibbons. "He admits he is stepping down ('There's a new man coming in as president – someone who will present a better public image than I've been') immediately following his greatest victory."
The same recruiting success Heaton praised in regard to Purdue had saved Steinbrenner with the Pipers.
"Steinbrenner has done a multitude of things wrong in the operation of the Pipers, but this one he did exactly right. Lucas is getting him off the hook, even if he may not be able to take the ABL off one," Gibbons wrote.
The next day, the Press ran a wire service about Cincinnati reaction that was the first smudge of cloud on the Pipers' sunny day. "It was sort of like Pearl Harbor," said the angry Cincinnati Royals general manager, Pepper Wilson, who remembered well the round of golf with Lucas the day before he signed in Cleveland.
"Jerry was smiling and gracious on the golf course, but at the same time we were being bombed someplace else. That All-American boy image is a little tarnished, I'd say," said Wilson. "Apparently, with this thing all cut and dried, Lucas accepted and kept a date with the Royals officials yesterday [May 14] and at no time indicated he had made a choice or said he was going to Cleveland."

By now, Lucas's contradictions and indecisiveness were interpreted by southern Ohio and even Columbus critics as hypocrisy and duplicity. "Lucas was a very political guy," said Cleary. "He told you what you wanted to hear."
In a letter to Plain Dealer columnist Jimmy Doyle, a reader said, "As a former Ohio State student who lost money on the NCAA tourney favorites, I wonder if it was coincidental that Jerry Lucas didn't commit himself to the ABL until he knew the University of Cincinnati's Paul Hogue was under contract to play in the other cage league?"
In reply, Lucas damned his rival with faint praise, saying only, "Hogue is improved," in a story about his top college opponents. Of Purdue's Terry Dischinger, Lucas said, "He can do everything on the basketball floor. In addition, he's modest and unselfish, the kind of fellow I would want for a friend."
Lucas's decision to break the news in a national magazine such as Sports Illustrated, on the ground that he "wanted everyone to know the reason I turned pro," left Hornung simmering with anger. In a column with the headline "Lucas Goes into Minors, Not in a Major League Way," the columnist noted that both Ohio State running back Hopalong Cassady in signing with the Detroit Lions and golfer Jack Nicklaus's in his decision to turn pro first told the Columbus reporters who had covered them for so long.
Yet Lucas denied to Otte just before the May 14 deadline for the Dispatch's last edition that he had made up his mind. "Ah, well. Who needs friends? They love you at the bank," wrote Hornung.
Nor did Hornung think much of the ABL after attending one of the Pipers' games in Columbus. "I managed to stick through one half and a long wait while then-coach John McLendon marked off the three-point goal circle and the wider foul lane with adhesive tape on the Coliseum floor," wrote Hornung. "After watching Ohio State's Fabulous Buckeyes, what happened at the Coliseum lacked interest."
In his view, Lucas's barnstorming, pick-up team was a better entertainment value.
Hornung turned to the what-ifs that would follow Lucas's decision. "It's a shame we'll never know whether Big Luke was good enough to play major league pro basketball," he wrote. "The ABL, of which the Pipers are champions, is made up of players in the twilights of their careers, lesser-known collegians and holdovers from the defunct National Industrial Basketball League."
Hornung sneered at Steinbrenner's outburst of "We're saved!" after Lucas signed, recounting an interview the sports columnist had with the owner three days before Lucas's announcement. "We might move the club," Hornung quoted Steinbrenner as saying. "Without Lucas, there's no hope for us. With him, we could really go. We're putting all our eggs in one basket."
Sarcastically, Hornung forecast great things for Lucas: "In the ABL, he should lead in everything, including Most Bank Deposits."
Admitting that Lucas made Columbus fans "richer" for having seen him play and calling him a "hallowed figure," Hornung said, "But, if you're going to go, go first-class."
Clowser, whose coverage of Lucas had been glowing for three years, reacted as an Ohio State true believer. He wrote a few days later, "All I can say is that Lucas now knows he has some fair-weather friends who should be ashamed for their attacks on him. It was disgusting to see the bitterness with which certain columnists in other Ohio cities greeted Jerry's decision to play here."
Using words like "shocking" and "knifing" to describe the criticism and "sensitive" and "temperate" for Lucas, Clowser called Lucas a "sterling youngster, whose every action has brought great credit to his university, state and nation."
Citing the "tremendous value to American university life exemplified in a youth like Lucas," Clowser ended the column by writing, "I can only hope that, now that we have been fortunate enough to have him join the Cleveland sports scene, we can be worthy of him."
The Royals' enmity to Lucas and the Pipers would have fateful consequences very quickly. At the time of his signing with the Pipers, however, Clevelanders were ecstatic.
Heaton had the fever too. His Plain Dealer copy radiated optimism. "Havlicek to Join Pipers and Luke," read the headline on his May 17 story, seemingly confirming the Sports Illustrated editorial insert. What's more, Sharman might be coming back to coach, Heaton said. After all, what could go wrong?
You can buy George Steinbrenner's Pipe Dream: The ABL Champion Cleveland Pipers at Amazon.
To leave a comment, you will need to
Sign in or create an account
if you already have an account. Typed comments will be lost if you are not signed in.