Excerpted from Showboat, The Life Of Kobe Bryant" by Roland Lazenby, published by Little, Brown and Company. Copyright 2016 by Full Court Press, Inc.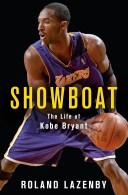 A basketball shoe revolution began in 1984 with Nike's explosively popular Air Jordan product line, and it was driven by an odd combination of the NBA's "ban" on the shoes, Michael Jordan's embarrassment over his skinny legs, and a raunchy sex scene in an indy film.
By the early 1990s, three characters at the heart of that revolution had left Nike and were running Adidas America and hoping to recreate that old magic by finding a charismatic young athlete to be the face of a new product line. The three men –  former Nike VP Rob Strasser, longtime Nike designer Peter Moore, and basketball guru Sonny Vaccaro – would watch as their efforts ignited the shoe war of the 1990s between Nike and Adidas that turned ugly and personal.
Much of it was spurred along by Vaccaro's strategy of invading American youth basketball in an effort to give Adidas a firm grip on the next generation of talent. Some would see Vaccaro's strategy as brilliant. Others would identify it as a further pollution of the sport by moneyed interests, one that would shift the focus to very young players and flood elite Amateur Athletic Union teams with cash from the shoe industry.
Whatever the long-term damage to the sport, Nike founder Phil Knight would soon recognize it as an immense threat to the stranglehold his company had on the global basketball shoe market.
Vaccaro, Moore, and Strasser were quite eager as former Nike employees to compete with Knight and their former company. Their dreams were stoked by their memories of working with the iconic Jordan as a young wonder, the kid who could both fly and sell shoes like no other. The launch of Air Jordan in the fall of 1984 proved to be a wild ride, a moment upon which they looked back with tremendous nostalgia. And with good reason. It made lots of money. And it would be the crowning achievement of their lives, one that imbued their careers with the sparkle of Jordan's magic.

Hell, even David Stern wanted an autograph. That's what Peter Moore would remember with a laugh, looking back thirty years later.
In 1984 both Nike and Adidas were struggling athletic shoe companies, muddling along in search of markets and identity. Nike's stock in particular could be had for about seven dollars a share.
Then came Sonny Vaccaro's big idea – launch an entire product line around Michael Jordan, this young kid out of North Carolina. CBS broadcaster Billy Packer and Vaccaro had dinner with Phil Knight during the 1984 Olympics in Los Angeles, where Packer listened as Vaccaro made an impassioned plea for Nike to sign Jordan to a major deal. He told Knight that Jordan would be the next big thing. Packer remembered that Knight seemed almost indifferent to Vaccaro's pitch.
However, Nike VP Rob Strasser had already watched Vaccaro work his magic in college basketball. Nike had first hired Vaccaro in the late '70s, based on his idea of paying coaches under the table to have their amateur players wear Nike shoes. That strategy had allowed the company to surge to the lead in the field. So Strasser, an animated hulk of a man, was willing to listen again to Vaccaro on Jordan, despite Knight's indifference.
The Jordan magic with Nike had begun with the very first meetings with the young star's representative, David Falk, who came up with the name Air Jordan, recalled Peter Moore, who was then a top designer for Nike. "David named it, not me. It was perfect sense. We had this thing called Air, this guy could jump out of the gym. We had a flyer, a guy who could fly."
Within minutes, Moore sketched up the product line's first logo, with wings.

Then came Nike's presentation to the petulant young star and his mother in Portland later that year, Moore's first great moment with Jordan while explaining the company's vision for what Air Jordan could be. Jordan was going to be the first team athlete with his own product line, before he had even played an NBA game. Then just 21, Jordan went into the meeting with a dismissive attitude about Nike.
"At North Carolina, Jordan wore Adidas shoes in practice and all over the place," Moore explained. "Dean Smith told him for games, you wear Converse. And he did, in all these pictures he's wearing Converse shoes. He wanted to sign with Adidas."
Neither Adidas or Converse could come close to matching the Nike deal, which offered an unprecedented royalty on shoes sold. No endorser had ever gotten a percentage of profits, as Strasser and Nike had offered Jordan.
"We presented to his family and we lit them up," Moore said, especially Jordan's mother, Deloris. "We impressed the shit out of them, that somebody would care that much for her kid. He was not going to be impressed, and he lit up, which was even more satisfying."
As Jordan warmed to the idea during the meeting, Moore gained the first sense of his magnetism.
"This kid, he walks into a room," the designer recalled. "Michael Jordan's the only black man I know who could walk into a Lion's Club meeting in Jackson, Mississippi, and in five minutes, nobody would care if he's black, white, green. They'd just want to get to know him. He had that kind of charisma."
It was Strasser, the Nike VP, who formed the first real bond between Jordan and the company. Known as the "fat guy" at Nike in the shoe industry, Strasser was a large, bearded man, a Berkeley-trained lawyer with immense charisma of his own, so much so that he would quickly charm Jordan. "Michael was like butter in his hands," Moore remembered. "He loved Rob."
Nike was set to promote Jordan and his product line like no athlete had ever been promoted. "Jordan was the first guy on a team to be a marketing icon," Moore offered, "and that was the whole idea of him. We were going to take a team sport guy and make him bigger than anything else. Make him like Arnold Palmer."
For his first exhibition games that October of 1984, Nike dressed Jordan in red and black Nike Air Ships, which prompted a phone call from the office of NBA commissioner David Stern, telling Strasser that Jordan would be banned from wearing the shoe because only white shoes were allowed in the league.

Moore remembered the exchange clearly: "David Stern calls Rob and says, 'Hey, I'm going to ban your shoe.' Rob says, 'Wait, wait, let me come back East and talk.' Rob gets on a plane, flies to New York, goes in front of David and says, 'Look, this shoe is perfectly legal.' Stern says, 'No, it's not. You can't wear all the colors at one time.'
"He bans the shoe," Moore recalled. "So on the way out the door, Stern says, 'Rob, I have a favor to ask of you and I'm embarrassed to ask it.' Rob says, 'You've already ruined my day, go ahead.' Stern says, 'My son thinks I'm a jerk. Can you get me a pair of the shoes autographed for him?' That's a true story."
Strausser would have laughed out loud if he hadn't been sick to his stomach.
He was told Jordan would be fined five thousand dollars a night for every game he wore the shoe. Both Moore and Vaccaro recalled the VP's immediate response when he got back to Portland. "He said, 'Fuck it, we'll pay the fines,'" Vaccaro recalled.
Just when and how the NBA would begin the fines remained unclear. The league wouldn't actually follow up with a letter until late February. By then Strasser had seized the day.
Nike's "fat guy" had received a marketing ploy gift-wrapped by Stern, and he told Moore, his balding, bespectacled sidekick, to run with it.
"Rob says, 'Fuck! Okay, I've got fifty thousand pairs coming. They're on a boat.' He was beside himself. He said, 'We got to do something.' So that's when we did the Clank, Clank commercial," Moore recalled.
Thanksgiving 1984 was upon them. They hastily arranged to shoot an ad during a Bulls road trip at Golden State that November 27. The Bulls' arrival the day before the game provided just enough of a window to shoot if they rushed. "So we get him to the studio, dress him up in the 'banned' shoes, socks, not in a Bulls uniform, but still black and red shit," Moore remembered. "The camera starts at his head and it pans all the way down to his shoes."
As Jordan flips a ball around and begins dribbling, a voiceover says, "On September 15, Nike created a revolutionary new basketball shoe. On October 18, the NBA threw them out of the game. Fortunately, the NBA can't stop you from wearing them. Air Jordans. From Nike."
"We were going to say that David Stern banned them," Moore recalled, "but Rob decided we better just say the NBA. And so the camera comes down to the shoes and two black bars go clank, clank across his shoes…
"Fifty thousand pairs sold out like that," Moore said, snapping his fingers.

Nike quickly followed with another ad, shot in New Orleans during another Bulls road trip, the designer recalled. "He's got the ball, he starts running towards the basket. You don't see anything else, just him coming towards the basket and he goes up and dunks it. That's all it is. He's wearing his red and black shorts, you know, Air Jordan shit, and the sound track is this voice saying, 'You're cleared for take off.' And you hear this roaring jet that takes off as he jumps. The voice comes on and says, 'Who says man was not meant to fly?' Well, fuck, every kid in the world starts jumping around saying, 'Who says man was not meant to fly?' That was all basketball, all about him flying."
It wasn't until February that Stern's deputy, Russ Granik, finally got around to sending a letter almost half-heartedly reminding Strasser that the shoes were not in line with NBA regulations. Shoe aficionados later studied video footage and photographs of Jordan's performances that season and couldn't find any evidence of him actually wearing the red and black Air Jordan 1 shoes in games.
Strasser and Moore had simply seized on the NBA's lightweight attempt at enforcement and run with it as one of the all-time great marketing coups, one that soon drove better than $150 million in sales.
Yet the Jordan revolution wasn't just shoes. His persona quickly showed he could drive fashion as well. That' began with the basic NBA uniform. Jordan hated the "Daisy Duke" basketball shorts worn by teams at the time.
"Michael was always on me about the shorts," Moore said.
"I want the shorts longer," Jordan told Moore.
"Fuck 'em," Moore remembered saying finally. "We're breaking the rules as it is. What do you want me to do? What is it with these long shorts? You look like you're wearing your father's pants."
Jordan then made an admission.
"He says, 'I got skinny legs.' That was his deal," the designer recalled.
"Michael, your calf muscles are what allow you to jump as high as you jump," Moore told him. "What do you mean? Those legs allow you to jump this high above the rim. I wouldn't worry about those legs. They look just fine.' He was unbelievably self conscious about it."
Even Moore had to admit Jordan was right, however.
"They looked like poles, like little sticks coming out of those short shorts," he said.
Two years later, Jordan would make his first appearance in the longer shorts. Soon his Chicago Bulls teammate Scottie Pippen picked them up, then players across the NBA wanted the new pants.
"Michael Jordan, to my knowledge, is responsible for the long shorts," Moore said. "He's the guy, and that's why it came about. He probably didn't want to tell this story, but that's the truth."
"It's just something that seemed more natural, more comfortable to me," Jordan explained at the time. "They felt great."
The foundation for what Moore wanted to do with Jordan's new image had actually come during the 1984 Olympics when photographer Jacobus Rentmeester shot Jordan in a warmup suit for Life magazine. Moore paid $150 for temporary use of the photo, which Rentmeester had posed in a unique way.
Rentmeester would later file suit with Nike, claiming that the company had used his shot to stage the famous shot of Jordan stretching and jumping across the Chicago skyline, the one Moore wanted to use for Jordan's second logo.
The sense of a Russian dancer was part of what Moore sought in Jordan's new image. The creation of the Jumpman logo was Moore's second-proudest moment in terms of his work with Jordan and Nike, after the success of the initial proposal. The logo would first appear on the third version of Air Jordan in 1987, designed by Moore's one-time assistant, Tinker Hatfield.
Thus, the Jumpman logo concept took root, which would eventually become the signature of Jordan's own immensely successful product line with Nike.
Central to the entire revolution were Jordan's own instincts, his ambitions related to style. "Michael wanted it," Moore said. "He wanted to be what he is."
It wasn't much later that the designer saw a photo of Jordan's Jumpman poster hanging on the wall of a hut in the Philippines, bringing him to realize the "it" factor for Jordan appealed to people across the world.

In 1986, a largely unknown young movie director named Spike Lee issued the indy film "She's Gotta Have It", which quickly caught the attention of key people in the ad industry. "I was in a film editing session for Nike," Peter Moore recalled, "and a guy named Larry Bridges was the editor. He said to me, 'Have you seen 'She's Gotta Have It'? I said 'No, doesn't sound like the kind of film I normally go see.'
"He said, 'It's a black cult film. It's about this guy Mars Blackman, and he's boffin' this gal and above the bed is your poster with Michael flying across the air.' I went, 'Really! The guy's got his Air Jordans on while he's boffin' this girl? Oh, Jesus, that's great.' So he said, 'I think you guys should do a TV commercial with this Spike Lee guy as Mars Blackman.'"
Moore turned to Jim Riswald, the art director for Weeden and Kennedy, Nike's ad agency, and told him, "Why don't you work something up and we'll see what we can do."
It would take a couple of years for the company to implement its plan to include Spike Lee, which would bring a dramatic addition to Jordan's image. Moore had once designed a hiphop styled campaign for Jordan as an inside joke that was never intended to reach the public. The glaring contrast between Jordan and hiphop culture was laughable in 1986.
"He was not 'street' in any way," Moore remembered. In fact, Jordan routinely described himself as a country boy.
The ads directed by and starring Lee would change that.
"Spike Lee made him street," Moore explained. "Spike Lee made him attractive to the street kid. Just by association."
The Spike Lee success, however, would be achieved without either Strasser or Moore, a development which almost caused Jordan to leave Nike.
Just when it was gaining tremendous momentum, the whole Air Jordan revolution almost came crashing down, due to internal crosscurrents within Nike. The company had missed out on the aerobics workout shoe craze of the early 1980s, which resulted in a drag in its stock prices.
The explosion of the Air Jordan line had helped counter that, but it had brought media coverage that depicted Rob Strasser as "the man who saved Nike."
A longtime friend of Phil Knight's, Strasser would suddenly find himself in a cooling relationship with the company boss.
It seemed to some observers that Knight was intent on driving away anybody who might get credit for Nike's success. Strasser first took a leave of absence from Nike, then departed for good in June 1987. A week later, Moore followed him out the door.
Asked by a reporter about the departures of two of the key people who made his signing with Nike happen, Jordan replied, "It's very big and very deep. It clearly involves things that I can't even begin to understand."
Jordan was not happy. He did not like Knight, Moore explained. "Phil Knight doesn't think Nike needs to be dependent on a given athlete. Athletes, yes, given athlete, no. But remember, Michael Jordan is a basketball player, Phil Knight was a track athlete, a track and field athlete, ran the mile. Lonely runner. Totally different minds, you know."
But Jordan and Knight certainly shared a competitive nature that bordered on insanity, Moore added. "If you think Jordan and Kobe are competitive, go meet Phil Knight. He's a no bullshit competitor. It's, 'You play for me or I can't stand you, I will kill you.' That's Phil Knight, full stop. And he's not shy about it."

When Strasser and Moore quickly formed a new marketing company, Jordan wanted to get involved in a major way and leave Nike.
"When Rob and I left we started a company called Sports Incorporated," Moore explained. "He wanted to become a part of Sports Incorporated. Michael wanted to come and be with us. Michael approached us about doing this."
After considering the incredible deal that Nike had given Jordan, which included the unprecedented royalty on shoe sales, Strasser and Moore told him it would be foolish to give up his Nike shoe endorsement contract. It simply paid him too much.
Jordan agreed it was smart to stay with Nike for the shoes, but Nike wasn't pursuing the idea of casual wear and a broader Jordan brand.
Jordan wanted Strasser and Moore to help him create a new company, Michael Jordan Inc., that could build and promote a Jordan clothing and equipment brand.
That could be a good venture for all three of them, Jordan reasoned, and they might get Nike to kick in to finance some of it. After all, Jordan's original deal was coming up for renewal in 1989. Jordan, Strasser and Moore decided to schedule a meeting with Knight to discuss their amended idea.
"It went bad," Moore recalled.
Dressed in a three-piece and toting a briefcase, Jordan led the way into the meeting. "It was going to be a transition," Moore remembered, "and eventually we would build him into his own brand. It was an ill-conceived idea, but to be honest, we did it at Michael's request because he was pissed."
If he was angry before the meeting, he was doubly so afterward. "That's not possible," Knight supposedly replied after Jordan laid out the plan. "We're not going to do that."
The meeting did help Jordan to get his own brand eventually. And Strasser and Moore headed off on another path to take over Adidas America, a subsidiary of the German shoe company that had struggled to challenge Nike in the United States.
After going through a succession of executives, Adidas hired Strasser to run its American company in early 1993 and brought in Moore as the number two man in its operations. They were immediately charged with the task of growing the company dramatically and snatching market share away from Nike, which had almost 40 percent of the industry at that point. In other words their mission was to find the next Air Jordan.
The two quickly met with Sonny Vaccaro in a New York pub. "Very few people get to climb the same mountain twice," Strasser told Vaccaro. Was he ready to find the next big young talent?
Vaccaro, a chubby character with the droopy eyes, literally leaped at the opportunity. He disliked Phil Knight intensely.
Despite using Vaccaro's basketball relationships to drive billions in shoe sales over a dozen years, Knight had dismissed the sport's guru in 1990 without a penny of severance pay. Just why Vaccaro was dismissed has never been disclosed.
Vaccaro's other sworn enemy, the National Collegiate Athletic Association, had attempted to strong arm him in an attempt to get at his friend, UNLV coach Jerry Tarkanian, going so far as to hire a former FBI agent to rummage through Vaccaro's banking transactions. Vaccaro was eager to repay both Nike and the NCAA.
To do that he hatched a plan – to find the game's next great talent and sign him to an Adidas contract right out high school.
Such a strategy for Adidas would help him to strike at both nemeses, Vaccaro admitted in a 2015 interview. He could beat Nike by signing that next great player, like Jordan, who had both the skills to be great and the charm to sell shoes. In so doing, Vaccaro could deliver a blow to the NCAA by helping the next great talent to bypass college basketball and go straight to the NBA from high school.
His battle with the NCAA was largely philosophical, Vaccaro explained. Young athletes had long made their way into professional baseball and tennis without going to college. Vaccaro saw basketball players as no different. He considered the NCAA a cynical enterprise that made billions off of young athletes without paying them. College sports presented fine opportunities for many athletes, he conceded, but elite athletes were on a different level. Their services as professionals were highly sought after, and nothing should prevent them from playing professionally at a young age.
Many critics considered Vaccaro, who had a history with the gambling industry in Las Vegas, to be a corrupting influence in basketball. But Moore had come to see him as something quite different, a figure who was far more interested in his ideas than in making money from them. Vaccaro was mostly interested in making sure athletes got paid, sometimes to his own detriment, Moore concluded.
A decade later, Chris Dennis, an advisor to high school phenomenon LeBron James in Ohio, offered a similar, unsolicited view of Vaccaro. "Sonny's always about getting the money for the players," Dennis observed. "That's what he cared about most."

Charged with finding the next great player for Adidas in 1993, Vaccaro had at first set his sights on New York high school star Felipe Lopez. He had soon hired one of Lopez's relatives and set about the business of getting to know the player and grooming him for professional life and a shoe contract.
Lopez had great charisma, and indeed, time would reveal him to be a first-rate person. But many scouts, including Vaccaro himself, had wildly overestimated Lopez's abilities. Plus Lopez himself was reluctant about the idea of becoming a professional out of high school. The game in that era was very much the domain of men, and while a handful of tall players had gone directly from high school to professional life over the years, it was considered a foolish proposition for a guard or a wing.
In fact, Vaccaro would encounter that difficulty often in his work for Adidas. There weren't that many supremely talented players, and the ones who were talented showed little interest in skipping college.
Plus Adidas America was struggling to find its footing in the marketplace. "We had no money at that time," Vaccaro explained, looking back.
In hopes of making a deal, Vaccaro had arranged for Lopez to receive a $500,000 contract to play professionally in Europe, but the young star still declined the offer and enrolled at St. John's to play college basketball.
Vaccaro's efforts with Lopez had not gone unobserved. Word soon leaked out in the shoe industry that Phil Knight was fearful of Vaccaro putting his rolodex of basketball contacts to work for Adidas. The Nike boss had sharp questions for his underlings as to how Vaccaro had gotten ahead of them on Lopez.
The potential conflict might have escalated then, but just ten months into the Adidas revival, Rob Strasser died suddenly at age 47 at a company meeting in Germany in October 1993.
It was yet another blow for the athletic shoe industry for 1993. That August, the body of James Jordan, Michael's father, had been found in South Carolina, and two men were charged with his murder.
That October, within days of Rob Strasser's death, Jordan abruptly announced he was done with pro basketball. As the shoe industry recoiled from the news, the personal value of Phil Knight's Nike stock was said to plummet by more than fifteen million dollars.
Upon learning of Strasser's death, Peter Moore had phoned Phil Knight with the news.
"He was very gracious," Moore recalled. "We had a memorial for Rob. A lot of people were invited, Nike people and Adidas people. A lot of Nike people came, but a lot of Nike people didn't come."
Although the Jordans were still grieving, Michael's mother reportedly flew to Portland to attend the service, only to be persuaded not to attend by someone at Nike, Moore said. "She actually flew out here, but they convinced her that wouldn't be the best thing for her."
"I certainly didn't see anyone from Nike there," Vaccaro recalled. "Maybe some people sitting at the back."
The basketball guru made a fiery speech at Strasser's service.
"We're gonna turn that Swoosh upside down and make it a question mark," Vaccaro promised the gathered mourners.
In the wake of his friend's death, Vaccaro again turned his busy mind to the search. Out of the many talented young players in high school, who would be the next big guy? Was there a kid out there who was bold enough to dare to be Jordan?
You can buy Showboat, The Life Of Kobe Bryant by Roland Lazenby on Amazon.
To leave a comment, you will need to
Sign in or create an account
if you already have an account. Typed comments will be lost if you are not signed in.