Here at HoopsHype we recently put together a list of free-agent sleepers in European basketball who might follow the steps of Mindaugas Kuzminskas and Malcolm Delaney in parlaying high-level performances in FIBA basketball into contracts and rotation spots with NBA squads.
There was one big omission in our list, though: Edwin Jackson. At least, according to Edwin Jackson himself.
You are forgetting someone… https://t.co/XXTBfw8HyZ

— edwin jackson (@edjacks) February 3, 2017
i would think lead @ACBCOM in scoring with 21/game would be notice i was wrong lol . Have to do more for my team and my self

— edwin jackson (@edjacks) February 3, 2017
After that sick burn from the French-American guard, we reached out to him so he could explain what was up with that.
"It wasn't serious, I was just playing around," Jackson said in regards to his Twitter reaction. "I wasn't mad or upset or anything like that. It was more like a joke."
His intention to make it into the NBA is no joke, though. Based on his play this season in Spain, he could make a case that he deserves a look from clubs stateside.
"I've always wanted to go to the NBA, no matter what happens," Jackson said. "If I only get interest from Euroleague, that's fine. But if an NBA team comes calling, I would definitely not overlook that."
The 27-year-old guard is currently leading Spain's ACB league in scoring with 22.7 ppg. To put that into context, keep in mind no player has averaged 20-plus points in that competition since Rudy Fernandez did it back in 2007-08. He moved to the Portland Trail Blazers the following season.
That Jackson is having such a strong year with Madrid-based Estudiantes comes off as a bit of a surprise considering his struggles in 2015-16 with Unicaja, where he averaged 6.6 ppg on 37.8 percent shooting in the ACB.

His comeback season is a testament to a strong work ethic he learned being around pro basketball from an early age. His father, Louisiana-born Skeeter Jackson, played the game professionally in France and even made the French National Team after obtaining citizenship in the 80's.
"I know what it takes to do this," Jackson said. "No matter if you play good, if you play bad, you're always going to have that next opportunity. You've got to be able to produce. When I play bad, or when I changed teams, I had to be good. Whenever you play good, you're going to have a bigger opportunity. You don't stop working, you have to continue working. The things that you already know how to do, you have to do it to perfection, and the things that you don't know how to do or that you're not so good at, you just keep working day after day."
Jackson, who was a member of France's 2010 World Championship entry at age 20, had a cup of coffee in the NBA in 2014, when he played summer league with the Boston Celtics averaging 6.7 ppg in 12.1 minutes per contest, but he wants more.
"Some people say I'm undersized for the NBA," the 6-foot-3 Jackson told HoopsHype. "But I would object to that. Now you have guys like CJ McCollum who pretty much has point guard size and Isaiah Thomas, who's a point guard but pretty much plays like a shooting guard."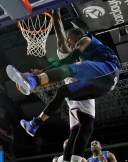 Although his NBA experience is limited, he has big-name NBA acquaintances such as Tony Parker. Between 2010 and 2014, Jackson played for ASVEL Villeurbanne, the French club owned by the Spurs All-Star guard.
"I think of him like he's my big brother," Jackson said. "We're very close because, you know, we both have double citizenship, French and American, we have a lot in common. We always wanted more, the passion that we have for the game. Our dads were both professional basketball players. We really get along years back, so we're very close friends."
In the States, it's OK to be ambitious, to have goals and not being afraid of talking about your dream and how you want to achieve it. In France, it's a little bit different. People are more shy about what they want to achieve. I might come across as cocky a little bit, but it's the ambition, it's something that you're willing to work for. When I was younger, people took my ambitions as something that wasn't always good for me, while now it's very different because I'm actually doing good for myself."
So good he might end up on the NBA radar – whether he makes HoopsHype's lists or not.
To leave a comment, you will need to
Sign in or create an account
if you already have an account. Typed comments will be lost if you are not signed in.