Without prompting, Milwaukee Bucks forward Jabari Parker recently predicted that his rookie teammate Thon Maker will eventually be the NBA's best seven-foot player.
"You can quote me right now: Thon Maker is going to be the best 7-footer to play in this league," Parker told HoopsHype. "He's going to. He's that good, man.
"Say, for instance, Thon was on [a worse team that gave him more minutes], he'd be averaging 15 points and 10 rebounds easily because his skill set is so amazing. He can shoot the ball. He can put it on the ground. He's athletic. He has a quick first step. He's agile. He has great hands. He has a good feel for the game. And it's only going to get better! I just can't wait to see it."
This season, Maker has only appeared in 31 games and, when he does play, he's averaging just 7.5 minutes per contest. On the season, he's averaging 3.5 points, 1.7 rebounds and 0.3 blocks while shooting 50 percent from the field and 51.5 percent from three-point range.
In the two games he played over 20 minutes, he averaged 12 points, four rebounds, 1.5 blocks and 1.5 steals. His per-36-minute stats are an impressive 16.8 points, 8.1 rebounds, 1.6 blocks and .9 steals.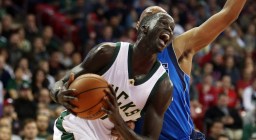 When the Bucks selected Maker with the 10th overall pick in the 2016 draft, it was a huge surprise. The 19-year-old played a post-graduate year with The Athlete Institute of Ontario rather than enroll in college, making him the first prep-to-pros NBA player since 2005.
The Bucks – who have developed a reputation for pursuing tall, long, versatile athletes – fell in love with his 7-foot-1 frame, 7-foot-3 wingspan and untapped potential (he didn't start playing basketball until seven years ago).
Even though many felt the 10th overall pick was high for Maker, many pundits also criticized the Bucks for taking a virtually unknown Greek prospect with the 15th overall pick in the 2013 draft. That player was Giannis Antetokounmpo, and we all know how that turned out. Sometimes, swinging for the fences in the draft can work in a huge way.
HoopsHype recently chatted with Maker about his adjustment to the NBA, the biggest difference between the prep and pro levels, what he's learning from Antetokounmpo, what it's like having Jason Kidd as your coach and much more.
How has your adjustment to the NBA been so far?
Thon Maker: It's been great, man. I'm learning. Learning a lot. I'm getting better every single day. I've just been staying ready so whenever I get a chance [to play], even if it's in a game that's completely over, that's still a chance for me to get better because there's live defense. I'm always staying ready.
What's been the hardest part of that adjustment, going from high school to the pros?
TM: Just on the defensive end, being able to do a lot more than I did in high school. In high school, you can just stand in a zone. At the pro level, there's a lot more you can do in terms of guarding the pick-and-roll and playing help defense, team defense.
When I'm playing against centers, they're going to try to bully me down low because of my size. But that's when I really need to use my speed and quickness to fight my way around them. I have to do my job early. And we all have help on either side, so if I'm in trouble, I can just force them to the help.
How much has your lifestyle changed?
TM: The traveling part isn't new to me. In high school, we were traveling all over the place for games. I love traveling, it's fun and that's been easy for me. I haven't really changed my lifestyle. Not really. I've stayed myself and just lived normally. I'm just trying to be as normal a person as possible.
With your body, wingspan and potential, some people talk about you the same way they talked about Giannis Antetokounmpo. Is he someone who you can model your development after a little bit?
TM: Definitely. You see the things he's doing now and people are like, 'How the hell did he do that with all of that length?!' For me, we have similar builds so I try to look at [what he does] and just mirror it. In practices, I'm trying to do all of the same things. Then, I want to put it to work in games.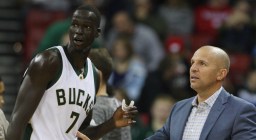 How nice is it to have a legendary player like Jason Kidd as your head coach and what are the main things he's trying to teach you?
TM: For me, he just tells me to be myself. 'Do you, do what you do.' And that I don't have to change anything, just continue to play hard and keep on getting better every single day. Playing under him is really cool since he was obviously a player before and a very successful one. He can see where [his players are at] from a growth standpoint and where I need to be. He says I don't have to change much; I just need to continue to work on my body and continue playing hard.
You're on a young team in Milwaukee. Is it nice having a lot of guys who are around your same age? Some rookies go to a veteran team that only has one or two fellow young guys, but that's not the case here.
TM: Man, these guys are great. They're a bunch of good guys, so they're not going to act like you don't exist or anything. They all care about one another, so it's really cool being around them.
My teammates have helped a lot. I lean on them and ask them questions on and off the court. Off the court, they're a bunch of cool guys. It helps me.
Is there a certain NBA player, coach or executive you want HoopsHype to interview? Send Alex Kennedy a tweet to let him know.
To leave a comment, you will need to
Sign in or create an account
if you already have an account. Typed comments will be lost if you are not signed in.