Excerpted from Basketball is Jazz: Stories and Lessons From a Basketball Lifer by David B. Thorpe, published by Winn-Chester Publishing.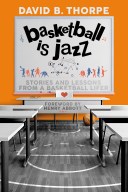 Me and Cal and Red
It was early December, 1995, and I found myself sitting in the old gym at George Washington University, watching the Florida Gators practice. At least I think I did. The events that came later literally have wiped out my memory of everything else that happened that day.
The Gators were in town for a four-team "Classic" event hosted by the University of Maryland. I had a few contacts involved with the event, starting with a few players at Florida, plus the entire coaching staff, along with a close friend whose company was a big sponsor at Cole Fieldhouse, where the games were played. I'm thinking I must have watched the Gators practice first, before some pretty amazing things took place, because otherwise, I don't know how I would have gotten into the gym.
You see, I was also able to watch UMass practice. That's the University of Massachusetts, coached then by John Calipari, and led by All-American Marcus Camby. Bad things happened to that team (NCAA troubles) a decade or so later, but to all of us who followed college sports, it was a magical team to watch.

Coach Cal was just getting started building his Hall of Fame resume and notoriety, and though we had never met, we had dozens of close mutual friends. He too was a long time Five-Star guy, and in fact, one week we were assigned to room together in a suite in the dorm room on the Robert Morris College campus that hosted the camps. I ended up getting a cheap hotel room, figuring he'd likely do the same as he was already a head coach at UMass.
There was electricity in the gym that day for two reasons.
One was that UMass was there, just a day or so after beating Kentucky. And that magic wasn't just about the upset, it was the kind of upset no one forgets. UK was the top-ranked team in the nation, loaded with future lottery picks and NBA players, when UMass beat them. Ultimately, nine guys from that Kentucky team played in the NBA, and that UK team won the NCAA Championship in the spring of '96 (beating UMass in the Final Four). Experts rate Kentucky's team that season as one of the best in Division I history.
Here I was sitting in the bleachers of an old gym, maybe five or six rows off the court and behind one of the two main baskets, watching UMass hold their practice as they got ready for games against Florida and Maryland. I was amazed at the poise of the guys, the focus, knowing they had just pulled off the impossible.
They were ranked fifth in the country when they beat UK, so though college hoops experts were not shocked, it's not as if it was one huge basketball power beating another. UMass had not been a strong program in decades. Ranked or not, the upset sent shockwaves through the college game.

I was actually blown away with the connection these guys had, and one incident in particular hit me the hardest, and it still impacts my coaching life today. It happened near the beginning of the practice, as the guys were split up into smaller groups and doing some individual work at the baskets around the court.
Coach Cal was watching the guys go through their reps, and after seven minutes or so he called them into the center circle to speak to them all quietly. As each arrived, they took a moment to high five each other, or just slap hands. It looked like something they always did, and it seemed like players and coaches all participated.
I loved it. It was like each guy was making a commitment to his teammates to have a good practice, as well as recognizing his role to be a good teammate. They didn't do it with the passion two guys might after a monster dunk or something, more just a pre-practice ritual to help the guys grow as teammates. But I noticed that Camby was not with the team at first. An assistant had kept him at a basket going over something with him, and maybe two minutes later he was done. So Camby then headed to center court to hear his coach talk. Here's the part that blew me away. Now remember that Marcus Camby was one of the nation's top players that season. He ended up as the national player of the year, and he was a record-setting player all three of his seasons at UMass.
Just over six months after I saw him in this practice, he was drafted second overall in the NBA by the Toronto Raptors, where he earned first team All-Rookie honors. A year later he led the NBA in blocked shots. He played 19 seasons in the NBA and just under 1000 games there. We are talking about a very unique, deeply talented, successful basketball player.
On this December day though, he was just a young man who helped lead his upstart team from a small school to an enormous upset over the top ranked and most talented team in America.
Yet as he approached his team as they listened to their coach, I could see he was facing a problem. Each player was totally locked in to their coach, so if he tried to give each guy a little hand slap, it would have broken the focus they were giving their coach. I watched in awe though when Camby walked around the circle, lightly touching the head or a shoulder of every player on his team, managers too, all while never letting his eyes drift from Coach Cal's. I mean I don't think he blinked, and I am sure he didn't miss any player either. I got chills as I watched it unfold, and that's when the second jolt of electricity hit.

You see, sitting alongside me was a famous coach who I just assumed was visiting the team. It turns out he lived nearby. I recognized him immediately and wanted to say something to him but he was a pro guy, not a college coach, and I didn't have any NBA clients or anything then. I was 30 years old and a bit intimidated, plus, I always hated his franchise. I had been a Lakers fan since Jerry West starred there, so there was no way I could say something cool to Mr. Celtics himself without also showing my true colors. But as I saw what Camby did I couldn't help but turn to Coach Red Auerbach and say "Wow, when Marcus Camby is that kind of teammate, your team can be special." He smiled and shook his head.
We ended up chatting throughout, but I was mindful to not pester him. He had someone there with him as well and I didn't want to intrude. We had some special exchanges that I keep to myself and always will. I know he was as impressed as I was with the UMass team. Their talent was solid outside of Camby, not special, but thanks in large part to both Coach Cal and Camby, they had that undeniable look of a team for the ages. UMass ended up spending most of that season as the #1 ranked team in America, and they had one of the four top seeds in the NCAA tournament. Their loss to UK in the Final Four was very memorable as well.
I'll never forget what good luck I had that day, nor what the UMass kids did when they huddled together at the start of practice. Since that day I have done the same thing with any practice I am involved with, though we do it at the end. Everyone slaps five, players and coaches, and makes it a point to look each other in the eyes as we do it. We are saying "I see you" to each other, seeing being more than just the visual part. I have been a part of practices at every level of basketball, and no practice hit me in me my core like that one did.
One final takeaway – there is much to be learned by Camby's actions that day. I don't know how selfless he was as a pro, or what he was like in high school. But this star player was absolutely not going to disturb his coach during a pre-practice lecture, I observed, nor was he going to ignore what was clearly an important aspect of their practices. For coaches, players, and parents, it is a fair thing for you to be looking for in your life and your career. The people who have respect for the culture of the team/family are the ones who will build even more love and respect into that culture. And that is an extremely valuable thing.
You can buy Basketball is Jazz: Stories and Lessons From a Basketball Lifer by David B. Thorpe on Amazon.
To leave a comment, you will need to
Sign in or create an account
if you already have an account. Typed comments will be lost if you are not signed in.