Since being selected as the first overall pick in the 2001 NBA draft, Kwame Brown has garnered a lot of attention. All eyes were on Brown when he entered the NBA straight out of high school and he believes that his prep-to-pros decision put a target on his back from day one in the league.
There are also plenty of stories about how Brown was put through the wringer by Michael Jordan, who drafted the big man in his role as Washington's president of basketball operations and then decided to come out of retirement to play two seasons with the Wizards. It was an incredibly unique situation and Jordan was very hard on the 19-year-old. Jordan is known for being insanely competitive and pushing his teammates, but he was even tougher on Brown – likely because drafting the big man No. 1 was Jordan's biggest move as an executive and he badly wanted to succeed in his front-office role. But it's widely believed that Jordan's actions hurt Brown's confidence and stunted his development.
After four seasons with the Wizards, Brown was traded to the Los Angeles Lakers in a deal for Caron Butler and Chucky Atkins. While he never became the star that many hoped he'd be when was selected with the No. 1 pick, Brown had a long, productive NBA career as a role player. Because he was able to carve out a niche for himself, he played 12 seasons in the league and earned over $63 million from his NBA contracts alone. In addition to the Wizards and Lakers, he also had stints with the Memphis Grizzlies, Detroit Pistons, Charlotte Bobcats, Golden State Warriors and Philadelphia 76ers.
Now, after taking a few years away from the game and letting a lingering hamstring injury heal, Brown has decided to play in the BIG3, which is Ice Cube's 3-on-3 league for former NBA players. He'll be teamed up with Rashard Lewis, Jason Williams, Mahmoud Abdul-Rauf, Eddie Basden and Hakim Warrick, with Gary Payton serving as the squad's coach.
HoopsHype recently sat down with Brown for a wide-ranging discussion about his NBA career, the criticism he's faced over the years, the pressure that comes with being a top overall pick, his interactions with Jordan, his decision to play in the BIG3 and much more.
I was surprised that you didn't get signed by another NBA team after the 76ers waived you in 2013. When given minutes in Charlotte and Golden State, you did well. Was it frustrating not getting that call from another team?
Kwame Brown: Yeah, but it's not anyone else's fault. It's not the fault of the NBA teams. I was in a tough spot. I was really injured and my mom passed away in 2009, so I dealt with some depression after that. I really wasn't focused on basketball for a little while. Then, I got injured [while on the 76ers] and I really couldn't figure out what was going on with my hamstring. Now that I discovered what the real problem was and fixed it, I can actually go out and play again and have fun. Do I think an NBA team may take a chance on me? Maybe. But I think reporters have written so many negative stories about me that fans would probably bully a team if they signed me. They'd say, "Oh, he can't play," and all that kind of stuff.
We've talked about how some of the reports about you have been flat-out inaccurate. For example, there was a report that the scars on your arm were from your father putting cigarettes out on your skin, but that's not true.
KB: Someone wrote that my dad caused my scar with cigarettes, but that's not true. My dad was in prison when I got the scar. A friend showed me that if you search for my full name on the internet, it said my name is Kwame James Brown. My middle name is Hasani. There's so much misinformation out there that they can't even get a name right! There was a report that Michael Jordan would make me cry in the front of the team (laughs). A guy who grew up like I grew up don't really cry much. The report about him calling me a homophobic slur isn't true.
The funny thing is, all the people who write this stuff were never there so that means they were either making these things up to sell papers or hearing it from someone else who was wrong or who made it up. That's just plain old gossip, and it's sad that media outlets would write things they have no clue about. But I guess I get it. Sometimes a lie sounds better than the truth and it sells more papers or magazines. But it's at someone else's expense.
I think there's a bigger reason why the media constantly put a negative spin on things involving me: I think the league wants to justify the one-and-done rule. They act like, somehow, it's better for a kid to go to college for four months and be a one-and-done player rather than going straight to the NBA. I think they've made me the poster child for why players shouldn't go straight to the NBA from high school.

How did you handle all the criticism and not let it get to you throughout your career?
KB: I think God works in mysterious ways. My life was so hard in the beginning. I was in and out of homeless shelters. I had to deal with an abusive father; he would abuse my mother. I had to deal with the police, who would kick down our door because my brothers were outside selling drugs. My childhood was crazy. And I still had to go to school while all this was going on. They did this thing called regentrification when I was young, so we'd get bussed from the inner city in Brunswick, GA, all the way to St. Simons Island, where I attended a predominately white school and got a really good education. I'm thankful for that part [of my childhood], because the alternative would've been crazy, but that was my life. It was crazy. When I was a kid, they kicked down my door 40 times.
So, to answer your question, it's easy for me to look past people talking about me. That's nothing. It is sort of frustrating when people are talking about me and I'm not even getting the opportunity to play and silence the critics, especially my first year in the league. They told me to put on 40 lbs. so I did that, but then I was so big and heavy that I couldn't move around well. So I was being bashed and then not even getting the opportunity to play big minutes and prove myself. [Editor's note: Brown played in only 57 games as a rookie and averaged 14.3 minutes.]
As I did my research for this interview, I was surprised there was only one season in your 12-year career where you played 30 minutes per game. That was your third year with the Wizards, when you were 21 years old, and you averaged 10.9 points, 7.4 rebounds, 1.5 assists and 1 steal while shooting 48.9 percent from the field.
KB: Every time I've gotten the opportunity to play – my third year in Washington, when I was in Charlotte, when I was in L.A. – I did pretty well.
After dealing with such a difficult childhood, how much sweeter was it when you experienced success and had the money to take care of yourself and your family?
KB: Oh, it was awesome. But I will say this: It comes with a price. When you have money and it's well-known, you become a target. And even in the NBA, you're targeted if you have money. When you're the No. 1 pick, all of the other guys in the draft who got picked after you and felt they deserved to go first, they hate you (laughs). And then veterans around the league see you as this new kid on the block who has money and hasn't proven anything yet. Coming into the NBA, I was naïve and wanted to get along with everyone, but I realized you can't.
You were a teenager when you entered the league. How tough was it to make the transition to the NBA and deal with everything that entails at such a young age?
KB: Well, I don't think it's much different from the guys who are coming out now. They're still teenagers, 18 or 19 years old, since they only do one year of college. But the biggest problem for me was the isolation. You're a teenager on a team full of grown men. You really can't go out, nobody really wants to hang with you because you're so young. I went to one of the oldest teams in the league. I was by far the youngest guy on the team. I think it's better when you can go to a team with other young players, with your peers.
Who were some of the best teammates you had throughout your NBA career?
KB: Rasheed Wallace was one of the best teammates I've ever had. He has a really unique personality. He'd get a lot of techs and all that, but from a teammate standpoint, he is constantly helping you and making sure you know where you're supposed to be. He's always talking. He would never shut up, he's always talking. (laughs) He's so skilled too. He's a great player. Boris Diaw was another great teammate of mine. We played together in Charlotte and the way he passes the ball, it helped my game a lot. I fed off of him and knew exactly where to be to get the ball. Another great teammate was Stephen Jackson. He'll always have his teammates back. He'd walk into a fire for you. Chris Whitney was great too; he was one of the first guys who started talking to me when I was a young guy in DC. I would really just stay in the gym because I didn't really have a life. And because I was the No. 1 pick, I didn't like to go many places. Going to the grocery store to get a bag of chips, it may take two hours to get out because of autographs and pictures. Chris was the first guy who took me out and showed me different parts of DC and Maryland. He would let me come over to his house and we'd barbecue and things like that. He was a friend and he gave me things to do outside of practice. Those are some of the guys who had a big impact on me.
You played for seven different NBA organizations. Which teams impressed you in terms of the way they were run from top to bottom?
KB: I would have to say the Lakers and the Pistons. They both just had a winning way about them, a winning environment. The GM, coaches, players and fans all expected to win. And when we did lose, it's not like you were on your own. I've been in situations like that where you lose and then everybody just turns their back on you. Everything would be great when you're winning, but then you lose and it's like, "Get the f*** out of here." You win together and you lose together. Detroit and Los Angeles were organizations that were first-class all around.

Which NBA coaches helped you the most?
KB: Phil Jackson was great, just from a mental standpoint. He even brought in sports psychologists and all kinds of resources. He's really good at working with a player's mind.
But I'd say my best coach was Paul Silas. I could play with Paul Silas anywhere. He was so straight forward; he wouldn't B.S. you. He actually used to take me out of games because I wouldn't shoot the ball! I got so programmed to just focus on rebounding and defending, so that's all I'd do. That's what they'd say to me everywhere else, so I listened and just did those things. Coach Silas knew I had other skills and he wanted me to use them. I was used to getting taken out of the game for shooting. So in Charlotte I was like, "Wait a minute, now I have this guy taking me out of the game because I'm not shooting the ball? Is this real?" It was great. I had a lot of fun in Charlotte and got back to a place where I could just have fun playing the game every night. It didn't feel like a job. Paul Silas told me that his coach had told him the exact same thing when he was playing – he challenged him to shoot more – and he had his best season so that's why he would coach that way.
Speaking of not shooting, I'm sure you heard about the story Kobe Bryant told about you a few years ago. He said you guys were playing Detroit and you were getting wide open under the basket. But he says you didn't want the ball because you were nervous they'd foul you and you would miss your free throws. What's your side of that story and what was your reaction when Kobe first told the story?
KB: Even if I did want the ball, it's not like he would've given it to me! (laughs) He's absolutely right about the free throw part, though. So what? My thing is, was I even playing basketball when he said that? I definitely wasn't a Laker and I don't know if I was even playing in the league. When I heard about that – and really anytime someone brings my name up out of the blue like that – I just wonder, "Why? What did you gain from that?" Why is the best player in the game at the time mentioning little old me? It was flattering. (laughs) But he was absolutely right. I needed ankle surgery and shoulder surgery when I was playing for the Lakers. Mitch Kupchak asked me not to get the surgeries. He said, "With one ankle and one shoulder, you're still the best defender we've got. All we need you to do is defend." I literally had trouble raising my arms. That's why I don't care when a fan hears this and laughs or whatever because they don't know the full story. I know what was really going on and so do my peers. That's why it seemed phony when Kobe said that, because Kobe acts like he's my guy every time I see him. But then he'll say something like this in an interview and I'm like, "That's not really you." I'm the same way all the time. I'm never going to act differently for a camera.
With the comments he made, I have two thoughts. One, I just didn't understand the timing of it. Two, why would you want a guy who shoots 50 percent from the free throw line and has a bad shoulder trying to shoot free throws?!

You may be the tallest person ever to use the phrase "little old me."
KB: I might be! (laughs)
I know you had a lot of confidence prior to being drafted. You even told Doug Collins, "If you draft me, you'll never regret it." Most people think that Michael Jordan crushed your confidence and hurt your development. Is that accurate?
KB: First of all, I really don't blame Doug. I want to make that clear. We were both put in an extremely unique position that will never happen again. The guy who drafted me No. 1 overall is now on the team playing and he's a part owner too. That's a crazy situation. Me and Doug had a great relationship before MJ came back. I did summer league and I was playing. I was developing just like a young player should. I was getting the ball and having plays called for me. Everything was fine.
And then, when MJ came back, Coach sent me to the dunker (laughs). But, to be honest with you, I didn't mind because who doesn't want to play alongside Michael Jordan? Even if it's mainly being told, "Go to the dunker." I always respected MJ and I still do. That's why I went back to play for him in Charlotte. I think if they handled the PR side of that better, they could've made a really cool story out of that. I got to Charlotte, I started playing more and I kicked ass when I was there! I was getting a double-double in two quarters!
There are so many crazy stories about how Michael Jordan treated you when you were starting your career in Washington, but you've refuted a few of them in this interview. What was your relationship with MJ really like in those early years?
KB: I just think it was blown out of proportion. First of all, MJ is way too smart to do anything to me in front of people (laughs). I just think it was just people who were around, they'd see him yelling at me or something and think, "Oh my God, look at how he's treating the kid!" People viewed me as a child, but I was fine. I also think the media played a role. Sometimes they won't even print the words that were actually said. Everyone wanted to interview me and do a negative story, because that was the popular thing to do. If I had something positive going on, they wouldn't write anything. They wouldn't mention all of the time I'd spend doing charity work, but they loved the [MJ gossip]. That's why I got off social media too. It's just so much negativity.
That has to be frustrating, and I'm sure it makes you hesitant to do any interviews. I know I wouldn't want to deal with the media if I was treated like that.
KB: Well, I think more people need to hear from me and get the truth. I didn't realize that there were so many articles and stories and books that mention me. It makes me laugh because these people talk like they know me! They'll make up a story, or try to interview someone that's around me. Some of them try to portray me as dumb. And the average person won't dig and find the truth. If they see an article, they'll think it's accurate. "Oh, I guess he's dumb." And it's actually affected my personal life because I've had people approach me and [expect me to be dumb] because of how the media talks about me. I think I'm articulate, if I do say so myself.
I got myself out of the inner city. Where I'm from, they don't sell hope, they sell dope. People think the only way out is selling drugs or rapping. I was in the most miserable situation as a kid. I was one of eight kids, and four of my brothers went to prison. I not only managed to get out, I was a No. 1 draft pick. And you want to portray me as dumb or lazy?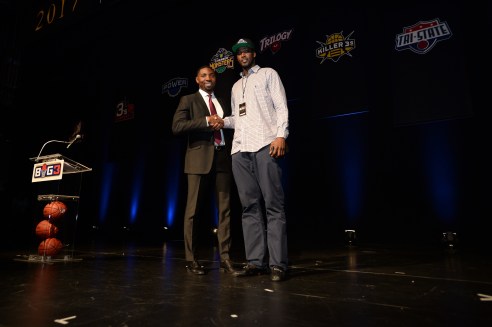 Let's talk about the BIG3. What made you want to participate in the 3-on-3 league?
KB: The players that are in it and Ice Cube's involvement. It seems like everything Ice Cube touches turns out to be pretty cool, so I saw it as an opportunity for me to get back on the court and do something that I love to do. It just felt like a good fit.
You're playing with guys like Rashard Lewis and Jason Williams among others. What do you think of your squad and your chances of winning the championship?
KB: Oh, we have a really good chance. There are some other good teams out there, but we have so much experience. We have some great guards and we have Rashard Lewis, who can pretty much do anything with a basketball. Eddie Basden can light it up, and he's so big and strong that he can defend anybody. I know a lot of teams will try to post up our guards, so having him in there helps. I think we're going to be really good.
You mentioned that you're healthy now and alluded to a possible NBA comeback. Do you think playing well in the BIG3 could potentially lead to a look from an NBA team?
KB: Anything is possible. I mean, I would definitely come in and do a workout for an NBA team so they can see I'm healthy. That's been the biggest thing for everybody: my health. I've had a couple of conversations with teams overseas, but everyone wants to see how I look in the BIG3 since I haven't played in so long and they want to make sure I'm healthy. Hopefully my play in the BIG3 answers all of the questions that teams have and I show that I can still move well. Then, we'll see what happens.
Are you guys practicing together or discussing strategy at all? And how have you been training individually for the BIG3?
KB: Yeah, we've all been talking to each other through group text. We're trying to set something up so that we can all get together for a few days before our first game in Brooklyn. That way we can play a bit and figure each other out; I'm hoping we can set that up. As far as my training, I've been doing a lot of cardio and getting shots up. Before I was going too crazy in the gym – playing a lot of 3-on-3, 2-on-2 and 1-on-1. I'd be in the gym playing games for four or five hours, but I'm 35 now and I realized I should dial it back a bit. So now I'm just focusing on a lot of cardio, shots and footwork stuff.
I know right now you're focusing on playing in the BIG3, but what do you hope to do when you're done playing?
KB: I want to teach kids the game. I think a lot of kids need to learn the fundamentals of the game. I've been going to a lot of AAU tournaments and just watching the kids play. Not everyone can be Allen Iverson or Steph Curry, but every player can make an impact if they learn the fundamentals. Some of the kids can't dribble with their off hand. That's what I want to do eventually – just go back to the basics and teach kids at the middle school or high school level.
Longform, Top, Boris Diaw, Chris Whitney, Dwight Howard, Gary Payton, Hakim Warrick, Jason Williams, Kevin Garnett, Kobe Bryant, Kwame Brown, LeBron James, Mahmoud Abdul-Rauf, Michael Jordan, Phil Jackson, Rashard Lewis, Rasheed Wallace, Stephen Jackson, Charlotte Hornets, Detroit Pistons, Golden State Warriors, Los Angeles Lakers, Memphis Grizzlies, Philadelphia 76ers, Washington Wizards
To leave a comment, you will need to
Sign in or create an account
if you already have an account. Typed comments will be lost if you are not signed in.