To predict player performance from one season to the next, there are at least a few key considerations.
NBA players tend to reach their peak around the age of 27-28, and research suggests it may be even earlier for players who rely on their athleticism to succeed. Players with different skill sets and at different positions may age into new roles, and can potentially reinvent themselves on the way.
When putting together player rankings, the expectation is to look at value produced over a full season, with a bonus for players who raise their games significantly in the playoffs when it matters most. Changing teams is an adjustment for many players, and when asked to play a different style than before, it's important to look at how they may fare in their new role.
Points guards, for example, many do different things, and some skill sets are perfectly suited to play a particular role on their specific team… whereas other talented players may not be in the right position to succeed.
So here goes:

1.
Stephen Curry

, Golden State Warriors

Curry will never again have a season like 2015-16, when he won his second MVP and averaged 30.4 points per game on bonkers efficiency numbers. However, he's still likely the best point guard in the league if we project a season similar to last year or Curry's first MVP year.

What makes Curry unique is his gravity on the offensive end on every single pick that's set for him. NBA teams prefer to have a big man drop down to the foul line to "contain" the pick-and-roll action, but unless you are perfect getting over the screen – and the Warriors will set enough illegal ones to make sure you won't – that's a 1.20 points per possession shot that's unacceptable defense. Double that action and you'll find yourself in a 4-on-3 situation with Draymond Green deciding how the play ends (that's how you get Javale McGee lobs over and over again).

On the other side of the court, there are some big misconceptions about Curry's game. Curry is an excellent team defender, knows how to execute the scheme and all sorts of complex switch tactics, and gets steals that lead to easy transition scores. What's true is that there are matchups where Curry can get exposed due to his physical limitations, but the Warriors have also improved their counters to those actions and are less vulnerable than before… and Kevin Durant tends to help with that too.
2.
Russell Westbrook

, Oklahoma City Thunder

With Paul George on board, Westbrook's insane triple-double numbers should take a hit, but that doesn't mean Westbrook can't be even better than in his MVP season. Westbrook's scoring efficiency has always hovered right around "above average", regardless of other stars around him, and it would be nice to see Westbrook better pick his spots to boost those numbers.

Defensively, Westbrook can also reign himself in a bit, as his hyperactivity tends to be a slight negative for the team. Interestingly, Oklahoma City's defense was better than their offense last season, and this year the team has the personnel to be truly elite and Westbrook can be part of the answer there.

Westbrook is three months away from the deadline to sign a five-year Designated Player Extension, and so far it's been a mystery whether or not he intends to sign a contract that will effectively keep him with the Thunder for the rest of his career. Thunder are rightly worried, given their less than stellar experience of keeping superstars.
3.
Chris Paul

, Houston Rockets

There's some numbers to show players are extending their primes and aging more gracefully than before, and that for many we should start counting the early thirties as a period where players are very close to their peak. No one has proven this point better than Paul. Short point guards haven't historically aged well, but across the board Paul's numbers, at age 32, have still been superb.

Sharing the ballhandling duties with James Harden next season, Paul will have to play off-the-ball an unusual amount. That's perfectly fine, since Paul could use the extra rest at this point in his career and he's a great spot-up shooter as well. You'd hope Paul could slightly increase the speed of his release on jumpers, since shooting against closeouts is different from what Paul is used to.

Paul has yet to make the conference finals in his career, and this season could be his best chance of doing so. NBA offenses have recently leaned towards one lead ball-handler with the rest of the players spreading the floor with a screen-and-roll in the middle. Famously, Daryl Morey's philosophy has been to go after star talent and worry about fit later, and there will be some adjustments that Mike D'Antoni, Harden and Paul will be forced to make.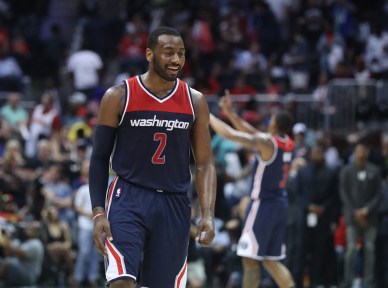 4.
John Wall

, Washington Wizards

Wall may not be the very best point guard in the NBA, but he's certainly not far from it and an outside contender for that title in the upcoming season. At 23.1 points, 10.7 assists and 2.0 steals per game last season, Wall pushed himself from the "very good" point guard area to the elite category.

Wall is at his best in transition, and his ability to create open corner three-pointers is a specialty. Defensively, Wall is top tier as well, separating himself from some of the other young top point guards in the league.

Shooting is the only weakness left in Wall's game, as he's a high-thirties shooter from midrange and in the low-thirties on his three-pointers. For a pick-and-roll point guard in half court, forcing the opponent to put pressure on the ball and go over screens is crucial in creating advantages, but in Wall's case he's almost so fast attacking the seams it doesn't matter. Long-term, looking forward 3-5 years, that's the one part of Wall's game you'd still hope develops.
5.
Damian Lillard

, Portland Trail Blazers

Among the "all-offense but no defense" point guards, Lillard could very well be the best heading into his age 27 season, and if he can help the Blazers build even a passable defense, Lillard could very well be considered one of 10 ten best players in the league next year.

In his fifth season with the Blazers, Lillard averaged 27.0 points, 5.9 assists and 4.9 rebounds while posting a career-high 58.6 True Shooting Percentage. This year, Portland will have to be at their best from the start to even make the playoffs, and becoming a cohesive defensive team should be priority. It's tough for the Blazers to be a great defensive team with their current roster, but making it out of the bottom 10 shouldn't be impossible. Portland ranked 11th in offensive efficiency last season, but with Lillard they've tended to be better in other seasons.

6.
Isaiah Thomas

, Boston Celtics

At every turn, doubting Thomas has turned out to be the wrong move, but still it's probably safe to say that he won't be as good as last season. The reasons are pretty simple: Thomas had a historic 62.5 True Shooting Percentage while averaging 28.9 points per game, and historic seasons don't come along that often for any player. Also, Thomas made a ton of tough baskets down the stretch of games, helping the Celtics significantly outperform their point differential.

It's easy to pick on Thomas' inherent weaknesses on the defensive end, but the fact that he's an unstoppable force on the other end makes Thomas one of the top point guards in the league. Thomas is heading into unrestricted free agency next summer, and is due for something like a maximum contract, which will be an interesting inflection point for the franchise. Universally loved by fans, it seems like the Celtics have no choice but to pay whatever Thomas wants to keep him and absorb a long-term that contract will end up as an albatross around the Celtics' neck.
7.
Kyrie Irving

, Cleveland Cavaliers

Irving's value has always been a highly-debated topic in the advanced stats community. The Cavaliers have never played well with Irving on the floor when he's been without LeBron James, and defensively Irving is a major liability due to his lack of effort and focus.

Those season-long statistics are true, but it's also true that Irving rises up to occasion when it matters most in the playoffs. Irving's style of play may not be the best way to play during the regular season, but the "unstoppable" part of his game remains unstoppable in the playoffs. Three-point shooters tend to get fewer shots off when guarded more tightly, and teams built around ball-movement may lose some of the advantages from their actions when scouted well. What Irving is good at can't be taken away in the same way, making him a more valuable playoff than regular season player.

8.
Kyle Lowry

, Toronto Raptors

Through the course of several regular seasons in a row, Lowry has been one of the most underrated players in the NBA. However, perhaps the biggest reason for it, has been deserved. Lowry has shot just 39.4 percent in his career in the playoffs, which is remarkable for a player who had the third highest True Shooting Percentage among point guards last season.

With Lowry and Serge Ibaka re-upped until the 2019-20 season, the Raptors have extended themselves a three-year window to chase better playoff successes with the current iteration of the team. Lowry is likely to start declining sometime in the near future, being 31 years of age already, but he's still a great player overall. Toronto has always played well with Lowry on the court even without DeMar DeRozan, and the same can't be said the other way around.

All that's left is to transfer that success to the playoffs.
9.
Mike Conley

, Memphis Grizzlies

Conley has been considered the most underrated player in the NBA for so long, it's fair to say he's now properly rated by everyone. Leading the Grizzlies to another playoff berth is getting tougher by the year, as the team is holding on for dear life in an increasingly crazy Western Conference for the last playoff spots. Memphis' success exclusively relies on the heroics of Marc Gasol and Conley, and the ability of the front office to churn out helpful role players.

In 2016-17, Conley upped his scoring to 20.5 points per game, up from 15.3 the year before. Additionally, Conley set career-bests in rebounds, three-point percentage and assists. At this point in his career, Conley has probably been slightly overrated on the defensive end, especially considering the pressure of his increasing offensive load.

10.
Goran Dragic

, Miami Heat

Dragic in the Top 10 is a slightly risky pick considering he's already 31 years old, but if he can keep up the same production from last year, the spot is well-deserved. Last season, Dragic averaged 20.3 points, 5.8 assists and shot a sizzling 40.4 percent from deep, pushing his True Shooting Percentage up to 57.5 percent.

The Slovenian guard is at his best in pushing the pace in transition, and has always been an elite finisher at the basket. Miami finished the season 30-11, and with its players now well-paid and a year older, the question is can they capture the same magic again. Erik Spoelstra is one of those coaches who can push his team to outperform expectations exploiting opponents' weaknesses night to night better than his counterpart. Dragic's ability to keep the offense running at a high pace even as he ages will be key in getting those extra few baskets every game.
11.
Kemba Walker

, Charlotte Hornets

Walker deserves a ton of credit for developing himself into an All-Star caliber player. By his fourth season, it looked like Walker's development had stagnated and it was unclear where growth would come from. Until suddenly last season, Walker upped his three-point percentage to 39.9 percent, after middling in the low-thirties in his previous five seasons, and posted a career-high 29.2 Usage Rate – a number on par with some of the best point guards in the league.

A notable part of Walker's efficiency is his extremely low turnover rate. Walker turned the ball over on under 10 percent of his possessions in 2016-17, ranking him as the best point guard in that category. Defense is always going to be an issue due to Walker's size and skinny frame, but the Hornets have been average or better with him on the floor. Dwight Howard's added presence around the rim should help hide some of Walker's weaknesses too.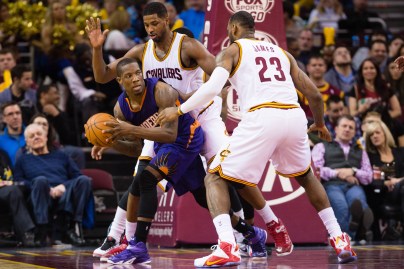 12.
Eric Bledsoe

, Phoenix Suns

Bledsoe is the most likely trade candidate for Kyrie Irving, since the Cavaliers could use more assets both now and going forward, and a straight up trade between the two would require sweeteners from Phoenix's side. Middle ground could be reached if the Cavs are willing to settle for something other than Josh Jackson (and the untouchable Devin Booker) as said sweetener.

Turning 28 years of age in December, Bledsoe is right in the prime of his career. At 21.1 points, 6.3 assists, 4.8 rebounds and 1.4 steals, Bledsoe is coming off his best year, before being shut down at the end of the season for the Suns to shamelessly tank. Bledsoe is a good player on both ends of the floor and doesn't fit the Suns' timetable building around Booker and Jackson, and he may be best served helping a contender inch closer to the Warriors next season.
13.
Ricky Rubio

, Utah Jazz

The Jazz were ranked as the slowest paced team last season, and Quin Snyder will have to adjust his style of play to better suit Rubio's style of play. Rubio is best attacking in transition, where his weaknesses as a shooter are better hidden. The Jazz still look to be a strong playoff contender, but the lack of shooting may be too much to overcome in the halfcourt for the offense to run efficiently – no matter how much creative action Snyder wants to run.

For most of his career, Rubio has done well by advanced metrics, in part thanks to his underrated defense. Rubio has excellent size and strength to guard his position and chase down pick-and-roll players off screens. Most guards who get steals gamble too much, but most of the time Rubio does a fine job walking the line. Rubio's averages of 11.1 points and 9.7 assists in 2016-17 were the best numbers of his career.

14.
Jrue Holiday

, New Orleans Pelicans

Fresh off inking a five-year $126 million deal with the Pelicans, Holiday is heading into the 2017-18 season in a strange position. Technically, he'll be starting at shooting guard with Rajon Rondo at the point, which can't be considered a vote of confidence by the Pelicans in Holiday's ability to run the offense.

In all likelihood, Holiday will still be playing major minutes at the point guard position, but the spacing around him will be tight. It's possible the Pelicans don't have a single 40 percent shooter from deep next season, which is incredibly rare in today's NBA.

Holiday averaged 15.3 points, 7.3 assists and 3.9 rebounds per game last season, in addition to being a solid defender. Still, the Pelicans could be faced with a slight disadvantage playing against bigger two-guards.
15.
George Hill

, Sacramento Kings

Among the quality point guards on this list, how Hill plays next season is difficult to project. Hill's best seasons have come after where NBA players typically peak age-wise, and Hill has missed large chunks of two of the past three seasons.

When Hill has been on the court, he's been a fantastic addition for his teams. The Jazz outscored opponents by 8.6 points per 100 possessions with Hill on the floor in 2016-17, and he's also been among the most efficient pick-and-roll players (albeit, in a secondary offensive role). Hill is an excellent defender, and can work both on- and off-the-ball. Hill's usage rate has been in the high teens for most of his career, which is low for most point guards but perfectly fine for Hill considering everything else he brings to the table.
16.
Patrick Beverley

, Los Angeles Clippers

A tenacious defender, Beverley will have the opportunity to push the limits of his ability to create offense for his new team. Reportedly, Beverley is excited for the opportunity to take on a bigger role as Blake Griffin rehabs from toe surgery.

Last season, Beverley averaged only 2.7 possessions per game where he finished the play as the pick-and-roll ball-handler, which is incredibly low for a point guard. On those plays, Beverley hovered around league average efficiency. Despite his 6-foot-1 frame, Beverley is an elite rebounder grabbing nearly 7 boards per 36 minutes.
17.
Jeff Teague

, Minnesota Timberwolves

Teague is a solid starting point guard, and the Timberwolves did a decent job getting him on a relatively team-friendly contract that only goes for three seasons (with a player option on the third year). Last season, Teague averaged 15.3 points and 7.8 assists.

Compared to Rubio, Teague's fit offensively is slightly better, being a solid three-point shooter – though not on superb volume. Defensively, Teague isn't near the same player as Rubio, however, and that's been the biggest weakness for the team thus far. From the players available on the market, George Hill may have been a better fit, but Hill's nagging injuries make him a higher risk for a young team looking to take the next step.

18.
Markelle Fultz

, Philadelphia 76ers

Sixers fans are excited to see what their young core with Fultz, Ben Simmons and Joel Embiid will accomplish (fingers crossed) if all stay even relatively healthy. Similar to Ball, expectations for the top draft picks with superstar potential tends to exceed what's possible in their first season. Being an above-average point guard is tough – grasping the nuances of NBA offenses and being good defensively rarely happen – but if Fultz can sniff that level already this season, that will be a great sign moving forward.

For the Washington Huskies, Fultz averaged 23.2 points, 5.9 assists, 5.7 rebounds, 1.6 steals and 1.2 blocks with an elite 26.0 PER last season. Fultz has all the physical and basketball tools to become the next great point guard in the NBA, and his 6-foot-10 wingspan gives him the versatility to be a menace defensively.
19.
Lonzo Ball

, Los Angeles Lakers

Ball earned the Summer League MVP in Las Vegas with 16.3 points, 9.3 assists, 7.7 rebounds and 2.5 steals per game, and while summer league success hasn't historically been all that predictive of NBA success, it's better to play fantastic than not. One notable part of Ball's shooting is that he only made 67.3 percent of his free throw attempts at UCLA while shooting 41.2 percent on three-pointers. For NBA three-point success, studies have shown that free-throw percentage is actually the better indicator in projecting NBA shooting.

The Lakers have the chance to play around with some interesting lineups to take advantage of Ball's transition game with Brandon Ingram at power forward, and the addition of Kentavious Caldwell-Pope, a fantastic defender who can guard the tougher backcourt matchup every night.
20.
Jamal Murray

, Denver Nuggets

The Nuggets have messed around with not starting their obviously best players recently, as Nikola Jokic was coming off the bench at the start of 2016-17 with Jusuf Nurkic starting. Hopefully, the team won't repeat their past mistakes and move Murray to start at point guard instead of Emmanuel Mudiay.

Murray averaged an unimpressive 9.9 points and 2.1 assists last season and didn't shoot the ball well, but the flashes he showed playing off Jokic promises a breakout season for the Nuggets. Heading into his second season, Murray needs to grow as a defender and improve his efficiency numbers almost everywhere on the floor, but the upside is tantalizing. Murray is best playing as a secondary ballhandler, which fits him well in an offense run by Jokic.

21.
Malcolm Brogdon

, Milwaukee Bucks

After winning Rookie of the Year, expectations are high for Brogdon coming into his sophomore season. Brogdon averaged 10.2 points, 4.4 assists, 1.1 steals and shot 40.4 percent from deep last season – but it's worth noting Brogdon was an older rookie and will turn 25 in December.

Not every point guard has to work as the primary pick-and-roll creator for their team to be successful. Giannis Antetokounmpo will have the ball on offense the majority of the time, and Brogdon's game is a perfect fit for playing off the advantages the Greek Freak creates. Defensively, Brogdon has the size and strength to switch across multiple positions, something every team clamors for in today's game.
22.
Dennis Smith

, Dallas Mavericks

Smith had an impressive Summer League showing and is in the perfect position to succeed as a rookie point guard with the Mavericks. Rick Carlisle's coaching and system has kept JJ Barea and Devin Harris for years as productive point guards, as well as led to breakout seasons for Yogi Ferrell and Seth Curry.

Running Carlisle's "flow" offense with Dirk Nowitzki spreading to floor and Nerlens Noel (provided Noel's restricted free agency ends with him staying with the team) is every young point guard's dream situation to develop in, and Smith will have every opportunity to learn and make mistakes with a rebuilding team.

23.
Dennis SchroEder

, Atlanta Hawks

The Hawks are going down the tank this season after losing Paul Millsap in free agency and dumping Dwight Howard (but inexplicably taking on more long-term salary) to the Hornets. Schroder will be forced to make every play on the offensive end, and that puts the young German point guard in a tough position.

Among NBA people, Schroeder is a divisive player. Superficially, Schroeder puts up solid numbers, 17.9 points and 6.3 assists with not terrible efficiency, and has improved every season in his four-year career. Whether or not those numbers will translate to team success is another question, and Schroeder's jump shot remains shaky. Last season, the Hawks were better without him on the floor, which is not encouraging considering he played a ton of minutes with Millsap.
24.
Reggie Jackson

, Detroit Pistons

Jackson can't possibly play worse than he did last season, and is due for a bounce-back year after averaging just 14.5 points (down from 18.8 in 2015-16) with dwindling efficiency numbers. At key moments, Stan Van Gundy would trust Ish Smith over Jackson, and that can't be the case since Detroit is paying for Jackson to be the answer at point guard.

The good news for the Pistons is that the Eastern Conference is an absolute dumpster fire. Making a run to the playoffs shouldn't be that hard, since it will likely require reaching somewhere in the vicinity of 37 wins.
25.
Patrick Mills

, San Antonio Spurs

There's about a 12 percent chance Gregg Popovich works his voodoo magic with Dejounte Murray to the point where Murray turns into a starting caliber point guard already this season, but with Tony Parker likely out for the season, Mills should be the first option for most of the year.

In most situations, Mills wouldn't make at Top 30 point guard ranking, but his fit next Kawhi Leonard as the first option is pretty good. Mills is a great shooter, understands how to succeed in the Spurs system and fights defensively – in other words, Mills is a star in his own role. Last season, Mills played 21.9 minutes per game, the highest number of his career, but in the upcoming season he should be hovering around 26 to 28 minutes a night.
26.
Derrick Rose

, Cleveland Cavaliers

Depending on how the Kyrie Irving-saga plays itself out, Rose may find himself in either a sixth man or starting role next season (and in the latter case, you can push Rose up in these rankings by 5-7 spots).

In 2016-17, Rose had the best season of his post-ACL tear career, averaging 18.0 points on 47.1 percent shooting. Overall, Rose's efficiency was right at the league average, but he's a bad defensive player and locking in defensively will be required if he wants to stay on the floor in a potential Finals rematch with the Warriors. Rose's goal should be to be a positive contributor on both ends and playing with LeBron James tends to help with that.
27.
Elfrid Payton

, Orlando Magic

Opponents are more than happy to go a mile under on every screen-and-roll that involves Payton, leading to Payton not being able to command the type of gravity on pick-and-rolls a modern point guard should. This has led coach Frank Vogel to try out some unconventional stuff with Payton, having him hang along the baseline on possessions.

However, Payton has grown from a terrible free-throw shooter into a passable one, and if Payton's jumper becomes a bigger threat, many other aspects of his game could be unlocked. Heading into restricted free agency next summer, now is the time for Payton to make a leap.
28.
Darren Collison

, Indiana Pacers

Though Collison is probably best suited to being a high-end backup ball-handler, the Pacers signed him to a two-year $20 million to be their starting point guard. Collison is a solid shooter percentage-wise, but doesn't really have the variety on his shot to be a threat from deep coming off pick-and-rolls.

With Victor Oladipo, Cory Joseph and Collison together in the backcourt, the Pacers have some playmaking ability but no single lead playmaker to run an efficient offense. Last season, Collison averaged 13.2 points and 4.6 assists per game with great efficiency.
29.
De'Aaron Fox

, Sacramento Kings

Kings fans shouldn't be worried about Fox's playing time and opportunities due to the George Hill signing, as Hill has struggled with nagging injuries, and is very good off-the-ball.

Fox's greatest strengths are his athleticism, quick first step and speed in transition, but it's unclear if the Kings have the supporting cast to play a style best suited to him. The roster is filled with a million big men, and spacing in the middle can get tight. Fox only shot 24.6 percent on three-pointers in college, and improving his stroke while being a disruptive defender will be key at the next level.
30.
Jeremy Lin

, Brooklyn Nets

Lin only played 36 games last season, but when he was healthy and on the floor, his production was solid. The Nets were outscored by 2.9 points per 100 possessions with Lin on the floor, a good number for Brooklyn, and won 13 games.

Overall, Lin is better suited to a high-end backup role rather than being a starter and how the ballhandling duties alongside D'Angelo Russell, who will presumably start at shooting guard, will be distributed. The Nets' backcourt can't really guard anyone and will give up a billion points, but offensively the duo should work well together.

You can find Mika Honkasalo on Twitter @mhonkasalo.