After finishing as runner-up to Kawhi Leonard in Defensive Player of the Year voting over the last two seasons, Draymond Green finally (and deservedly) took home the honor at June's NBA Awards Show.
This year's All-Defensive 1st Team consisted of Green, Leonard, Rudy Gobert, Chris Paul and Patrick Beverley. The All-Defensive 2nd Team featured Tony Allen, Danny Green, Anthony Davis, Andre Roberson and Giannis Antetokounmpo. However, 39 other players received All-Defensive Team votes (and 28 of those individuals showed up on multiple ballots).
With many differing opinions, HoopsHype went straight to the source: Who better to ask than the players who try to score on these guys? We contacted a number of current and recently retired NBA players and they weighed in on the NBA's elite modern-day defenders. Who knows the veteran tricks that stealthily make life miserable for the player they're guarding? Which defender did they hate to see across from them? Here's what players said:

John Wall, Washington Wizards:
"Avery Bradley is a heck of a defender; me and him have been battling since high school. He's great. I like Avery Bradley. Tony Allen [is tough] when he plays against me. And Kawhi Leonard. They put Kawhi on me sometimes and with him, you can't really play around with the basketball. You have to just try to get past him and score."
Damian Lillard, Portland Trail Blazers:
"I'd say Kawhi Leonard, Avery Bradley, Jrue Holiday and Trevor Ariza. They are all really good defenders."
JJ Redick, Philadelphia 76ers:
"Kawhi Leonard is awesome. In terms of individual defense, he's probably as good as it gets in terms of his versatility and ability to guard multiple positions. He can guard anyone – small and big. A guy who did a great job [defending me] last year was Jaylen Brown. Avery [Bradley] was hurt the first time we played them, so Jaylen guarded me in Boston and he just did a great job of sticking with me. He has the length, he's strong and he's athletic."
Garrett Temple, Sacramento Kings:
"Kawhi Leonard because of his length, athleticism and how strong and quick his hands are. Avery Bradley because of his ability to move laterally and how quick his hands are too. He's also a lot longer than people think.
"Rudy Gobert is the best shot-blocker in the game. He is the one big I worry may block my jump shot when I come off of a pick-and-roll, even if he's playing back from me. And he changes three times as many shots as he actually blocks."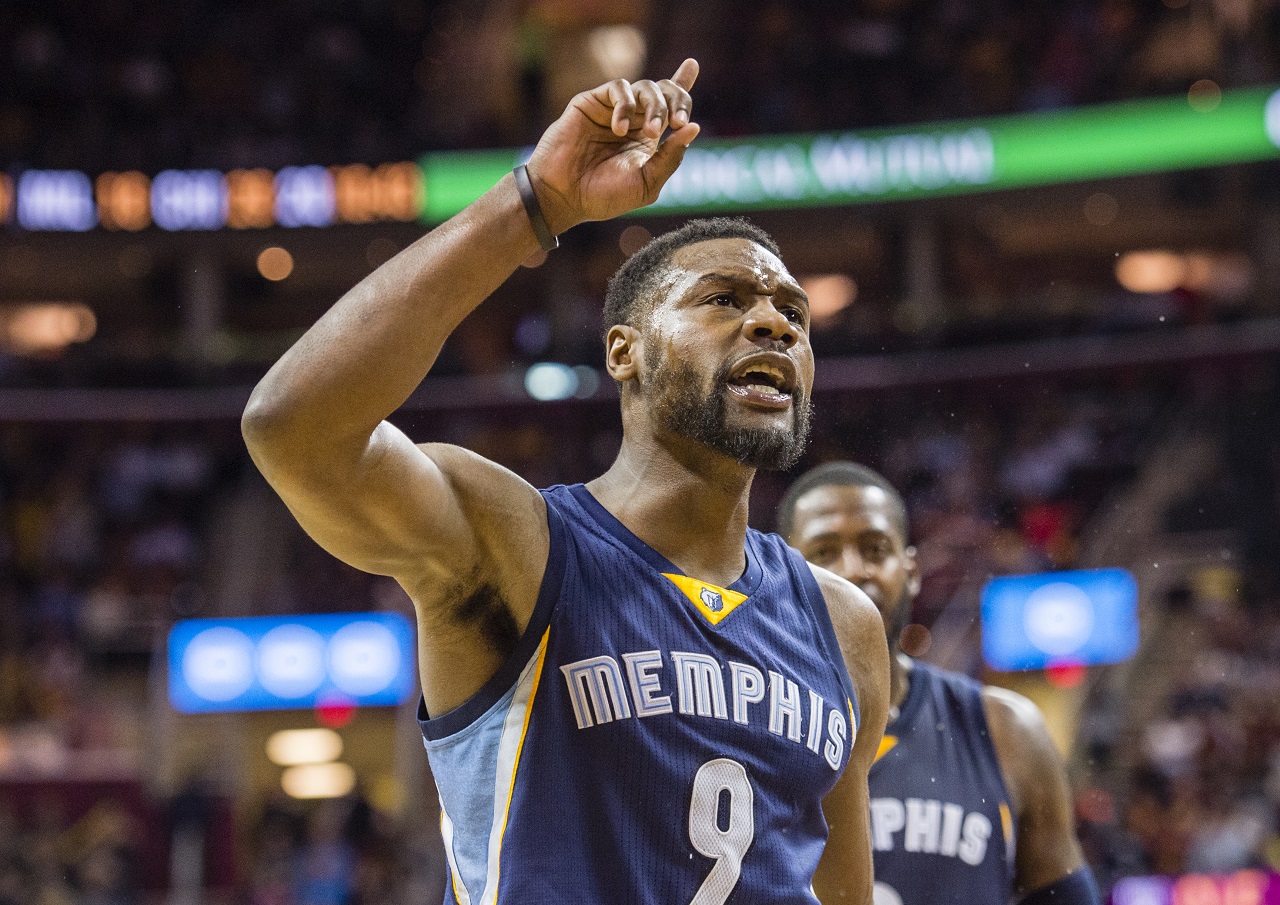 Anthony Parker, 9-year NBA veteran:
"Tony Allen. He's strong and quick. He has good anticipation and active, quick hands. Shane Battier was tough too because of his length and great anticipation, plus he had all the tricks guarding off screens and on the ball."
Jamal Crawford, Minnesota Timberwolves:
"The guys who have played the best defense on me, I'd say, are Doug Christie, Tony Allen and Bruce Bowen. They're all really good defenders, for sure."
Courtney Lee, New York Knicks:
"Tony Allen. Dude doesn't get screened!"
Larry Nance Jr, Los Angeles Lakers:
"Tony Allen is obviously well-known as a fierce defender, as a feared defender. But I'd say Draymond Green is [most difficult]. I actually watch tape of Draymond, just the way he controls the weak-side and commands everyone on defense. That's an aspect that I want to incorporate into my game and I think he's awesome."
Kwame Brown, 12-year NBA veteran:
"Personally, I thought the best defender was Anthony Mason because of his combination of quickness and strength."
Elfrid Payton, Orlando Magic:
"Chris Paul. He guards me well, but I think he guards pretty much everyone well. He spends so much time studying his opponents, so he knows all of your tendencies. Mike Conley Jr. is a good defender too. He doesn't get the credit he deserves."

Dorell Wright, 11-year NBA veteran:
"Tony Allen, Ron Artest (also known as Metta World Peace) and Kobe Bryant were the toughest. Kobe would try to get into you and move you. And Tony and Ron were so good. It's funny, I was recently talking to my wife about match-ups and who gave me a hard time. Even she was like, 'Man, that Tony Allen though! He would guard you so good. I'd be thinking, 'Babe can't do nothing out there on him!' (laughs) So yeah, T.A. for sure. He was ferocious. Tony, Ron and Kobe were the best… They were really aggressive; they'd get into you, they'd turn you and direct you where they wanted you to go."
DerMarr Johnson, 7-year NBA veteran:
"Ron Artest because his size, strength and long arms. He made it hard to get anywhere on the floor. Also, Kevin Garnett because he guarded every position."
Maurice Evans, 11-year NBA veteran:
"I played with and against a lot of great defenders throughout my career. It's very challenging to choose one over the other, but I will try. The best defenders I played against were Tayshaun Prince, Ron Artest, Dwight Howard, Kevin Garnett and Josh Smith. The one that stands out the most to me is Tayshaun Prince; he was long, disciplined and could guard multiple positions without needing help from other players."
Ricky Davis, 12-year NBA veteran:
"Some of the best defenders I've faced are Ron Artest, Gary Payton, Bruce Bowen and Lindsey Hunter."
Who do you feel are the best modern-day NBA defenders? Leave your thoughts in a comment below, or take the conversation to social media by tweeting @HoopsHype and @AlexKennedyNBA.
Article, Top, Anthony Mason, Anthony Parker, Avery Bradley, Bruce Bowen, Chris Paul, Damian Lillard, DeAndre Jordan, Dorell Wright, Doug Christie, Draymond Green, Elfrid Payton, Jrue Holiday, Kawhi Leonard, Kwame Brown, Larry Nance Jr, Lindsey Hunter, Metta World Peace, Mike Conley, Ricky Davis, Ron Artest, Rudy Gobert, Shane Battier, Tayshaun Prince, Tony Allen, Trevor Ariza, Golden State Warriors, Los Angeles Lakers, Memphis Grizzlies, Miami Heat, Orlando Magic, Portland Trail Blazers, San Antonio Spurs, Washington Wizards
To leave a comment, you will need to
Sign in or create an account
if you already have an account. Typed comments will be lost if you are not signed in.