Our series projecting the Top 30 players at each position comes to an end with the best centers in the NBA, and in case you missed them you can check out the previous projections for point guards, shooting guards, small forwards and power forwards.
Among centers, there are interesting and distinct player types, and often the value these players bring to the table can be tough to measure. Big men who score in the post and put up big box score numbers on a per possession basis but can't defend the rim or switch onto the perimeter have seen their value decline in recent years as teams have begun appreciating supporting skills.
Even as a low-usage rim roller, an athletic finisher can bring vertical spacing to the offense, and with the correct spacing around the pick-and-roll action, just the threat of a lob pass can break a defense. What each team needs from their center differs, and some can be stars in a supporting role, which can be just as important as finding the right top talent.
So here goes:
1.
Karl-Anthony Towns

, Minnesota Timberwolves

Towns is everything a team could want from a modern center, with the skills to dominate both inside and outside. Compared to another young star like Anthony Davis, Towns is also a much more intuitive passer despite not being at the same level as a pure athlete. In 2016-17, Towns averaged 25.1 points, 12.7 rebounds and 2.3 assists while shooting 54.2 percent from the field and 36.7 percent on three-pointers.

To reach his potential, Towns can still grow in all aspects of the game, but the biggest step he'll have to take is defensively. Towns has shown the ability to switch onto perimeter assignments and protect the rim, but last season overall his production and attention to details on that end was a slight disappointment. For those defensive reasons, Tom Thibodeau has been tempted to keep Towns locked to another big like Gorgui Dieng, and Taj Gibson's signing is also a sign of the team not being confident in Towns as the lone big.
2.
Nikola Jokic

, Denver Nuggets

Jokic is the NBA's next superstar most fans don't know about yet. An offense with Jokic immediately becomes elite, as he's incredibly efficient as a scorer and something like the best big man passer in NBA history. With Jokic on the floor as a starter, the Nuggets scored nearly 118.0 points per 100 possessions, far beyond Golden State's league leading numbers.

Jokic's passing doesn't show up in only gaudy assist numbers, but he creates points that wouldn't exist otherwise – turning an average possession into an open layup or three-pointer in an instant. For the Nuggets, the big challenge will be trying to sniff league average defensively, and the addition of Paul Millsap is a good first step. Jokic has quick hands and does some crafty things in pick-and-roll defensively, but he'll always need a ton of support from the players around him.

3.
DeMarcus Cousins

, New Orleans Pelicans

The Pelicans are probably in the most volatile spot among the teams competing for a spot in the Western Conference playoffs. Cousins will be an unrestricted free agent next summer, and if he leaves (or the Pelicans are pushed to trade him during the season), that will quickly start the clock on an Anthony Davis move. New Orleans would be forced to pay dearly for not being patient building around their young star.

With two big men as the most important players on the roster, the Pelicans probably have a better shot at being a monster defensively rather than on offense, where spacing will be tight. For Cousins, helping achieve that goal will mean running back in transition every time and showing effort play after play without mistakes, something he hasn't been committed to in previous years. Cousins is a monster and almost impossible to guard, and his excellent passing helps the players around him… though ideally Cousins should cut down his turnover rate.
4.
Rudy Gobert

, Utah Jazz

Generally, any attempt near the basket is an efficient one, but that equation changes when facing off against Gobert in the paint. Opponents shot just 43.8 percent at the rim with Gobert defending the play last season, and Gobert also defended the most attempts at 10.2 per game.

What's underappreciated about Gobert's game is his offense. Gobert can't finish a play outside the paint, but he's excellent at all the little details – especially in gaining positioning in the paint, which helps him convert on a high percentage of shots. Gobert isn't the most intuitive passer, but has grown into a solid ball-mover in Quin Snyder's exquisite offense. The Jazz are going to have an elite defense, and how much creativity can be squeezed out of an offense with poor spacing will be key for the Jazz playoff hopes.

5.
Marc Gasol

, Memphis Grizzlies

According to reports, Memphis considers Gasol to be "untouchable" at this time in trade talks for understandable reasons. Gasol, along with Mike Conley, has been the heart and soul (and best player) for the grit-and-grind era of the Grizzlies. This season could change the Grizzlies' tune, as the team is out a future draft pick and is quickly losing ground in the Western Conference playoff race insanity.

If the Grizzlies start off slow, Gasol could become available on the market. He's still one of the best centers in the game, but already not exactly the fastest player, Gasol could start to lose ground defensively soon. Last season, Gasol averaged a career-bests with 19.4 points and 4.6 assists with 104 made three-pointers (on 38.8 percent shooting).
6.
Hassan Whiteside

, Miami Heat

Whiteside led the league in rebounding at 14.1 per game, while also adding 17.0 points in 2016-17 for the Heat. At 28 years old, Whiteside is right in the prime of his career making the upcoming season perhaps Miami's best opportunity to compete at a high level.

Whiteside upped his attempts from outside the restricted area and shot the ball reasonably well, and that part of his game could still develop further. As a passer Whiteside hasn't ever brought much value to his team, but he's shown marginal improvement there too. Posting up, Whiteside averaged averaged just 0.82 points per possession, placing him in the 33rd percentile, while as a roll man he posted an elite 1.20 points per possession.

7.
DeAndre Jordan

, Los Angeles Clippers

As an athletic shot blocker, Jordan is the model of a successful player of that player type, but playing without Chris Paul will bring its challenges next season. It's worth noting that for a long time, Jordan was an overrated defender and vastly underappreciated on the offensive end. His lob threat is extremely tough to defend, and Paul was a master at using that "vertical spacing" to his advantage.

Jordan's defense has now caught up to his reputation, but a player relying on athleticism can quickly run into problems if he loses even a step. Jordan is now 29 years old, and it's easy to imagine him starting to fall off similarly to Dwight Howard. On the plus side, Jordan has been an iron man and never misses games despite averaging 33.7 minutes per contest over the last four seasons.
8.
Myles Turner

, Indiana Pacers

Losing Paul George is a terrible hit to a smaller market franchise like the Pacers, but the team does have some chance to be surprisingly close to the Eastern Conference playoff race. First, the conference is an absolute dumpster fire after the best four or five teams, and the Pacers can actually field a squad with eight players who are positive contributors at their positions.

Throw in Turner to that mix. He is not only young and talented, but also a player who has turned his production into team success. By the adjusted plus-minus numbers, Turner is already a great defender, and on offense his varied skill set is perfect for a modern big. Turner is an excellent mid-range shooter and is in the progress of pushing his range out to the three-point line. It's easy to imagine Turner averaging an efficient 21.0 points, 9.0 rebounds and 2.0 blocks per game in his age 21 season.

9.
Al Horford

, Boston Celtics

With Marcus Morris at power forward and Guerschon Yabusele and Aron Baynes as the next best big options, Horford will now be only starting traditional big man on the roster. That brings the Celtics some challenges, as the team ranked 27th in defensive rebounding percentage in 2016-17 and Horford's teams tend to struggle on the glass.

Rebounding aside, Horford is one of the underrated bigs in the league. He's great at positioning and execution defensively, despite not being a traditional rim protector. Offensively, beyond Horford's great assist numbers he's a real ball-mover who keeps the action flowing in Brad Stevens' offense. Smart offenses are built around creating advantages, and then smart players capitalizing on what the previous action has built. Horford's basketball IQ separates him from most centers there.
10.
Joel Embiid

, Philadelphia 76ers

Embiid is one of the toughest players to place on this list, because his upside is being the best center in the NBA, and the downside is playing something like 15 percent of the season. In 768 minutes with Embiid on the floor, the Sixers outscored opponents by 3.2 points per 100 possessions, and were outscored by 8.7 points without him – the equivalent of dropping from the Celtics to the Lakers last season.

Per 36 minutes, Embiid averaged 28.7 points, 11.1 rebounds, 3.0 assists, 1.2 steals and 3.5 blocks (and 5.4 turnovers) with an elite 58.8 True Shooting Percentage. Take every player who has played more than a hundred minutes with those numbers, and that's a group exclusively for Hall of Famers. Embiid is both the perfect inside- and outside player, and all he needs is a little luck from the injury gods.

11.
Steven Adams

, Oklahoma City Thunder

Adams is known as a tough and burly big man in the middle, but going forward the intriguing part is how his skill set develops. From 2015-16 to 2016-17, Adams' shot distribution moved away from the basket, as over 43 percent of his attempts came from beyond three-feet.

As a post-up option, Adams was pushed more than before. 23.2 percent of Adams' possessions were categorized as post-ups, and he scored at a below average rate of 0.83 points per possession. On short flip shots and the like, Adams actually did a great job as he made nearly 50 percent of his paint shots that were not in the restricted area. Adams also doubled his assist rate, which is an important skill for a modern big on the short roll.
12.
Brook Lopez

, Los Angeles Lakers

Among the long list of skilled big men who have been good mid-range shooters before and were pushed to make three-pointers, few have done it with the same success as Lopez. In his first eight NBA seasons, Lopez attempted a total of 32 three-pointers before taking 346 in 2016-17.

Lopez doesn't have the foot speed to defend in space, but he's a good rim protector due to positioning and length. Averaging a career-low 5.4 rebounds per game, he seems almost allergic to rebounding, but the advanced numbers show that the Nets have rebounded better with Lopez on the floor. How many rebounds a player grabs is a poor indicator of how good a rebounder they are, and Lopez is a good example of an unselfish teammate there.

13.
Andre Drummond

, Detroit Pistons

Drummond's physical tools should ideally be suited for a rim protecting roll man, and even if he's limited in terms of versatility, that combination should be extremely valuable to a team – a la Dwight Howard in his prime. Even Drummond's 13.6 points and 13.8 rebounds are big enough numbers to ostensibly fill that role.

Yet in his first five NBA seasons, Drummond's talent hasn't translated to team success, at least to the degree most had hoped for. Defensively, Drummond is pretty good on the glass and protecting the basket, but he still makes some mistakes in help defense and positioning. On offense, he remains inefficient due to his free-throw shooting and Stan Van Gundy's insistence on putting him in the post. If the Pistons are willing to move on from the great post-up experiment and move Drummond to an offensive role that fits him better, he should be back in the chase for an All-Star spot in the Eastern Conference.
14.
Clint Capela

, Houston Rockets

Heading into his fourth season, Capela's career has been on an fantastic upward trajectory thus far. Last season, Capela averaged 12.6 points and 8.1 rebounds per game while making 53.1 percent of his free throws – a big jump from 35.9 percent in his first two years.

Capela is exclusively a finisher at the rim, but that's all the Rockets need from their starting center. Modern NBA defenses like playing a passive style where the big man drops to the foul line to contain the ballhandler, but a spread offense with a lob threat can pick apart that strategy.

15.
Nerlens Noel

, Dallas Mavericks

Noel is one of a few players in the entire NBA who can sniff two steals and two blocks every night, which speaks to his versatility and defensive upside. NBA teams desperately want a player who can both switch and protect the basket, and Noel has shown flashes of being elite at both. All the stars should be aligned for Noel playing for a top-notch coach like Rick Carlisle.

Noel's rookie season was the best of his career, but since then Philadelphia's messed up frontcourt rotation mostly worked to screw Noel's development. Reportedly, Noel turned down a big offer and will be an unrestricted free agent next summer, when the market should be super tight for players expecting big pay days. That's a big bet and risky bet by Noel and unlikely to pay off.
16.
Jusuf Nurkic

, Portland Trail Blazers

Nurkic's short NBA career has seen its fair share of ups and downs already. After a promising rookie year, injuries screwed up Nurkic's second year, and a terrible start to the 2016-17 season was fixed with a trade to the Blazers. Nurkic ended up averaging 15.2 points, 10.4 rebounds, 3.2 assists, 1.3 steals and 1.9 blocks per game in 20 games with his new team.

Nurkic will be a restricted free agent next summer, and the Blazers already have an expensive team, which will force some tough choices. Nurkic is a good young player, but probably any defense with him as the anchor has limited upside. The Blazers will have to start well to even make the playoffs, and Nurkic will have to show his brilliant finish to last year wasn't a mirage.

17.
Jonas Valanciunas

, Toronto Raptors

Valanciunas, who was considered one of the top young big men in the league a few years ago, has seen his production (and role) plateau over the past few years. Add to that Lucas Nogueira and Jakob Poeltl as talented backup bigs, and Valanciunas could find himself marginalized.

The Lithuanian is an excellent rebounder and has great size and strength to battle inside. Still, as a straight post-up player, Valanciunas' efficiency numbers have hovered just above league average, scoring 0.90 points per possession on post-up plays last season. That's not good enough to draw the defense into help situations and create real advantages on offense, and he doesn't have the kind of defensive versatility teams today need. This has led to Valanciunas' playing time being capped out in the mid-20s and out of the rotation in crunch time.
18.
Dwight Howard

, Charlotte Hornets

Due to Howard's post-prime decline and lack of a post-up game (which has been picked apart needlessly), Howard has been maligned to the point of being underrated. Howard is still a positive difference maker defensively, and while some of the static post-ups need to go, Howard is an efficient player offensively overall.

The Hornets are in a weird place with their frontcourt rotation. Cody Zeller is a better player than Howard, but Steve Clifford apparently plans to bring Zeller off the bench instead of the two big men starting side-by-side and staggering minutes where possible (the reason why Zeller was included in our power forward rankings). Howard won't be happy coming off the bench, but the fact that Zeller won't even start is an ugly look for the franchise.

19.
Tristan Thompson

, Cleveland Cavaliers

Last season, Thompson averaged 8.1 points, 9.2 rebounds and 1.1 blocks in 29.9 minutes per game, while shooting a career-best 60.0 percent from the field and 60.4 percent on free throws.

The Cavaliers are paying Thompson big bucks until the 2019-20, when he turns 29 years old. Through those seasons, Thompson projects as a valuable player for Cleveland, despite being slightly undersized. Thompson is a good rebounder, has improved his finishing touch at the basket and can switch onto most perimeter assignments at this point in his career.
20.
Pau Gasol

, San Antonio Spurs

For the first time in his 16-year NBA career, Gasol took on a bench role last season. Also, his 12.4 points per game was the worst mark of his career. During the upcoming year, however, the Spurs will have no choice but to start Gasol with a more shallow frontcourt rotation than before.

Gasol can still be a solid starter, but his declining athleticism is a big problem against teams who can space the floor and play with pace. Interestingly, Gasol has shot 46.2 percent on three-pointers (on a non-trivial 199 total attempts) over the past three seasons and has been among the most efficient mid-range shooters. The Spurs quietly have some minor spacing issues, which could be alleviated by Gasol and LaMarcus Aldridge being able to take and make three-pointers with consistency.
21.
Marcin Gortat

, Washington Wizards

For a team looking to take the next step towards contending, and who could use all the cap space available to tinker around at the edge of the roster, the Wizards have a boatload of money invested at the center position over the next two seasons. Last summer, signing Ian Mahinmi to a four-year $64 million deal was a sign that Washington could be ready to move on from Gortat, who will be an unrestricted free agent in the summer of 2019 and turns 34 years old next season.

However, Mahinmi's injury struggles and Gortat's solid play has kept the Polish Hammer as the Wizards' first center option heading into the 2017-18 season. Gortat is still an above-average defender who uses his size and positioning well. Gortat's 10.8 points per game was his lowest mark since the 2010-11 season.
22.
Nikola Vucevic

, Orlando Magic

Vucevic is perhaps the best example of how difficult it is for centers whose skills lean towards offense to be successful in the modern NBA. A solid but not extremely efficient post player doesn't draw the defense in or force help situations. Vucevic is a good passer and solid mid-range shooter, but doesn't pull the defense towards him on the perimeter either.

He saw his role yanked around and averaged 14.6 points per game last season, significantly down from the two previous years. The Magic have yet to crack 35 wins with Vucevic as the starting center and his team has never performed particularly well with him on the floor. Still, if Vucevic can continue improving defensively and stretch out his jump shot to the three-point line, he can be a good starter for a playoff contender.
23.
Enes Kanter

, New York Knicks

Kanter is the ultimate box score stuffer. In 2016-17 on a per 36-minutes basis, Kanter averaged 24.3 points and 11.3 rebounds with an elite 59.9 True Shooting Percentage. Posting up against backup big men, Kanter is a beast at getting to the basket, drawing fouls and finishing by getting his body into defenders.

A few seasons ago, Kanter was probably the worst defender in the NBA, but has worked hard to improve. At this point, he isn't a disaster on most nights, but his limited lateral movement and poor rim protection can be exposed by the better teams. Kanter has toyed with stretching out his solid mid-range jumper to the three-point line, but hasn't been a consistent outside threat yet.
24.
Greg Monroe

, Milwaukee Bucks

In a starting role, Monroe is the type of player who can get to 18 points and 10 rebounds every night, but his skill set just isn't what most teams are looking for in a center in the modern game. Monroe needs the ball to be effective on offense and doesn't support the action around him, either by spreading the floor or being an elite rim roller.

Even if Monroe is the best center on the Bucks' roster, the best way to utilize him is against backup bigs who don't tend to be the kind of elite defenders inside who can stop a post-up behemoth. Despite his overall scoring numbers taking a hit last season, Monroe did succeed in that role, and his defensive limitations are better hidden against bench units as well.

25.
Willy Hernangomez

, New York Knicks

With Joakim Noah suspended for the first 20 games of the season, Hernangomez will have a golden opportunity to latch onto the starting center spot for the long-term. At the end of the year, we may be talking about the Knicks having the best young frontcourt in the NBA, with Kristaps Porzingis as the de facto star and Hernangomez as a wonderful fit next to him.

Hernangomez's offensive versatility and upside are intriguing. Per-36 minutes, he averaged 4.6 offensive rebounds (and 13.6 total rebounds) while scoring 16.0 points – and his passing vision isn't bad either. Hernangomez showed he can make a shot from outside the paint, and stretching that shot out to the three-point line will make the Knicks tough to guard in the future. Potentially, Hernangomez could be the rare big man who can both hit three-pointers and punish teams on the offensive glass, a la Kevin Love from his Minnesota years.
26. 
Nenê

, Houston Rockets

The Brazilian big man hasn't cracked 70 games since the 2010-11 season and has seen his playing time steadily decline, but on a per-minute basis he was likely the most valuable backup big man in the NBA last season.

Nenê is a smart and tough defender who keeps the offense flowing by executing the details. In 2016-17, he posted 9.1 points and 4.2 rebounds per game on a career-best 61.7 field goal percentage, and his passing vision is a nice weapon to have with a spaced floor.

27.
Thon Maker

, Milwaukee Bucks

Maker may not be the best center on the Bucks when the season starts, but he'll likely start and have every opportunity to grow as the Bucks look to take the next step towards title contention. Maker is the definition of a tantalizing and raw young center, and in the playoffs he showed of being a menace defensively.

40.9 percent of Maker's field goal attempts were three-pointers last season – an extraordinarily high mark for a center – and he connected on a respectable 37.8 percent of those shots.
28.
Robin Lopez

, Chicago Bulls

With two years left on his contract, Lopez will likely play the backend of his prime not competing for a playoff spot. In the current market, it's hard to find a taker for Lopez, since he doesn't spread the floor or have defensive versatility.

Still, Lopez is a solid two-way contributor on a decent contract. The Bulls paid Cristiano Felicio this summer to eventually fulfill Lopez's role, but for now he remains the No. 1 center option.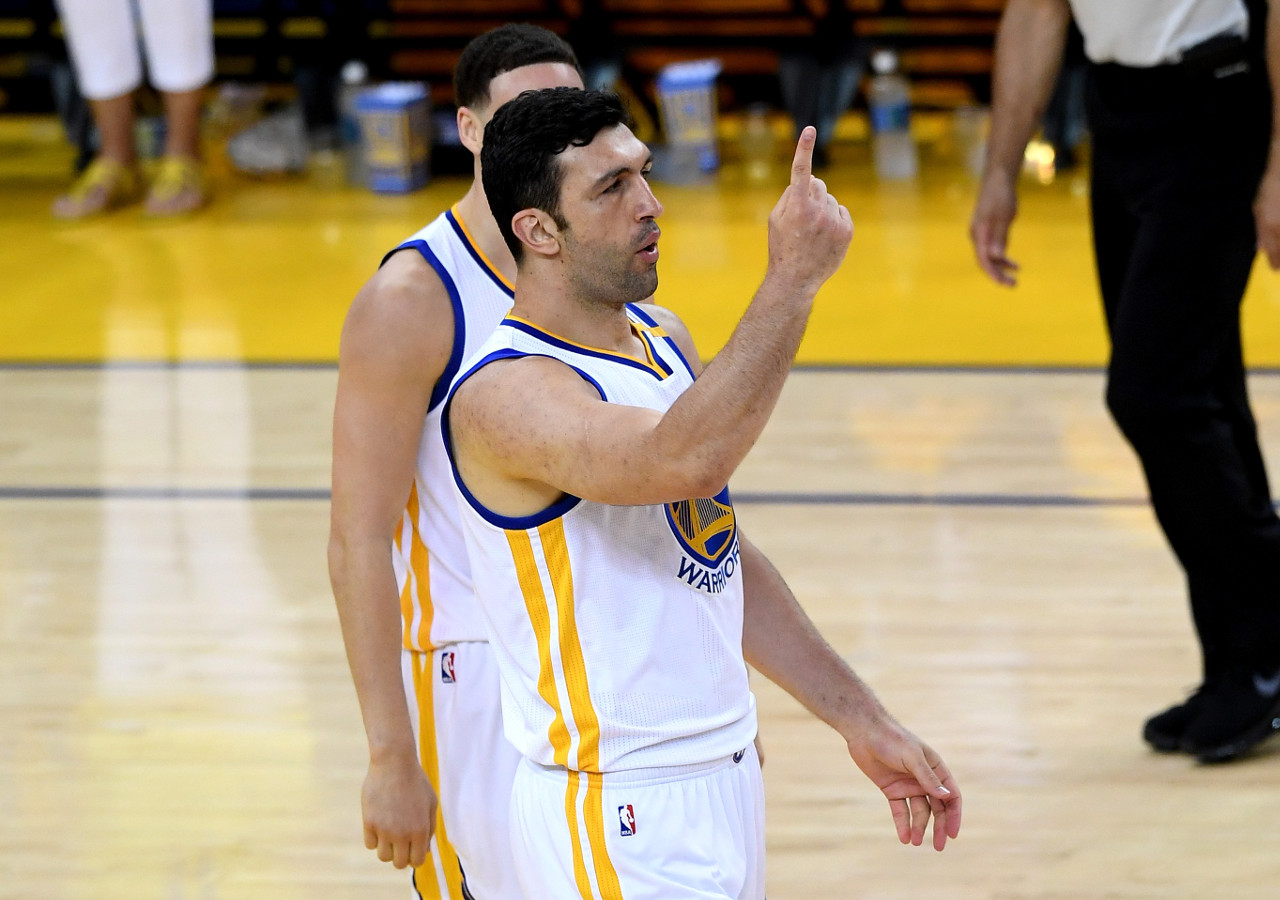 29.
Zaza Pachulia

, Golden State Warriors

It can be frustrating to watch Pachulia trying to finish over length inside, but overall he still helps the Warriors survive the course of the season as the fifth starter and a big body in the middle.

Even though he doesn't block shots, positional defense is Pachulia's biggest strength and he's actually pretty crafty at getting steals. Pachulia is a good enough passer that being a non-threat as a scorer doesn't hurt the Warriors too much. Off-the-ball, his (often illegal) screens are well placed to help the Warriors run their sets and get shooters open.
30.
Mason Plumlee

, Denver Nuggets

Fresh off inking a new three-year, $41 million deal, Plumlee projects as one of the higher end backups in the league. Plumlee is an excellent passer for his size, particularly in short roll situations, yet the Nuggets committing to him long-term may not be the best move for the franchise.

Big contracts are just around the corner for Gary Harris and Jokic, and with Millsap in the fold, this iteration of the Nuggets is about to get expensive. Plumlee isn't a solution to the team's defensive problems, and committing big money to a player who likely can't succeed next to Jokic makes little sense.

You can find Mika Honkasalo on Twitter @mhonkasalo.