This excerpt from Hard Labor: The Battle That Birthed the Billion-Dollar NBA, by Sam Smith, is presented with permission from Triumph Books. For more information or to order a copy please visit www.triumphbooks.com/hardlabor.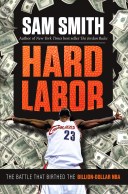 Jerry West wasn't surprised he could safely stand in the shadow of his teammate, Elgin Baylor, and endure what he called one of the scariest moments of his playing career, that threatened All-Star Game boycott in 1964.
"The thing I took from it the most," West said of the threatened All-Star Game, "Elgin, Bill Russell right there, Oscar. Being naive the way I grew up in West Virginia, the owner coming in, oh my god, and I'm thinking I will never play again. We walk out onto the court to play and I think, What did he just say? But for Elgin, in particular, the black athletes, they had to be crusaders in this league and in many cases were vilified for it. The people I most admire at this point in my life…. I wish I did have the courage then to be more forceful, but I may not have been the one to do it. But I damn sure wasn't going to play that game. To think that day would change the landscape of a league that really was just starting to grow. Would it be a setback?
"That day has always resonated with me as one of the seminal points of this league. Like Elgin said, 'We're not playing.' I remember him telling me, I think in Charleston, West Virginia, and they wouldn't let him in the restaurant or hotel and he wouldn't play. I really didn't know that existed. That's how stupid I was growing up in a small town. Here's this dignified man, but he stood up for what he believed forcefully no matter the consequences. I'll admit I probably had greater respect for my black teammates than my white teammates. The respect I had for Bill Russell was off the charts, the people who were jeopardized a lot in life and never afraid to speak out. That's what the player movement, guys like Elgin, Oscar, Archie Clark, what they were all about.
"I think one of the saddest days of my life is when we finally did win that championship in 1972 and no longer are we losers, but he's not there," West said about Baylor. "Nine games into the season he retired and we win 33 games in a row and I'm thinking how the hell did we do that without him, how did this happen? But the things I learned from him as a young player…I'm so grateful.
"That day in Boston," West added, "probably was the beginning of something that few could comprehend."
West agrees that Elgin Baylor probably is the least regarded great player ever; someone who, based on skill and impact, still deserves to be ranked all-time among the top 10 in the game.
But Baylor never was on a title team, retiring early in that record 1971–72 season, his knees finally failing badly and coach Bill Sharman about to move him to the bench. That long has obscured the impact Baylor had on the NBA. In the pantheon of players who changed the game, there's perhaps Mikan, Russell, Chamberlain, Baylor, Earl Monroe, and probably Dr. J. Maybe not your popular top five or 10, but inspirational and provocative.
"People know the name, but they don't know how good Elgin was," said Gail Goodrich, who played with Baylor from 1965 on and off through the end of Baylor's playing career in 1971. "He was the Julius Erving of the time, going to the hoop, hanging; moves Julius was doing later on. He was the first one, 6'5″, quicker than everyone, taking the ball off the backboard and going all the way with it. I was a Lakers fan growing up and that was because of Elgin in Minneapolis. That one year he's in the Army, playing on weekends and then going back to base, no practice, just shows up after taking connecting flights and plays and averages like 38 and 19 [in 48 games].
"The travesty is when the Lakers moved to L.A., it was baseball and football. Elgin and Chick Hearn were basketball. Ultimately, Jerry [West] comes and it's a Lakers town, but really it was Elgin and Chick Hearn who sold basketball in Los Angeles. There are all these statues outside the Staples Center and well deserved, Jerry and Magic and Chick and Kareem, but not one of Elgin Baylor. Which is a travesty because he is as responsible for what basketball became in L.A. as anybody, for the success basketball has had in Los Angeles. It was Elgin."
Elgin Gay Baylor actually was named for the watch. His dad liked the majestic sound. The Baylors didn't have much in segregated Washington D.C. Elgin was immediately a basketball talent in high school, though in segregated "coloreds only" leagues. But he dropped out for two years to work in a furniture store. Money to live was more important than riches to dream about. It's part of the reason Elgin ended up going to the tiny College of Idaho on a football scholarship despite record-breaking scoring games after transferring to Spingarn High School, where Dave Bing later would follow. Bing actually would become the first so-called inner-city Washington D.C. player to get major college interest. Obviously, part was racial bias, as major Southern colleges weren't accepting black students in the 1950s.
Washington being a changing government city with wealthier people coming and going from other areas as administrations changed, these wealthier people sent their children to private schools. From there they went to the big universities. Celtics great Bob Cousy once participated in a camp run by famous Washington prep coach Morgan Wooten.
Bing was at Syracuse U., then not known for basketball. Bing was at the camp and Cousy wondered why Bing would go to a lower-level basketball program like that. Wooten explained the big colleges didn't recruit inner-city Washington black players.
Baylor tried out for basketball when he got to the school in Idaho, scored 57 and 46 points his first two starts, and well, with the hanging drives, the head fakes, feints with that unusual and natural twitch, the speed and elevation, no one, nowhere, had seen anything like this. And he was in Idaho! Baylor once even out-dribbled angry Globetrotters players in an exhibition against the school team. And now the school was dropping basketball. Even still, it was a small college and supposedly lesser competition and there was no scouting then, anyway. Baylor ended up being recruited to Seattle U., another modest program. Baylor got two of his Spingarn teammates scholarships as well—he was like LeBron James, only more skilled—and was off to Seattle.
But by now it was difficult not to notice. The Minneapolis Lakers selected Baylor with the first pick in the 1958 draft. The Knicks offered the then amazing sum of $100,000 (Bill Russell was making $22,000) for the rights to Baylor. Owner Bob Short had financial issues and would soon move the franchise to Los Angeles. He said many times he needed Baylor to sell it. Even Wilt Chamberlain would later label Baylor "the first black player with a white-collar job for scoring points." Until then, coaches were pretty much ordered to limit scoring opportunities for the approximately 20 black players in the NBA. Wouldn't have to pay them as much. Plus, there was a pretty accepted quota system, a maximum three or four black players to a team, first blown up by the Celtics, who became the first team to start five black players amid a surfeit of media stories almost throughout the '60s and '70s about whether the NBA was "too black" for white audiences.
It was the white establishment's last pushback against the inevitable, the strength of black athletes in the industry. It played out most vividly in the NBA, given the superstar black players who were taking over the game. The fans wanted to see them, but establishment ownership and media still were slow to accept the inevitable. Both Sport, then the premier sports magazine, and Sports Illustrated did series in the mid-60s about whether the NBA was "too black." Sports Illustrated 's multi-part series was called "The Black Athlete: A Shameful Story." When Bill Russell was asked about it, he joined Sam Jones in a boycott of Sports Illustrated writers.
Sport magazine's story was titled "Pro Basketball's Hidden Fear. Too many Negroes in the NBA? It's the Great Concern Among the Owners, But is it Justified?"
It came amid the Civil Rights Movement, the changes in the law, the war, violence and rioting in urban areas, the rise of Muslim dogma, and a Richard Nixon hate-and-fear presidential campaign. The last stand against the black player? The Sport story was rife with anonymous quotes from players and owners of a 1965 All-Star leaving the game and allegedly saying, "There were too many of them."
This excerpt from Hard Labor: The Battle That Birthed the Billion-Dollar NBA, by Sam Smith, is presented with permission from Triumph Books. For more information or to order a copy please visit www.triumphbooks.com/hardlabor.