The following is an excerpt from Jon Finkel's new book: The Athlete: Greatness, grace and the unprecedented life of Charlie Ward, available HERE.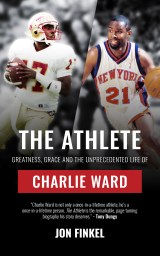 Sam Cassell was never one to mince words. By June of 1994, he was playing in his second NBA Finals in only his second season with the Houston Rockets, and he was getting tired of so-called NBA experts questioning Charlie Ward's ability to play at the next level. In the midst of a heated NBA Finals against the New York Knicks, he took a moment to address the issue with any reporter within earshot.
"He's going to play in this league," Cassell said. "There are questions, but there were questions about me too. He'll be a leader, like Maurice Cheeks used to be. He'll know who to get the ball to and in which situations. That's what he does best."
In many ways, the two months following Charlie's NFL Draft snub were turning out exactly as coaches Pat Kennedy, Dean Smith and Jim Valvano believed they would if Charlie committed himself to basketball. The more he played, the more he impressed, both as an athlete and as a point guard.
At the Phoenix Desert Classic pre-draft camp, he had the highest vertical leap of any player in attendance. And the leadership ability he'd always displayed on the football field wowed NBA executives who were watching him in person for the first time. Even hardened NBA front office vets like the Indiana Pacers' Donnie Walsh took notice, saying, "He has a presence about him you just can't teach."
Unlike with the NFL draft where executives and coaches were asking if Charlie would commit to football, the question their NBA counterparts were asking was, "Now that he's committed to basketball, how good can he be?"
In interviews, Charlie was comparing himself to Phoenix Suns star Kevin Johnson, who was a sub off the bench before becoming a scoring machine and an all-star point guard. Without the burden and/or pressure of gearing back up for football after basketball, Charlie was seeing the results of focusing on just one discipline – and his confidence was soaring.
"Once you practice, you can do whatever you want," he said. "You can do anything. I'm a person who loves challenges. Whatever I put my mind to do, I can do."
In early June he played on a college all-star team in Europe for a short trip and then participated in the pre-draft camp in Chicago, where he continued his upward rise with scouts. With each game, he seemed to excel in an area scouts had labeled as a weakness, as if he was checking off boxes one by one.
Can't shoot outside? Here's a string of three-pointers in a row.
Can't guard one-on-one? Check out this dazzling foot speed.
Has an inconsistent jump shot? Watch this knock-down jumper on a fast break.
"He's raised the attention level of a lot of people here, more so than any other player," an NBA insider said during the Chicago camp.
Slowly but surely, other NBA teams were becoming interested in Charlie as well. In the two weeks leading up to the June 29 NBA Draft, he worked out for six teams: The Orlando Magic (27th and 31st picks), the Denver Nuggets (13th pick), the Chicago Bulls (21st pick), the San Antonio Spurs (22nd pick), the New York Knicks (24th and 26th picks) and the Atlanta Hawks (25th pick).
In one of his final workouts for the Orlando Magic, he was pitted one-on-one against all-star Anfernee Hardaway. Hardaway was an elite NBA point guard who towered over Charlie by eight inches, was a much purer shooter and had an incredible wingspan. Still, Charlie impressed.
"I knew he was good, but I didn't know he was this good," Hardaway said after they played.
"Those of us who were there looking for leadership and intelligence, poise and potential, Charlie has that nice little portfolio," John Gabriel, the Magic's vice president of basketball operations, said.
Most mock drafts had Charlie going to either the Knicks or the Orlando Magic in the first round. The Magic made sense as, in addition to their private workouts, they had probably seen more of Charlie in person than any other team in the draft because of their proximity to Tallahassee. Their only concern was that Charlie might not last long enough for them to draft him.
He didn't.
With the 26th pick in the first round of the 1994 NBA Draft, the New York Knicks selected Charlie Ward.
"We couldn't pass on his leadership skills. He is a natural floor leader, whose passing abilities will make his teammates better," the Knicks' statement read.
Order The Athlete: Greatness, Grace and the Unprecedented Life of Charlie Ward HERE today!
Follow Jon Finkel on Twitter: www.twitter.com/Jon_Finkel
To leave a comment, you will need to
Sign in or create an account
if you already have an account. Typed comments will be lost if you are not signed in.