Excerpted from FURIOUS GEORGE. Copyright © 2017 by George Karl. Reprinted with permission from Harper, an imprint of HarperCollins Publishers.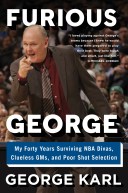 Kenyon snapped first.
In order to create a team that can play well together, I try to figure out my players and their motivations. Which guy is a leader? Who can follow effectively—followers are always dissed, but they're as important as leaders—and who will always rebel against authority? Who is confident and who is covering up? What personalities might work best together?
I knew right away that our power forward was one of the most insecure, immature players I ever coached. Kenyon Martin had grown up poor in South Dallas. Single-parent home; his mother worked two jobs. He was teased unmercifully, for his stutter, and for his skin color. The other kids didn't think he was black enough, so they called him Yellow Boy. That must have been miserable, but he found some refuge in sports, especially in high school and AAU basketball. The University of Cincinnati won the battle for his services. The Nets had first pick in the 2000 draft and they took Kenyon.
Out of anger at the world, poor impulse control, a strange form of showing off, or whatever, Kenyon decided that he was an intimidator, and he got many, many suspensions and fines. His absolutely stupid $345,000 worth of fines in 2001–02 got him a Sports Illustrated cover during the 2002 finals. "Bad Boy," the headline read. "Nets Flagrant Flyer Attacks the Playoffs." The Nuggets had traded for him the year before I got there. His deal: seven years, $93 million.
Let's jump ahead a little bit, to the 2006 playoffs. After coaching him for a year and a half, I knew that Kenyon was really good. He could rebound, run, and defend. His straight-ahead offensive style was a nice contrast with Carmelo's flashiness. But his knees were a problem; he missed about thirty games that season. In the locker room at halftime of Game Two of our first-round series with the Clippers, he bitched loudly about only playing seven minutes in the first half.
"I ain't playin' in the second half," he said. "You're not playing?" I said.
"Not fucking playing. You need a hearing aid?"
The second half started—no Kenyon. He came out of the tunnel after a while, put a towel on his head, and sat on the bench like a statue until the game was over.
We lost the game and were about to lose the series. I was pissed at the insubordination. Also incredulous: who'd ever seen such a thing? But if I came back hard, with anger, I knew I'd only make the situation worse. I remembered how Gary Payton and I were at each other's throats until, after more than a year, we found some common ground. I knew I had to work with this guy, keep trying to figure him out.
We suspended Kenyon for the next two games, saying we couldn't tolerate such disrespect to the coach and to the team. But I was calm when I met the media after the game. I gave his ego a little break by taking some of the blame.
"I understand Kenyon's gone through a tough year," I said. "I know he's frustrated at the coaching, his knee, his playing time. I'm part of this failure, part of this relationship. I think I can get better from this, and hopefully he feels the same way. I think Kenyon's a damn good player and he has a competitive heart I love."

Maybe I was getting better at dealing with eccentric players. But then: Carmelo.
Did I handle him as well? The volume of questions about Carmelo eventually wore me down. Sometimes I got so sick of talking about him that I'd just throw up my hands and say, "I don't know what he is and I don't care."
Carmelo was a true conundrum for me in the six years I had him. He was the best offensive player I ever coached. He was also a user of people, addicted to the spotlight, and very unhappy when he had to share it.
Wait. There's more.
He really lit my fuse with his low demand of himself on defense. He had no commitment to the hard, dirty work of stopping the other guy. My ideal—probably every coach's ideal—is when your best player is also your leader. But since Carmelo only played hard on one side of the ball, he made it plain he couldn't lead the Nuggets, even though he said he wanted to. Coaching him meant working around his defense and compensating for his attitude. I'd have to try to figure him out, too. How could I get more from him?
Carmelo grew up poor in West Baltimore. Single-parent home; his father died when he was two. With the drugs and violence in his neighborhood, it must have been like a combat zone. But like Kenyon, he found a safe place under a hoop on the playground. Hard work, skill, talent, and lucky DNA got Carmelo into a private high school and onto an AAU team.
He put himself on the map when he averaged 25 a game at the AAU's Adidas Big Time Tournament in Vegas. Syracuse won the competition for his services, and he played one year in college, as mentioned, and won an NCAA championship. His deal with the Nuggets as a nineteen-year-old rookie was for five years and $80 million.
He was such a talented kid. If he'd decided to lead the league in rebounding, or to become the best defender at his position in the NBA, he could have done either one.
But Kenyon and Carmelo carried two big burdens: all that money, and no father to show them how to act like a man. As you've read, I grew up in a safe suburban neighborhood, with both my parents. I had a second father in my college coach, the most moral, decent man I ever knew. And I never made enough money as a player to get confused about who I was. When I compare my background to Kenyon's and Carmelo's, it's no wonder we had a few problems.
Excerpted from FURIOUS GEORGE. Copyright © 2017 by George Karl. Reprinted with permission from Harper, an imprint of HarperCollins Publishers.
To leave a comment, you will need to
Sign in or create an account
if you already have an account. Typed comments will be lost if you are not signed in.