Los Angeles Clippers forward Montrezl Harrell has become one of the most accurate and efficient scorers in the league so far this season.
In a recent article, Andrew Tobolowsky noted how well he has played in his limited playing time (via FanSided):
"Over the last 10 games, Harrell is averaging 18.4 minutes a game, which is like Zaza Pachulia's numbers. But you know what Zaza isn't doing? I'll tell you. He's not averaging sixteen points per game in this 18 minutes and he isn't doing it on 70 percent shooting."
He leads the NBA in points per 36 minutes since (31.4) among those who have played at least 100 minutes since February 28.
Ranked in order after him: Kevin Durant, LeBron James, James Harden, Damian Lillard, Russell Westbrook, Kyrie Irving, Anthony Davis and Giannis Antetokounmpo.
Harrell has averaged 1.18 points per possession for the Clippers during his first campaign with the team. This ranks second-overall (minimum: 500 possessions) among all players. For comparison, though he has had more opportunities, Stephen Curry is averaging 1.17 PPP.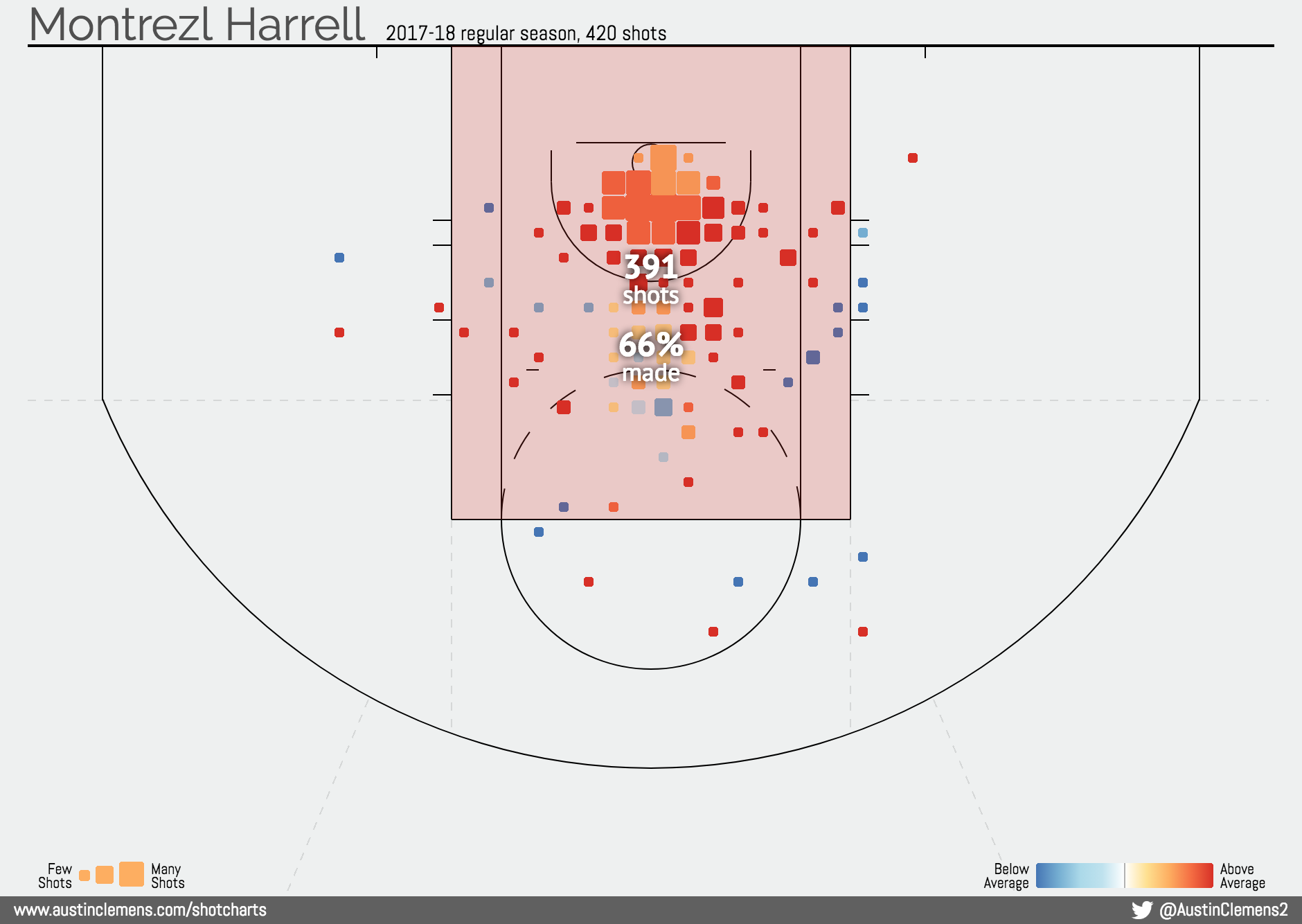 Among those with at least 300 field goal attempts from within five feet of the basket, his field goal percentage (70.6 percent) ranks No. 5 overall.
When posting-up on the left block, only two players who have had at least 70 possessions have had more success than he has had this season.
Meanwhile, only four players (including James, Davis and Antetokounmpo) have had more points per possession around the basket on non-post-up plays than Harrell.
He can play fast-paced, too, considering the 24-year-old has been particularly excellent in a transition offense for Los Angeles.
Harrell has been the most efficient player with at least 100 possessions, ahead of both Golden State's Klay Thompson and Minnesota's Jimmy Butler.
As the ballhandler when in transition, he is 7-for-11 with 1.25 PPP. This ranks No. 5 overall (minimum: 20 possessions) in the league.
The 6-foot-8 forward has shown his dominance when playing off the ball, too.
Harrell is the most efficient player as the roll man in pick-and-rolls among those with at least 45 possessions. He has missed just one shot (9-for-10) on the left side and only three shots (10-for-13) on the right side while on these opportunities.
Given his ability to score near the basket as well as in transition and on pick-and-rolls, expect him to earn a decent contract as a free agent this offseason.
To leave a comment, you will need to
Sign in or create an account
if you already have an account. Typed comments will be lost if you are not signed in.