Excerpted from From the outside: My journey through life and the game I love. Copyright © 2018 by by Walter Ray Allen Jr., courtesy of Dey Street Books.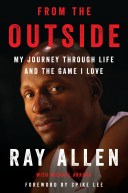 I came across like a spoiled diva instead of somebody addressing real concerns. Even Mr. Schultz took exception. He called to say that I was being "disingenuous," a word I'll never forget. He offered to give me a tutorial on what it took to run an NBA franchise.
No thank you. I did not need a tutorial to know you can't run a team the way you run Starbucks. This isn't the corporate world. Most owners do not make any real money until they sell the team. In the meantime, you spend what it takes to upgrade the roster and coaching staff – and, yes, to provide food in the locker room and luggage for road trips. I said what I had to say and didn't regret it for a second.
That would not be the situation, unfortunately, later on when it came to comments I made about Kobe Bryant. Those comments, I'd regret for some time. So much for those earlier wake-up calls.
I was in the locker room in Portland before an exhibition game against the Blazers when the press asked me about our opponent the night before, the Lakers, who had traded Shaq to the Heat in the off-season. I said I couldn't figure out why Kobe got rid of him, and that every other shooting guard in the league would give anything to play with a center that dominant.
That wasn't all. I said that, in a year or two, Kobe was going to regret the deal, and ask for a trade himself as his team won't be any good.
What I said doesn't seem that horrible, really, but as I wasn't a member of the Lakers or privy to what took place behind the scenes, it was not my business to weigh in on his situation. My attention should have been only the team from another organization got involved in our affairs.
Shortly afterward, someone I knew called me out of the locker room before a preseason game against the Lakers in San Diego.
"I just want to give you the heads-up," the guy warned, "because this dude [Kobe] told the big man to put a hit on you out on the floor. I want to tell you because you're my man."
Was I shocked? Not in the least. Nor was I angry, although I did feel it was a little cowardly of him. He could have spoken directly to me instead of sending somebody to do his dirty work; we could have gotten past it. I didn't play that night, by the way, because of a sore ankle. The media tried to keep the controversy going as long as possible, as it did with Allen Iverson and me, though it died down, eventually, replaced by another, no doubt.
In any case, I vowed I would not make the same mistake again, and I didn't. Three years later, I was in LA, of all places, playing in a golf tournament, when the story broke that Kobe was asking for a trade, as I predicted. Each time I walked near the clubhouse, a reporter approached for a comment. I declined.
In 2011, during the All-Star Game weekend in Los Angeles, I finally apologized to Kobe. I could tell he appreciated the sentiment.
Excerpted from From the outside: My journey through life and the game I love. Copyright © 2018 by by Walter Ray Allen Jr., courtesy of Dey Street Books.
To leave a comment, you will need to
Sign in or create an account
if you already have an account. Typed comments will be lost if you are not signed in.