After their loss to the Clippers Sunday night, the Philadelphia 76ers have continued a rough trend indicative of their season at large.
Their performance has been a stark contrast from what we wrote about the Dallas Mavericks last month. Dallas has been significantly better on the road than they have been at the home. The Sixers, on the other hand, have had an abysmal season when surrendering their homecourt advantage.
The 76ers are currently 28-2 (.933) when playing at home in 2019-20 but just 9-22 (.290) on the road. The difference is a whopping 64.3 percent, which is actually the largest among all NBA teams since the Boston Celtics in 1954-55.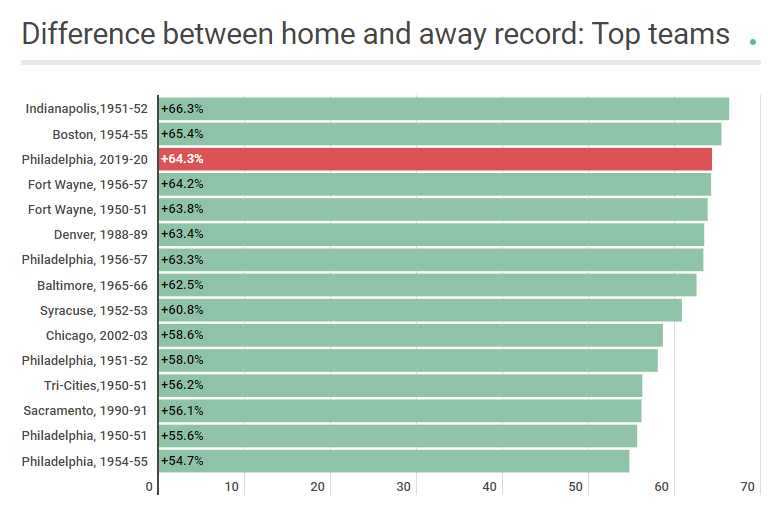 Here is what head coach Brett Brown said about this when asked by beat reporters on Saturday (via Sixers Wire's Ky Carlin):
For a deeper dive, Philadelphia has outscored opponents by 10.0 points per 100 possessions at the Wells Fargo Center. That net rating currently ranks second-best among all teams when playing at home so far this season. Their defensive rating (102.4) ranks second-best among teams playing at home as well.
On the road, for comparison, the Sixers have been outscored by 5.9 points per 100 possessions. That ranks seventh-worst among all teams playing on the road thus far.
Philadelphia star Joel Embiid is averaging 24.3 points per game on 50.0 percent shooting from the field at home. However, the big man is averaging 21.9 points per game shooting 43.6 percent from the field on the road.
This will be a significant area that the Sixers need to improve on moving forward as they head closer to the postseason.
To leave a comment, you will need to
Sign in or create an account
if you already have an account. Typed comments will be lost if you are not signed in.