What's the buzz on Twitter?
Kyle Neubeck
@
KyleNeubeck
Thinking about one of the many forgotten subplots of the burner account saga: Embiid getting repeatedly disparaged to prop up Simmons (who was drafted by Colangelo)
pic.twitter.com/b7ob5Ryddd
–
9:31 PM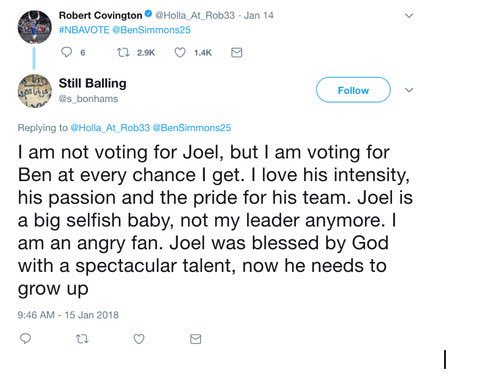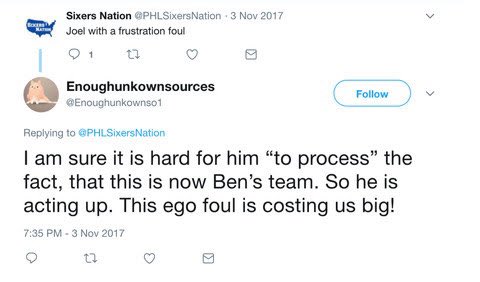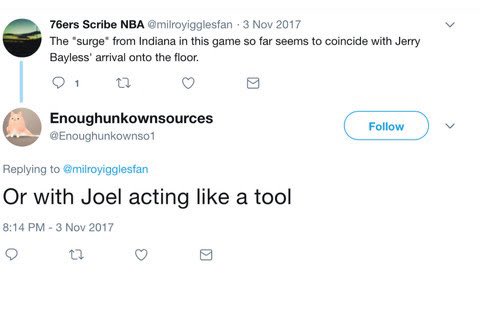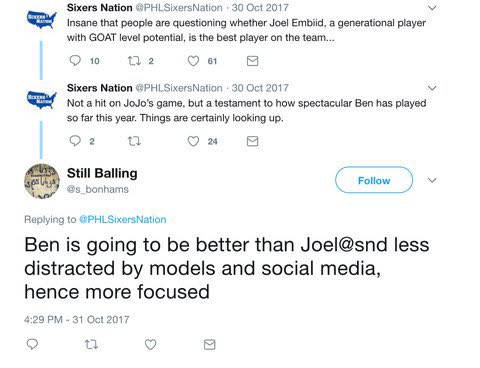 Derek Bodner
@
DerekBodnerNBA
Simmons news is mostly maintaining status quo. Still, it just reinforces how the only real reason the franchise is relevant is because of Joel Embiid. All the decisions, from ownership to management, to players not developing, threaten to waste Embiid's prime, an unforgivable sin –
12:21 PM
Anthony Puccio
@
APOOCH
Philly's starting lineup in 2018-19:
1. Ben Simmons
2. J.J. Redick
3. Jimmy Butler
4. Tobias Harris
5. Joel Embiid
Two remain. Backcourt owns the NBA headlines today. –
12:20 PM
Derek Bodner
@
DerekBodnerNBA
You don't trade *for* Wall at this stage of his career, you use him to match salary so you can get a slew of picks, which you would eventually package for the running mate you actually want for Embiid.
But we've already seen that Stone doesn't value Simmons enough for that IMO. –
11:58 AM
It almost goes without saying that bridge-building would need to be done between Simmons and Doc Rivers. The head coach tried to walk back the despair he showed after Game 7 during exit interviews the very next day, and his defenses of Simmons far outnumber his one high-profile shoulder shrug. Even still,
getting the two to connect during the offseason has been close to impossible,
sources say. Ultimately, this is in Simmons' hands. Rivers would tell you himself that he regrets letting his guard down during Simmons' lowest moment as a professional. Some missteps are just harder to come back from than others. -via
Philly Voice
/ September 22, 2021