What's the buzz on Twitter?
Paul Garcia
@
PaulGarciaNBA
Thad Young and sticking to the paint, where he's efficient like Jakob
pic.twitter.com/yQ06LlxZui
–
7:39 PM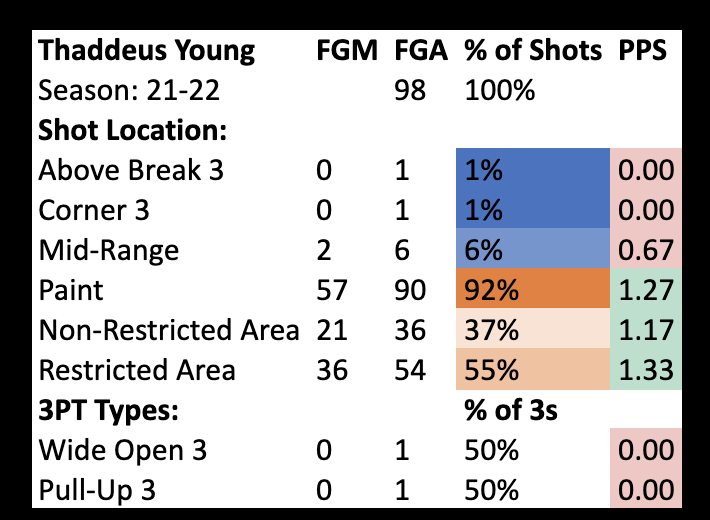 Paul Garcia
@
PaulGarciaNBA
Automatic points for Thad Young when he attempts shots in the paint
pic.twitter.com/9BhSasc67j
–
10:39 PM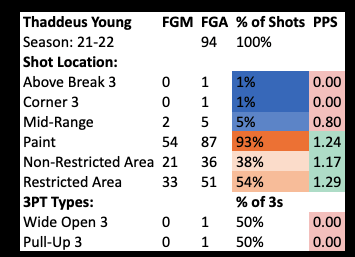 Jeff McDonald
@
JMcDonald_SAEN
Thad Young steal, brings the ball up himself, finds Lonnie Walker trailing for a 3. If this were the AT&T Center, there would be MVP chants. –
10:27 PM



Matthew Tynan
@
Matthew_Tynan
Also seen quite a few ppl thinking this Thad Young situation is a bad look, or that it's gonna dissuade vets from signing in the future… I don't get where that's coming from. This is pretty standard post-trade NBA stuff. The two sides communicate openly and understand the deal. –
8:13 PM
Matthew Tynan
@
Matthew_Tynan
Not doing the whole quote RT thing but it is *crazy* to me how some people can't grasp the Thad Young situation, not to mention the Spurs' situation as a whole. I don't think I'm oversimplifying things, either. That would be an insult to people's intelligence. –
3:50 PM
Matthew Tynan
@
Matthew_Tynan
Just a thought on the Thad Young/Drew Eubanks thing: It seems pretty clear the decision to use Eubanks over Thad is informed by the Spurs' objective to move Young. It's just as obvious to Pop as it is to anyone watching that Young is the better player. –
1:56 PM

"It definitely caught me off guard. I actually learned about it in the parking lot of the Sports Academy in Frisco, TX. I was leaving a session and my phone was going crazy. I'd seen that DeMar DeRozan had gotten traded to Chicago and I was like, 'Why is my phone going crazy for this?' Then, I dive a little deeper into it and I see that the trade included me, Al-Farouq Aminu, some picks and stuff like that.
"It definitely caught me off guard for the simple fact that I had just talked to my agent and my agent had just talked to everybody in Chicago,
and we were being told that I was coming back. And they guaranteed my salary the day before or two days before or something like that and then used it as trade bait. It is what it is; it happens and it's part of the business. But the only thing I wish is that I had gotten the heads up before I found out from social [media]. -via
basketballnews.com
/ December 4, 2021