What's the buzz on Twitter?

Sam Quinn
@
SamQuinnCBS
From Quick's story: Portland turned down Jrue Holiday for C.J. McCollum and three first-round picks.
I wouldn't have done three. I probably would have done two if the Pelicans could've been negotiated down to there (with some protections). Jrue is Dame's ideal backcourt partner.
pic.twitter.com/rDO5sZREXU
–
12:20 PM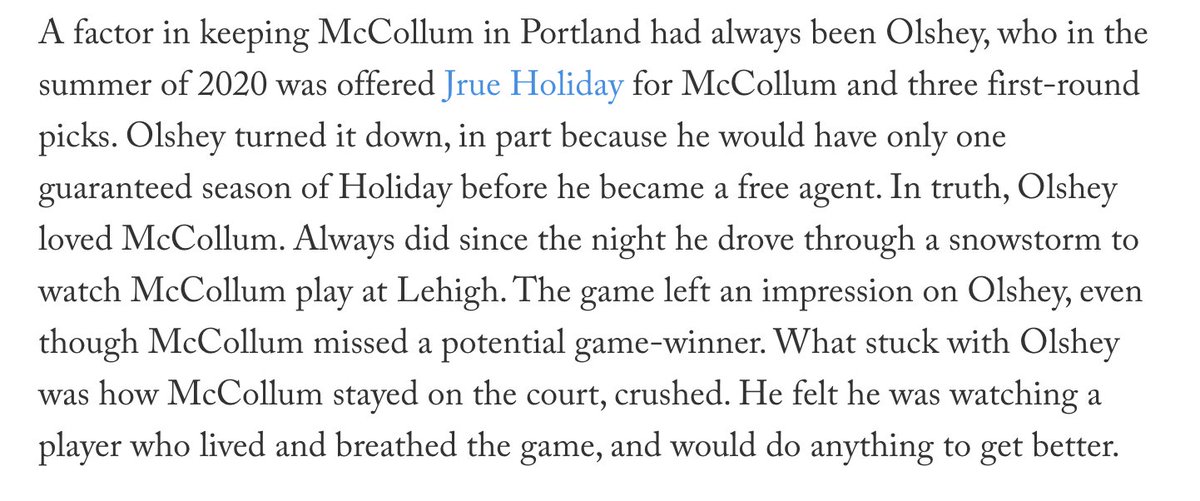 Jason Quick
@
jwquick
It sure felt like CJ McCollum was saying goodbye on Monday night.
"It's not a goodbye. I'm still here," he said.
His head? That's trickier to pinpoint. A look at what's going on between the ears of the Trail Blazers guard during these tumultuous times:
theathletic.com/3002581/2021/1…
–
10:19 AM

John Hollinger
@
johnhollinger
With Lillard, McCollum and Simons all out, C.J. Elleby is getting some run as the Blazers' **point guard**
It's going about how you imagined. –
10:45 PM
Law Murray
@
LawMurrayTheNU
Clippers break up the Terance Mann-Luke Kennard combo, start Jackson, Kennard, George, Morris, Zubac.
Looks like CJ McCollum is out tonight with Portland starting Dennis Smith Jr., Norman Powell, Tony Snell, Robert Covington, Jusuf Nurkic. –
9:34 PM

"Me and Dame have a good relationship," McCollum said. "I think when Dame speaks, you hear him. When you hear 'sources' and 'anonymous', I don't necessarily know if that is Dame or not, because it's not Dame putting his name on it. He generally puts his name on things. I know where he stands with me, and he knows where I stand with him. The organization, they need to do what is best for themselves." I asked where he thought he stood with Lillard.
"If he wanted me to leave, I think he would say that," McCollum said.
"He's not speaking on me behind closed doors because that's not in his DNA. He's not built like that. He's solid, and I know his word is his bond." -via
The Athletic
/ December 7, 2021