Josh Hart on free agency: I'm seeing all the deals go by. I'm seeing Lonzo Ball going to Chicago, get paid. I'm seeing all these guys. And I'm just like, 'Bro, like, my phone's quiet.' There's nothing going on, right? The next day was kind of like the same thing. And
I'm looking at my phone, looking at Twitter, I'm looking at HoopsHype, looking at the rumors, seeing what's going on. And it got to a point where I deleted Instagram, deleted Twitter
.
Source:
YouTube
What's the buzz on Twitter?
Jim Eichenhofer
@
Jim_Eichenhofer
Willie Green on Josh Hart (career highs 12.9 ppg, 4.4 apg, 52% FG): Josh first of all is extremely bright. And he's a competitor. We're getting to see him at his best. I think he still has room to even go higher and that will come but right now he's competing at an all-time high" –
3:46 PM
Andrew Lopez
@
_Andrew_Lopez
Josh Hart has scored in double digits for 12 straight games – the best stretch of his career.
His previous career high? 9
His previous best stretch with NOLA? 4
In his last 12 games:
15.8 PPG
9.2 RPG
5.3 APG
55.4 FG%
35.6 3P% –
9:28 AM
Andrew Lopez
@
_Andrew_Lopez
Devonte Graham tried to take a take foul but Damion Lee lost the ball. Instead, Graham is able to tip it to Jaxson for a slam. Then a long 3 by Bjelica turns into a Josh Hart layup.
Pels were up 83-78 and looking at GSW cutting into it and instead get a Kerr timeout up 87-78. –
10:00 PM
Jim Eichenhofer
@
Jim_Eichenhofer
The jumpers are not falling for just about anyone on a night when Steph Curry isn't playing, so Josh Hart follows Ingram's lead and starts putting his head down and going to the rim.
#Pelicans
are 1/9 on threes but starting to get layups –
8:50 PM
Adam Zagoria
@
AdamZagoria
Villanova today announced that it will retire the jersey of former Wildcats' consensus first team All-American Josh Hart at halftime of its game on Jan. 19 vs. Marquette at Finneran Pavilion –
2:39 PM
Will Guillory
@
WillGuillory
Villanova announced that it will be retiring Josh Hart's jersey at their game vs Marquette on Jan. 19.
pic.twitter.com/BBYFJeGbvi
–
2:06 PM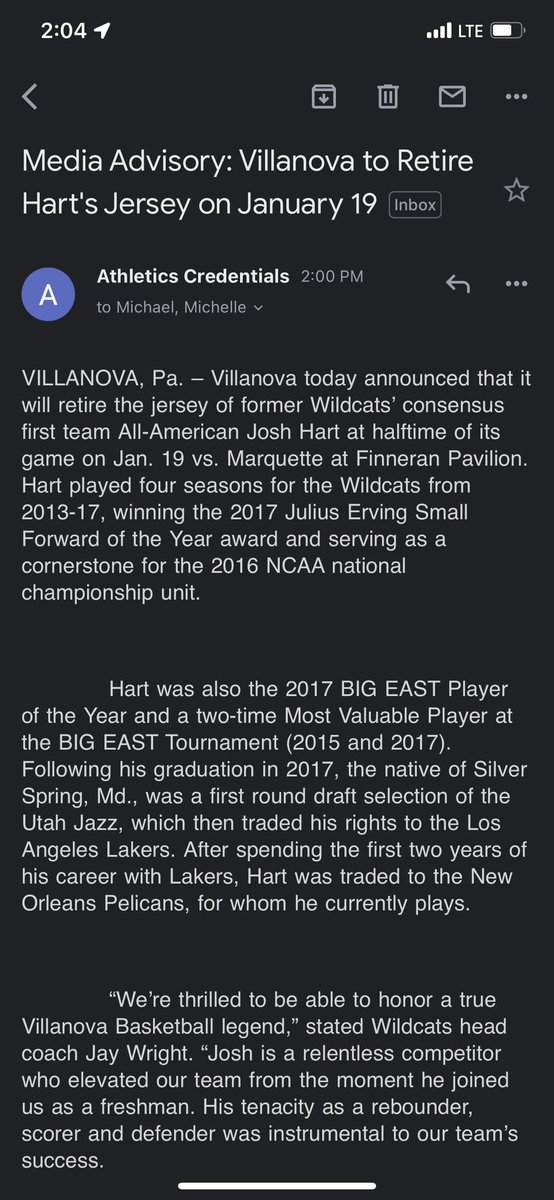 John Schuhmann
@
johnschuhmann
New Power Rankings Notebook…
▪️ Records in games between the league's top 8 (Warriors good, Nets bad)
▪️ Knicks regression from deep
▪️ Biggest differential: Pull-up 2s vs. 3s
▪️ My favorite Jazz play
▪️ The relentless Josh Hart break
nba.com/news/power-ran…
–
12:38 PM
To leave a comment, you will need to
Sign in or create an account
if you already have an account. Typed comments will be lost if you are not signed in.