What's the buzz on Twitter?
Eric Walden
@
tribjazz
Looks like the Jazz are pivoting from James Ennis III to Denzel Valentine
pic.twitter.com/yRLM2VgUs3
–
7:56 PM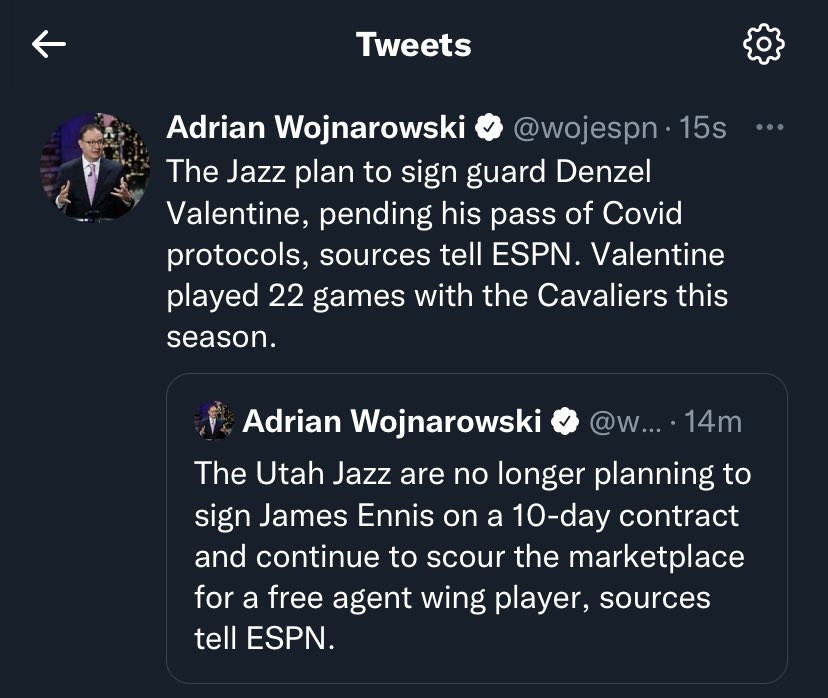 Eric Walden
@
tribjazz
The Utah Jazz added five more people to the NBA's health and safety protocol Sunday, including players Rudy Gay and Elijah Hughes, plus three assistant coaches. Per a report, the team is set to sign James Ennis III on a 10-day hardship contract.
sltrib.com/sports/jazz/20…
–
7:34 PM


Keith Smith
@
KeithSmithNBA
NBA 10-Day hardship contracts that expired today:
Chris Clemons – ATL
James Ennis – LAC
Shaq Harrison – BKN
Jaylen Hoard – OKC
Malik Newman – CLE
Cameron Oliver – ATL
Isaiah Thomas – DAL
Brad Wanamaker – WAS
Micah Potter's 10-Day with DET was terminated a day early on Friday. –
8:13 AM
Mirjam Swanson
@
MirjamSwanson
Monty Williams says (on Zoom) he's cognizant of what James Ennis III — who he coached in Philly — and Serge Ibaka can do for the Clippers, players the Suns didn't have to account for in their previous meeting. –
8:23 PM
Law Murray
@
LawMurrayTheNU
Monty Williams on Clippers since WCF: "They've had to adjust more than anybody… what we talked about this morning was Morris' ability to take over a game."
Also says that Clippers have guys that come off the bench that "eat rocks" … praised James Ennis in particular (76ers) –
8:22 PM
To leave a comment, you will need to
Sign in or create an account
if you already have an account. Typed comments will be lost if you are not signed in.