What's the buzz on Twitter?
Adam Mares
@
Adam_Mares
Excited for Bol Bol to get a change of scenery and (hopefully) a chance to play.
Great news that DEN got McGruder and a 2nd for him instead of giving up assets to shed his salary.
Glad Davon Reed will get a chance to stick with the team for the season. –
3:32 PM
Ryan Blackburn
@
NBABlackburn
Nuggets make Davon Reed signing a two-way contract official.
pic.twitter.com/Vr9gHbjWKr
–
3:28 PM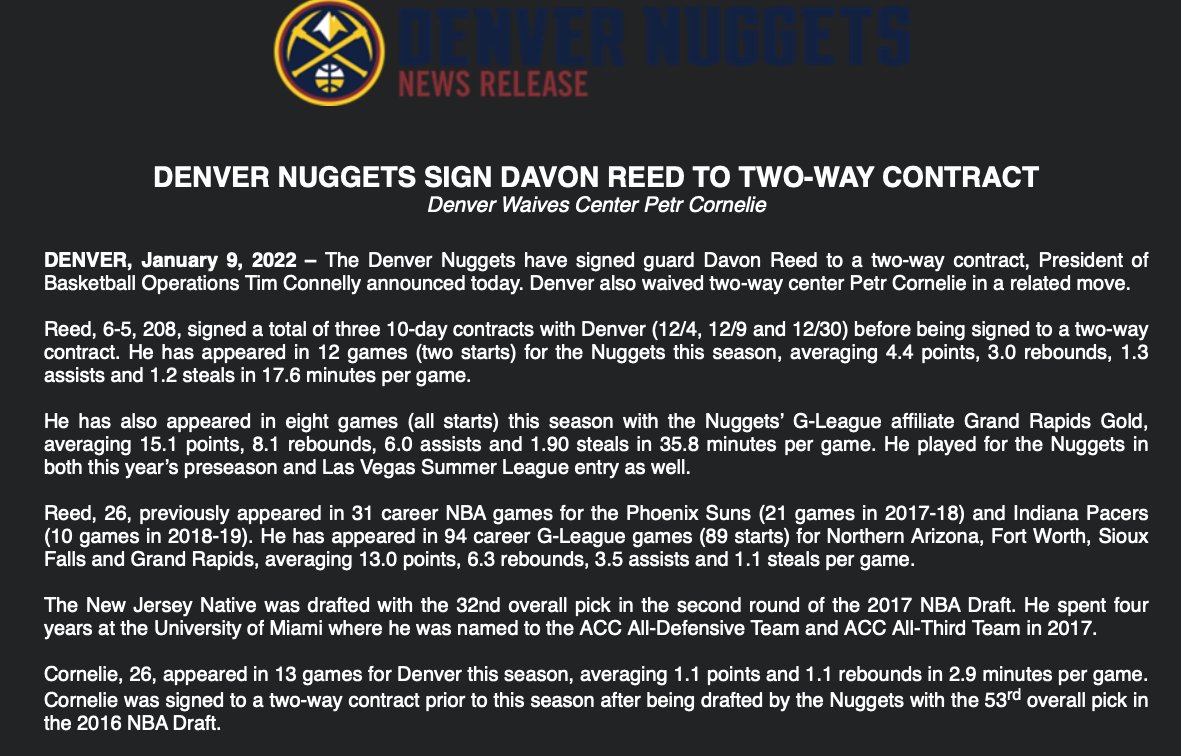 Michael Singer
@
msinger
Can confirm the
#Nuggets
are trading Bol to Detroit for Rodney McGruder and a second-round pick, source says.
In addition, the
#Nuggets
are also converting Davon Reed to a two-way deal and are waiving Petr Cornelie. –
2:35 PM


Keith Smith
@
KeithSmithNBA
Bol Bol is a perfect flyer for the Pistons. They get a look at almost no cost at all.
I bet Denver waives McGruder in order to open a roster spot for Davon Reed. –
2:28 PM

Keith Smith
@
KeithSmithNBA
NBA 10-Day hardship contracts that expired today:
Jordan Bell – CHI
Jaime Echenique – WAS
Kyle Guy – MIA
Haywood Highsmith – MIA
Nate Hinton – IND
Aric Holman – MIA
Dakota Mathias – MEM
Davon Reed – DEN
M.J. Walker – PHX –
10:09 AM
To leave a comment, you will need to
Sign in or create an account
if you already have an account. Typed comments will be lost if you are not signed in.