What's the buzz on Twitter?

Scott Agness
@
ScottAgness
Purdue's Jaden Ivey selected fifth overall by the Pistons.
Reminds me of 2010 when it was Gordon Hayward taken one spot ahead of the Pacers — to the Jazz at 9. –
8:33 PM

James Plowright
@
British_Buzz
"Pistons GM Troy Weaver is one of Duren's biggest fans in the NBA, and could very well look to target him in a draft night trade… Especially to Charlotte, which has been identified as a possible trading partner for the Pistons in a potential Gordon Hayward."
Per
@Jonathan Givony
pic.twitter.com/gekpvGJF9e
–
4:35 PM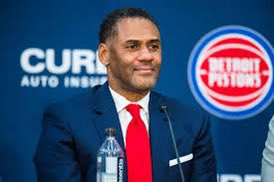 James Plowright
@
British_Buzz
Heard an interesting suggestion by
@Sam Vecenie
on his podcast:
Ayton > Detroit S&T
Hayward > Suns
Trade exception > Charlotte
This kind of makes sense for all teams, it would need a pick here or there –
9:00 AM



Alex Kennedy
@
AlexKennedyNBA
2022 NBA Draft prospect Jake LaRavia (
@jacob_laravia3
) has worked out for GS (twice), NY, BKN, MIL, TOR, DEN, MEM, ORL, SA, OKC, MIA, MIN, etc.
He talks about his skill set, modeling his game after Gordon Hayward, his draft-night plans and more.
PODCAST:
podcasts.apple.com/us/podcast/the…
–
12:11 PM
According to ESPN's NBA guru Brian Windhorst, the Hornets are not only looking at the prospect of sending Hayward packing. They also have two first-round picks in the upcoming draft, and it appears that they may use them as leverage in a potential deal: "Keep an eye on the Charlotte Hornets," Windhorst said. "Now, they have two picks in the middle of the draft: picks 13 and 15. People in the league do not feel they will make both picks. They might not even make either pick. But right now they are looking to make a deal with one of those picks, combine them with one of the salaries that they have in-house.
Gordon Hayward is one of the names we're hearing, potentially to offload some money, potentially to move around the draft, as they try to clear some salary space for Miles Bridges.
That's a top free agent for them, they got a lot of salary committed." -via
Clutch Points
/ June 22, 2022
To leave a comment, you will need to
Sign in or create an account
if you already have an account. Typed comments will be lost if you are not signed in.