"To be honest, I haven't personally spoken to anyone", Micic said with his teammate on the Serbian national team and NBA MVP Nikola Jokic explaining to him that if an NBA team really wants him in a meaningful role, then he will also get offered a meaningful contract.
"From what I heard from my agents, there were rumors about some teams. Some teams were interested in me. As far as I understand, people there are hesitant to give me the role that I want.
I was talking to Jokic, he's the best player out there. He said to me, 'it doesn't matter who you are when you're there, what matters is the role you get, whether they will sign you, and the money in return.
Source:
EuroHoops.net
What's the buzz on Twitter?
BasketNews
@
BasketNews_com
The best international player NOT in the NBA according to the NBA GM survey:
1. 🇫🇷 Victor Wembanyama – 45%
2. 🇪🇸 Nikola Mirotic – 28%
3. 🇷🇸 Vasilije Micic – 21%
👀
pic.twitter.com/Zvpx8g4zdu
–
2:48 AM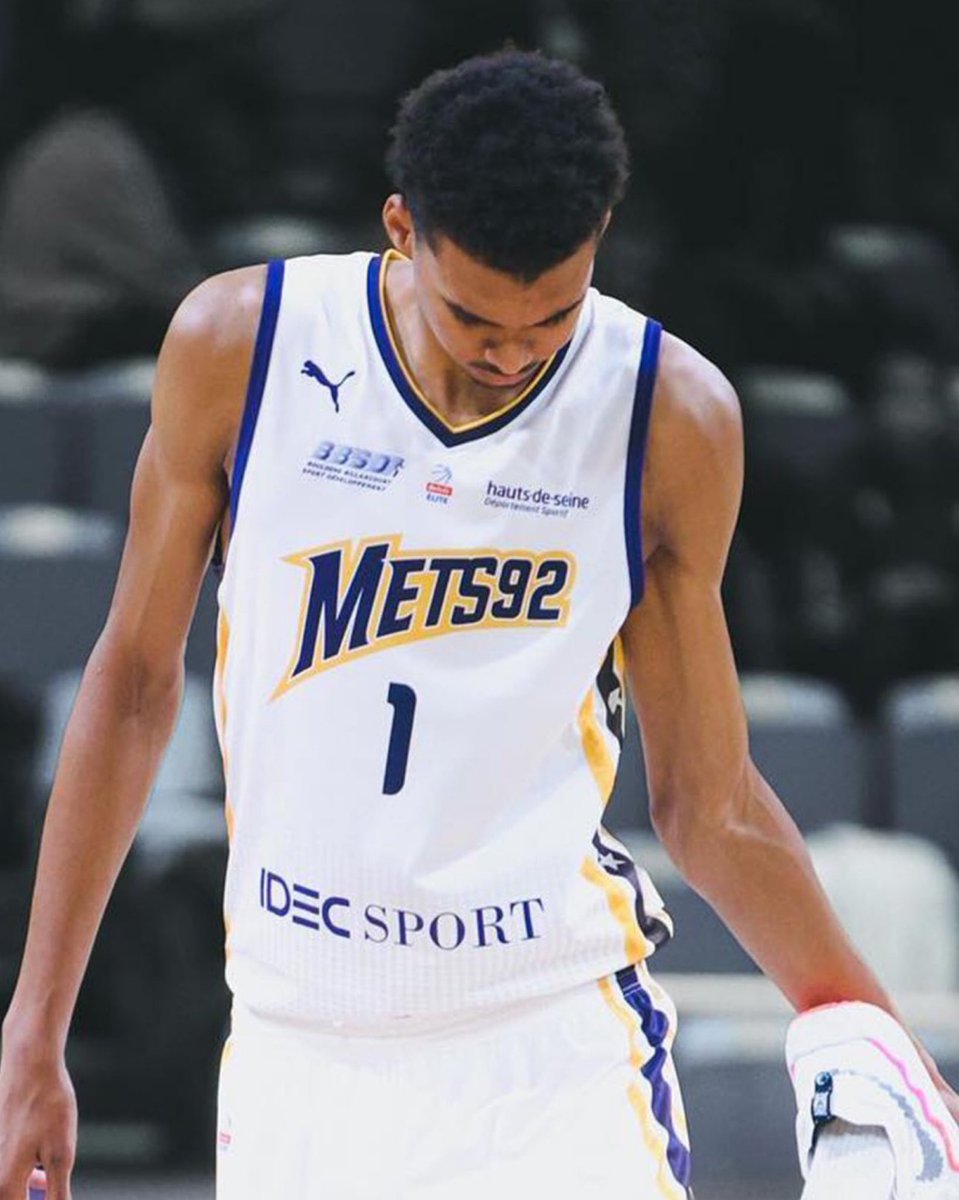 Clemente Almanza
@
CAlmanza1007
Vasilije Micic voted as the 3rd-best international player not in the NBA
pic.twitter.com/3qjmgvRZXl
–
11:30 AM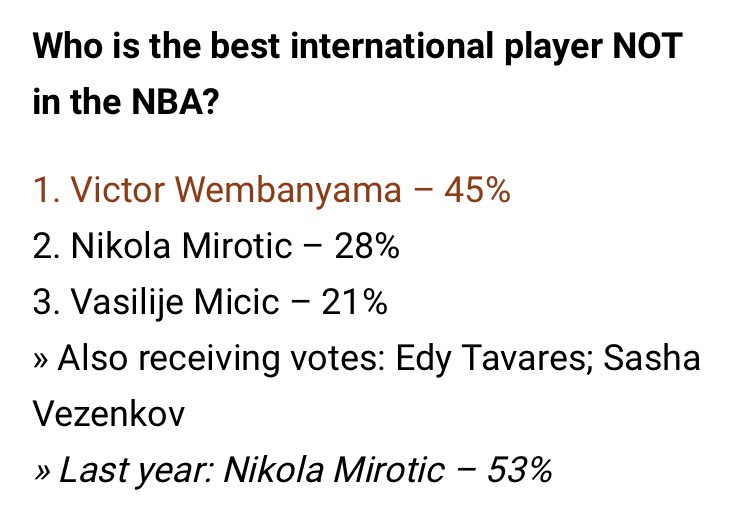 Eurohoops
@
Eurohoopsnet
Luka Doncic is picked by NBA GMs to win 2023 NBA MVP
Victor Wembanyama is voted as the best international player outside the NBA by 45 percent of the general managers, surpassing reigning EuroLeague MVP Nikola Mirotic & Final Four MVP Vasilije Micic
eurohoops.net/en/nba-news/13…
–
10:39 AM
Why he is not part of the NBA with the NBA GMs considering him one of the top players outside the League? Micic gave his answer in Istanbul, during the Anadolu Efes media day, giving a really honest perspective about his NBA ambitions and also about everything that happened during the summer. So why he has not yet joined an NBA team yet: "I really don't have a specific answer. I don't want to repeat myself, I'll be honest.
I have a desire to go to the NBA, but as you can see, things are not going well. I always prioritize basketball in my decisions.
I didn't even chase after the money I am earning in Europe, which is hard to earn. I never chase money, I never chase individual prizes, but I know that if I put a lot of effort into my game and get good results, something must come in return: rewards and money…" -via
EuroHoops.net
/ October 5, 2022
However, Micic feels that the NBA teams should approach him with a solid plan for him on their rotation with money coming second: "It makes sense, but if I ever find myself in the NBA, it's definitely not going to be because of the money. What I'm looking for is to find an opportunity in a team.
I'm looking for one team, I'm not meeting with 11 teams. I'm looking for an opportunity to show people that I can play.
I'm not going there to show someone that I can dribble, that I can shoot. I am 28 years old. If someone likes me, ok, if they don't, they don't but I can't go there and explain myself. I can't say, 'You know, I can play pick-n-roll, I can read the game. -via
EuroHoops.net
/ October 5, 2022
I don't expect anything too cheap or anything crazy high on the contract.
The main issue for me is not money, but rather the trust of the team in me.
Talking about OKC, they have my rights and I have the desire to go there, but maybe our opinions are conflicting. They want to develop their players and build a young team with all those great young guys they have. Maybe there is no space for me. Maybe the playoff candidates who want me can find a loophole and get me, but that's out of my hands. I can't go out there and say to them, 'Look, I'm a good player, take me". It's up to them". -via
EuroHoops.net
/ October 5, 2022
To leave a comment, you will need to
Sign in or create an account
if you already have an account. Typed comments will be lost if you are not signed in.