Michael Scotto: Many NBA executives I've spoken to around the league are closely monitoring the Bulls since they've underwhelmed so far and Lonzo Ball's health is a major question mark.
There's a lot of interest in DeMar DeRozan across the league. Nikola
Vucevic is a name I believe that'll pop up in trade rumors. His value since coming to Chicago has gone down comparatively to when Chicago made that blockbuster trade to get him. Some teams will have interest in Zach LaVine as well.
Source:
HoopsHype
What's the buzz on Twitter?
Rob Schaefer
@
rob_schaef
Of 42 three-man lineups that have logged at least 399 minutes together this season, only seven have a worse net rating than Zach LaVine, DeMar DeRozan and Nikola Vucevic's -6.3.
Two of the seven are different Bulls combinations. Three are trios from the Hornets and Rockets.
pic.twitter.com/NVp2flGJ5q
–
1:31 PM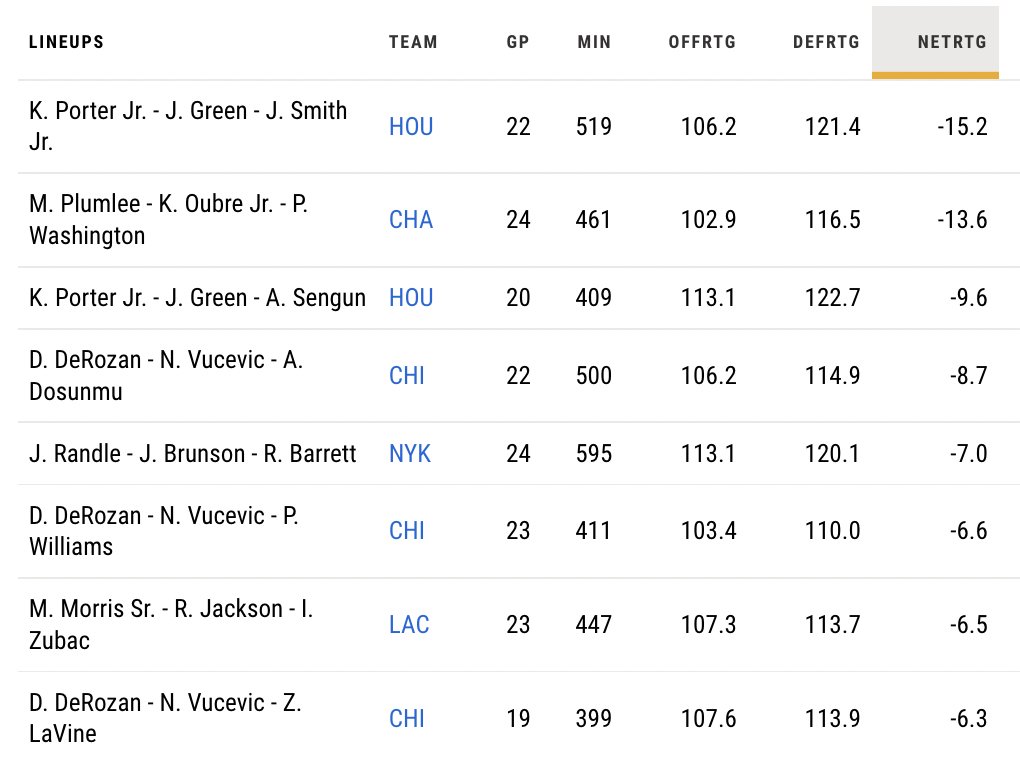 KC Johnson
@
KCJHoop
Asked DeMar DeRozan what gives him the belief the team will stay connected: "That's the beauty of sports. When you're down, how do you respond to it? A true competitor is going to pull through. All these guys show frustration, show anger. And that's a great sign." –
9:01 PM



KC Johnson
@
KCJHoop
Flagrant-one on DeMar DeRozan, who horsecollared Sabonis.
DeRozan went to check on Sabonis during the timeout. –
7:20 PM

Matt George
@
MattGeorgeSAC
DeMar DeRozan attempts to wrap Domantas Sabonis up and just pulls him to the ground. No attempt at the ball at all. Gotta be a flagrant.
DeRozan did hold Sabonis to keep him from falling hard and helped him up. Wasn't malicious. –
7:19 PM
Rob Schaefer
@
rob_schaef
Out of a timeout, De'Aaron Fox picked DeMar DeRozan's pocket and sprinted for a dunk at the other end
The Bulls' 11th turnover of the quarter –
6:58 PM