What's the buzz on Twitter?
Dalton Johnson
@
DaltonJ_Johnson
An ugly 132-118 loss for the Warriors against a Bulls team that didn't have DeMar DeRozan, had lost three straight and four of their last five –
6:01 PM
CJ Holmes
@
CjHolmes22
Traditional starters for the Warriors. No DeMar DeRozan for the Bulls.
pic.twitter.com/zUH1EBsUAg
–
3:16 PM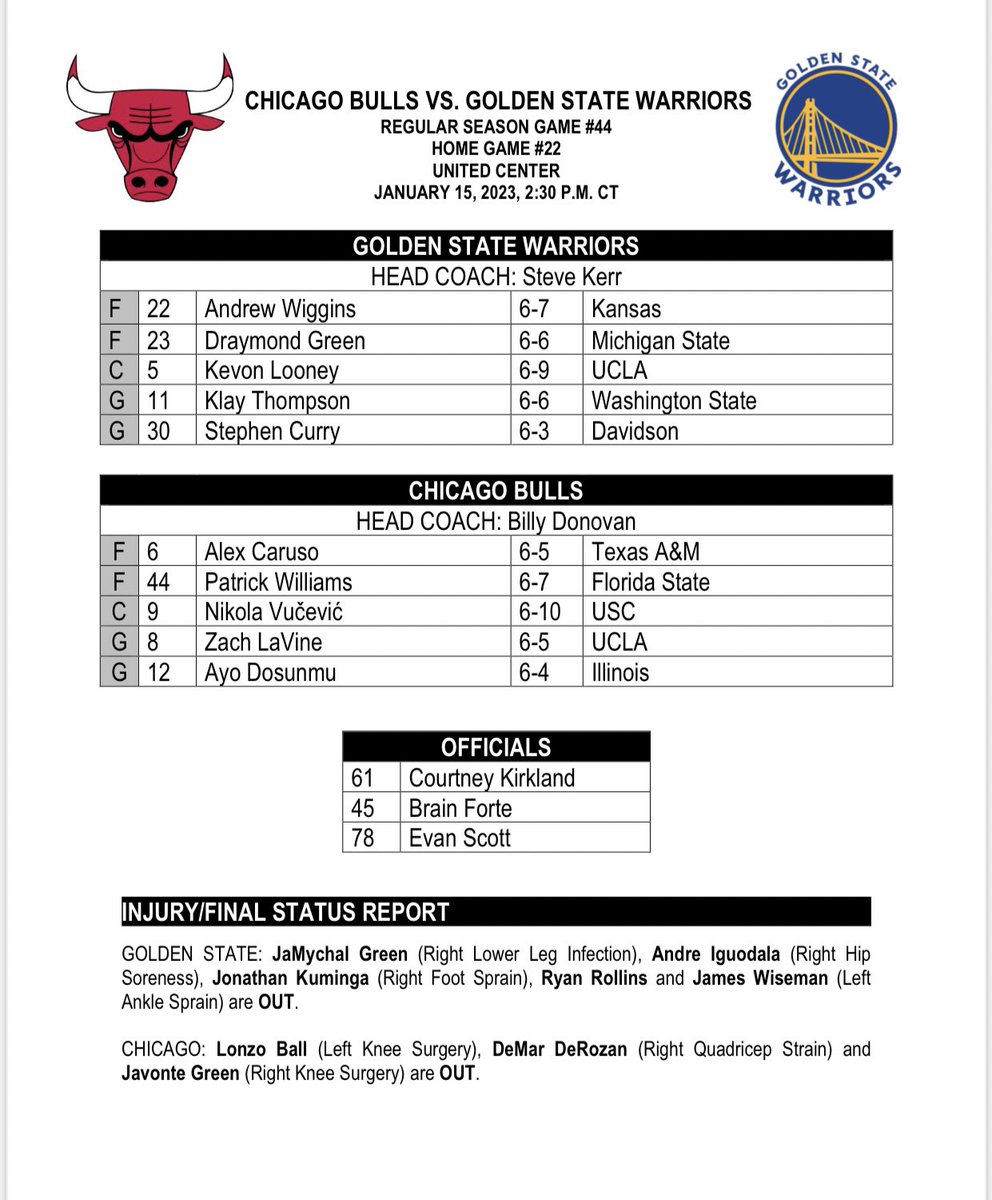 Julia Poe
@
byjuliapoe
DeMar DeRozan will not play today against the Warriors.
Billy Donovan said the Bulls are optimistic that he'll be ready to play in Paris. –
1:53 PM

Ben Anderson
@
BensHoops
Ochai Agbaji has been in the rotation for six games and he's already had to face DeMar DeRozan, Desmond Bane, Donovan Mitchell and James Harden.
That doesn't even count guys like Franz Wagner or Jalen Green whose careers are just starting.
Every night is a gauntlet. –
9:26 PM
KC Johnson
@
KCJHoop
Bulls upgrade DeMar DeRozan and Tony Bradley to questionable vs. Warriors. Zach LaVine remains probable with right hand contusion. –
3:34 PM
KC Johnson
@
KCJHoop
Thunder 124, Bulls 110
Outscored 33-20 in 4th, Bulls lose 3rd straight in an extremely poor defensive performance against team finishing B2B
Thunder led for final 32:26
Breaking: Bulls need DeMar DeRozan –
10:16 PM