What's the buzz on Twitter?
Josh Lewenberg
@
JLew1050
Pascal Siakam's advice for Christian Koloko re: his first G League assignment: "The people that go to the G League and pout never come back. You've gotta go out there and play, show that you belong and you're supposed to be (in the NBA)"
pic.twitter.com/VFZJdsIKRA
–
8:57 PM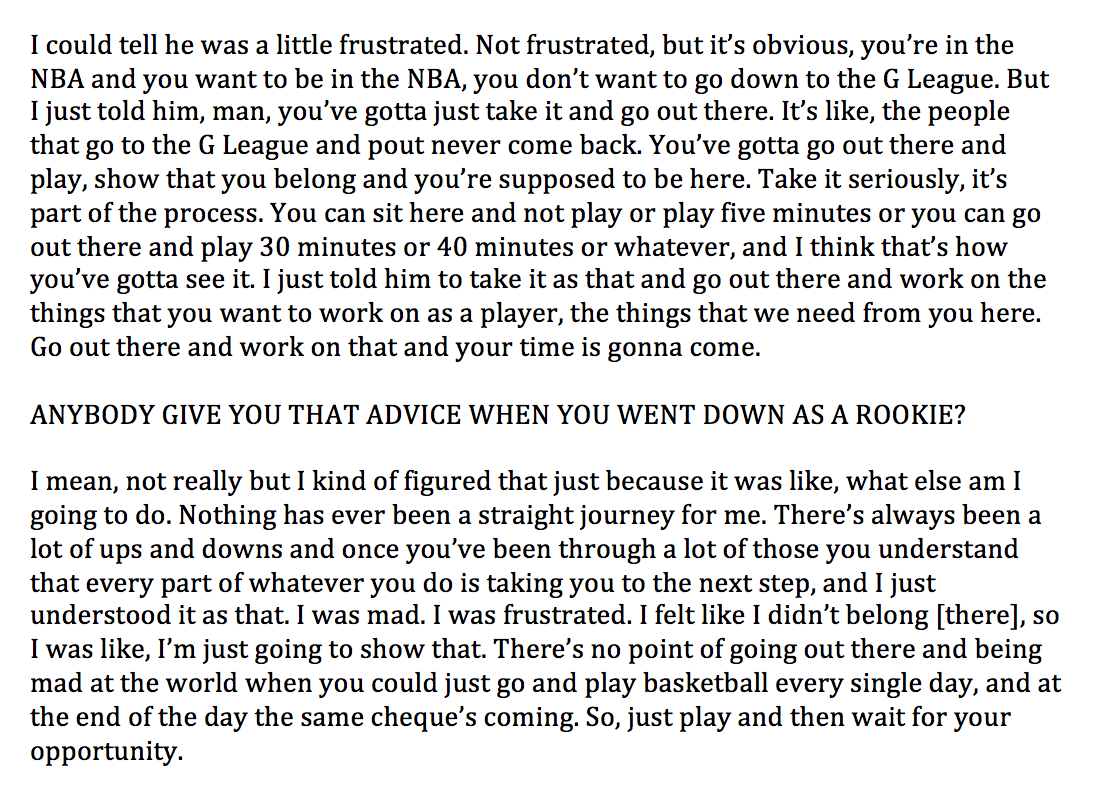 Josh Lewenberg
@
JLew1050
Pascal Siakam on how teams are defending him this season: "I think I've seen it all. It feels like I have 3 guys on me every time I drive or I make a move." –
8:29 PM

Keith Smith
@
KeithSmithNBA
Pascal Siakam made 1-of-2 free throws with 1:15 to play in the fourth quarter to make it 106-104 Boston.
No one scored again.
Celtics went 0-for-2 shooting with two turnovers.
Raptors went 0-for-2 shooting with one turnovers.
Two jumpballs in there too.
What a mess that was. –
7:48 PM
Josh Lewenberg
@
JLew1050
After starting 1-for-5, Pascal Siakam hit 5 straight shots to close the 1st half. He scored or assisted on 20 of the Raptors' 30 2nd-quarter points. He leads the team in scoring (12 points) and assists (5) at the break. Toronto by 7. –
6:05 PM

Keith Smith
@
KeithSmithNBA
Celtics starters tonight:
Robert Williams
Al Horford
Jaylen Brown
Derrick White
Marcus Smart
Raptors starters:
Precious Achiuwa
Pascal Siakam
OG Anunoby
Scottie Barnes
Gary Trent Jr. –
4:38 PM
Vivek Jacob
@
vivekmjacob
Top selling NBA jerseys in Canada for the 1st half of the '22-23 season:
1. Scottie Barnes
2. Pascal Siakam
3. Steph Curry
4. LeBron James
5. Fred VanVleet
6. Luka Doncic
7. Giannis Antetokounmpo
8. Kevin Durant
9. Jayson Tatum
10. Ja Morant –
12:14 PM

Dane Moore
@
DaneMooreNBA
Chris Finch on Anthony Edwards guarding Pascal Siakam down the stretch:
"A guy like Pascal, if you're allowing him to dribble and spin and have space to hit the little fadeaway then he's dangerous. But Ant closed all that down." –
11:35 PM

Brandon Rahbar
@
BrandonRahbar
There are only 6 players averaging 16 points, 8 rebounds and 5.5 assists this season:
Nikola Jokic
LeBron James
Luka Doncic
Domantas Sabonis
Pascal Siakam
Josh Giddey –
12:39 PM
Sharing NBA courts with his fellow Cameroonians, Koloko admits, it's special. "I am very happy to have reached this level so far, and I am also very happy to have to share it with Pascal and Joel.
So it's a great time, that is for sure. We all know that a lot of people back home, and around the continent, follow our steps constantly, and we are very proud to be representing Cameroon in the world basketball scene. It's a huge honor, and every time I step on the court or sit on the bench, I am always trying to make my fellow compatriots proud, and happy to see us in this great situation that we are in currently in. It's important to inspire the youth, and Pascal, Joel and myself are trying to do so the best possible way." -via
FIBA
/ January 17, 2023