What's the buzz on Twitter?
Michael Scotto
@
MikeAScotto
The Charlotte Hornets agreed to a 3-year, $15 million extension with center Nick Richards, which includes a team option on the third year of the deal, league sources told @hoopshype. Richards is averaging career-highs in points (7.9), rebounds (6.1) and blocks (1.1) in 18 minutes –
8:43 PM




James Plowright
@
British_Buzz
Nick Richards Extension Thread
This one caught me off-guard, especially with the ownership change in the works.
Richards has been playing has best basketball of the season since Mark Williams has been injured, just look at the split in numbers below
pic.twitter.com/Ky3yLGI0Lu
–
7:36 PM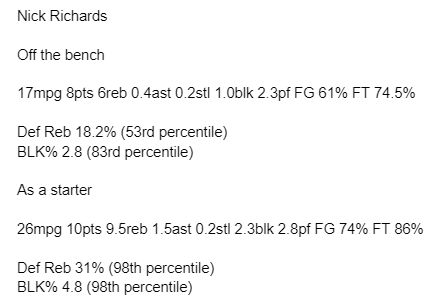 James Plowright
@
British_Buzz
Hornets hitting their 3rd wave here, they're back ahead after holding Indiana to just 39 points in the 2nd half with 3 minutes left in the 4th.
Nick Richards already has a career high 15 rebounds (And counting) –
9:22 PM