With the end of the regular season approaching, HoopsHype asked media members voting for the official NBA awards to share their ballots. Combined with those who have made their picks public, we got exactly 18.
One award and several spots on the All-Defensive and All-Rookie Teams were separated by the thinnest of margins. The results of the poll are listed below.
(Numbers in parentheses show the percentage of points relative to the maximum amount possible for each award).
MVP: Giannis Antetokounmpo

If you thought this vote was going to be close based on LeBron James' run before the league's stoppage, think twice. Per our poll, Giannis Antetokounmpo will be the near-consensus MVP after improving his scoring, rebounding and three-point percentage numbers from a season ago. By securing back-to-back MVP awards, Antetokounmpo will join Stephen Curry, LeBron James, Steve Nash, Tim Duncan, Michael Jordan, Magic Johnson, Larry Bird, Moses Malone, Kareem Abdul-Jabbar, Wilt Chamberlain and Bill Russell as the only NBA players to do so.
POLL RESULTS
1. Giannis Antetokounmpo (100 percent)
2. LeBron James (70 percent)
3. James Harden (42.2 percent)
4. Luka Doncic (20.6 percent)
5. Kawhi Leonard (12.2 percent)
6. Anthony Davis (7.8 percent)
7. Chris Paul (2.8 percent)
8. Damian Lillard (2.2 percent)
9. Nikola Jokic (1.7 percent)
10. Pascal Siakam (0.6 percent)
All-NBA Teams

A pair of teammates earned All-NBA 1st Team honors in our poll for carrying the Lakers to the best record in the Western Conference. It would mark the first time two teammates were All-NBA 1st Team selections since Steve Nash and Amare Stoudemire for the 2006-07 season.
Luka Doncic, Jayson Tatum and Pascal Siakam will earn their first of many All-NBA selections to come.
Despite failing to earn an All-Star spot after averaging 30.5 points per game this season, Bradley Beal was voted as an All-NBA player for the final spot in this poll. That was a close one, though, with Russell Westbrook and Ben Simmons getting similar support.
POLL RESULTS
1st Team
Luka Doncic (82.2 percent)
James Harden (97.8 percent)
Giannis Antetokounmpo (100 percent)
LeBron James (100 percent)
Anthony Davis (95.6 percent)
2nd Team
Chris Paul (51.1 percent)
Damian Lillard (56.7 percent)
Jayson Tatum (32.2 percent)
Kawhi Leonard (74.4 percent)
Nikola Jokic (55.5 percent)
3rd Team
Bradley Beal (8.9 percent)
Jimmy Butler (24.4 percent)
Khris Middleton (21.1 percent)
Pascal Siakam (28.9 percent)
Rudy Gobert (23.3 percent)
Defensive Player of the Year: Giannis Antetokounmpo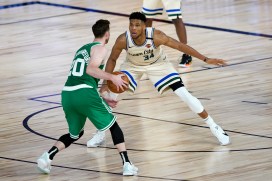 Similarly to the MVP category, Giannis Antetokounmpo won the Defensive Player of the Year vote in a landslide over Rudy Gobert.
Antetokounmpo has a chance to join Michael Jordan (1987-88 season) and Hakeem Olajuwon (1993-94 season) as the only player to win the MVP and Defensive Player of the Year award in the same season.
POLL RESULTS
1. Giannis Antetokounmpo (88.9 percent)
2. Rudy Gobert (47.8 percent)
3. Anthony Davis (23.3 percent)
4. Ben Simmons (8.9 percent)
5. Andre Drummond (5.5 percent)
6. Hassan Whiteside  (3.3 percent)
7. Brook Lopez (1.1 percent)
7. Marcus Smart (1.1 percent)
All-Defensive Teams

Based on our poll, Ben Simmons, Bam Adebayo, Kris Dunn, and 32-year-old Brook Lopez will earn their first All-Defensive Team honors.
Dunn couldn't have picked a better time to take his defense to another level ranking second in steals per game (2.0) as he is a restricted free agent this summer.
Among those who narrowly missed the cut, according to our poll, are PJ Tucker, Jrue Holiday and Patrick Beverley.
POLL RESULTS
1st Team
Ben Simmons (100 percent)
Marcus Smart (72.2 percent)
Giannis Antetokounmpo (100 percent)
Anthony Davis (86.1 percent)
Rudy Gobert (94.4 percent)
2nd Team
Kris Dunn (30.5 percent)
Eric Bledsoe (22.2 percent)
Kawhi Leonard (63.9 percent)
Bam Adebayo (25 percent)
Brook Lopez (41.7 percent)
Rookie of the Year: Ja Morant

Ja Morant has been the valedictorian of his class this season leading all rookies in assists per game (7.0) and ranking second in points (17.7) and third in minutes (30.4). After failing to qualify for the playoff the past two seasons, Morant has been the catalyst for the Grizzlies who are clinging to the eighth seed in the West. Morant is joined by his teammate, Brandon Clarke, who leads all rookies in rebounds (5.8) and ranks second in blocks (0.8).
After spending nearly all of last season with the Santa Cruz Warriors, Kendrick Nunn signed a three-year deal with the Miami Heat in April. Then, the 24-year-old rookie earned a full-time starting spot with the Heat.
Zion Williamson finished third in the poll largely because of all those games he missed.
POLL RESULTS
1. Ja Morant (100 percent)
2. Kendrick Nunn (36.7 percent)
3. Zion Williamson (28.9 percent)
4. Brandon Clarke (13.3 percent)
5. Terence Davis (1.1 percent)
All-Rookie Teams

Ja Morant and Zion Williamson are unofficially on the same team again for the first time since their AAU playing days with the South Carolina Hornets.
The final spot on the 1st Team came down to undrafted rookie Terence Davis and Tyler Herro.
The final spot on the 2nd Team came down to Rui Hachimura, who barely edged Matisse Thybulle. It's worth noting third overall pick RJ Barrett did not make the cut, according to the voters polled.
POLL RESULTS
1st Team
Ja Morant (100 percent)
Kendrick Nunn (100 percent)
Terence Davis (63.9)
Zion Williamson (100 percent)
Brandon Clarke (97.2 percent)
2nd Team
Tyler Herro (52.8 percent)
Coby White (38.9 percent)
PJ Washington (41.7 percent)
Rui Hachimura (33.3 percent)
Eric Paschall (50 percent)
Sixth Man of the Year: Dennis Schroder
This was the closest decision among the voters who revealed their ballots to HoopsHype. Dennis Schroder and Montrezl Harrell were separated by only one point.
While he didn't come away with the hardware in this poll, Detroit Pistons forward Christian Wood is set to strike it big this offseason as an unrestricted free agent. Currently, Wood ranks No. 24 overall in our rankings.
POLL RESULTS
1. Dennis Schroder (75.6 percent)
2. Montrezl Harrell (74.4 percent)
3. Lou Williams (13.3 percent)
4. Christian Wood (10 percent)
5. George Hill (3.3 percent)
6. Mikal Bridges (1.1 percent)
6. Goran Dragic (1.1 percent)
6. Derrick Rose (1.1 percent)
Most Improved Player: Brandon Ingram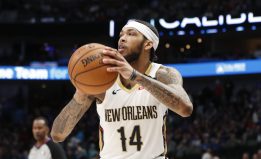 New Orleans Pelicans star Brandon Ingram ran away with this award in our voting poll after becoming a first-time All-Star and increasing his scoring average nearly six points (18.3 to 24.1).
We were surprised Devonte Graham wasn't higher on the list after becoming a starting guard for the Charlotte Hornets and increasing his scoring by nearly 14 points per game (4.7 to 18.2). Not bad for a guy who was out of the rotation for most of last season.
Fred VanVleet showed the ability to be a full-time floor general and came out from the shadow of Kyle Lowry this season. It'll be interesting to see if his former coach, Dwane Casey, makes a plea to Pistons management this summer to go after his former guard in free agency with Derrick Rose entering the final season of his contract.
POLL RESULTS
1. Brandon Ingram (67.8 percent)
2. Bam Adebayo (34.4 percent)
3. Luka Doncic (30 percent)
4. Jayson Tatum (17.8 percent)
5. Christian Wood (7.8 percent)
6. Trae Young (5.6 percent)
6. Fred VanVleet (5.6 percent)
6. Devonte Graham (5.6 percent)
9. Shai Gilgeous-Alexander (4.4 percent)
10. Spencer Dinwiddie (1.1 percent)
Coach of the Year: Nick Nurse

Another one we thought would be closer. It was not, with Nick Nurse as the runaway No. 1 choice.
Despite owning the league's best overall record, Bucks coach Mike Budenholzer came in a distant second in the polling. Thunder coach Billy Donovan, who is in the final year of his contract, guided a team that was projected to begin rebuilding with a lottery finish to the playoffs in the loaded Western Conference. Similarly, Memphis coach Taylor Jenkins embarked on a rebuilding project after taking over a Grizzlies team that failed to make the playoffs the prior two seasons.
POLL RESULTS
1. Nick Nurse (100 percent)
2. Mike Budenholzer (37.8 percent)
3. Billy Donovan (21.1 percent)
4. Taylor Jenkins (7.8 percent)
5. Erik Spoelstra (5.5 percent)
6. Brad Stevens (3.3 percent)
7. Frank Vogel (2.2 percent)
8. Doc Rivers (1.1 percent)
8. Nate McMillan (1.1 percent)