The 2020 NBA Draft was pushed back until October 16, which gives front offices and analysts far more time to evaluate this class of prospects.
When looking at the most recent mock drafts, the top three players (Anthony Edwards, LaMelo Ball, James Wiseman) have remained consistent since December 2019. However, other players once considered Top 10 picks (Cole Anthony, RJ Hampton and Tyrese Maxey) no longer have such billing.
Another interesting tidbit: Momentum has moved upward for Florida State teammates Devin Vassell and Patrick Williams, who are both considered lottery talent right now.
We have provided brief scouting reports for the players who are currently considered as the favorites to be selected with the first fourteen picks in the 2020 NBA Draft. We also included a range for the remaining players who were outside of the lottery.
For our aggregate mock draft, we have used the rankings of CBS Sports,  USA TODAY, Sports Illustrated, NBADraft.net, Rookie Wire, Bleacher Report, Yahoo! Sports, The Ringer, Stadium, The Athletic and ESPN.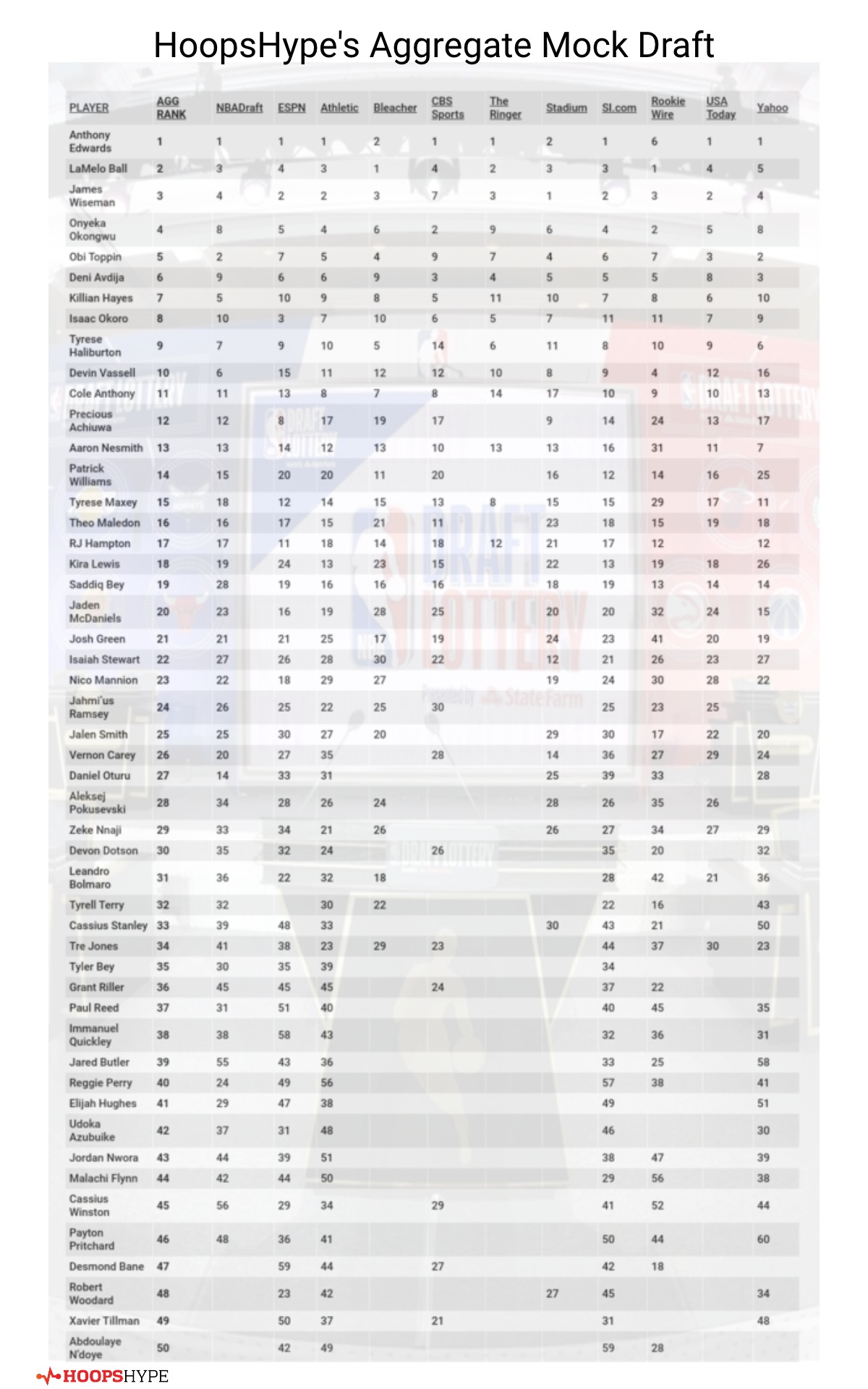 HoopsHype's Alberto de Roa contributed research to this report.
1
Anthony Edwards, Georgia
RANGE
1-6
ANALYSIS
This draft may not have an obvious Zion Williamson as the "can't miss" choice at No. 1 overall. But dating back to at least July of last year, Georgia's Anthony Edwards has managed to lead the pack. Even if his campaign did not match expectations, he fits a similar mold of NBA stars like Victor Oladipo and Donovan Mitchell. He gets to the basket to finish with ease and with a more polished jumper, Edwards also brags the coveted 3-and-D potential.
2
LaMelo Ball, Illawarra Hawks (Australia)
RANGE
1-5
ANALYSIS
LaMelo Ball is the prospect in this class who has the most fanfare and hype surrounding him. Around this time last year, Ball debuted on our aggregate mock draft exercise near the end of the lottery. Since then, however, he has leapfrogged his way as a consensus projection with one of the first few picks in the draft. Given his size and playmaking, there is enough to like about him to convince any general manager that he will be worth serious consideration.
3
James Wiseman, USA
RANGE
1-7
ANALYSIS
While he did not get to have the college career that many hopes after he was the top recruit coming out of high school, there are still scouts and executives around the league that have James Wiseman in the No. 1 overall spot. Even though his style of play is not exactly the way the game has been trending in recent years, his massive frame alone will make him one of the most alluring options for teams that need a big man.
4
Onyeka Okongwu, USC
RANGE
2-8
ANALYSIS
Even though Wiseman may have had more hype heading into the season, USC's Onyeka Okongwu arguably proved himself as not only the best freshman but likely also the best big in college basketball. While he is a bit undersized to be a massive presence, he was a phenomenal rim protector and interior finisher. The productivity he showed on the court makes him easy to project as a rotational piece on a playoff team.
5
Obi Toppin, Dayton
RANGE
2-9
ANALYSIS
The best player during the shortened college basketball season was Dayton's Obi Toppin. He was the nation's most prolific dunker and is someone who would pair well with any pick-and-roll ball handler. Even though his defense needs work, his show-stopping offensive flashes make Toppin one of the more exciting options in this class. He is older than his fellow lottery projections but already seems ready to contribute as a scorer.
6
Deni Avdija, Maccabi Tel Aviv (Israel)
RANGE
3-9
ANALYSIS
Even though he is one of the most coveted international prospects in this class, Israel's Deni Avdija is also one of the toughest players to project thus far as he's not getting extended playing time with Maccabi Tel Aviv. He has been one of the more impressive players when he did play. The forward brags some above-average playmaking skills for his size, which makes him a more dynamic option than others at his position. He needs to shoot the ball more consistently but can be an interesting developmental piece.
7
Killian Hayes, Ratiopharm Ulm (Germany)
RANGE
5-11
ANALYSIS
Among all the international prospects, Killian Hayes projects as the player who has the most upside. Hayes is a very talented combo guard who can be productive with or without the ball in his hands. He has proven himself as a strong finisher both in transition when he is put in the open court or one-on-one as a scorer on his isolation possessions.
8
Isaac Okoro, Auburn
RANGE
3-11
ANALYSIS
Auburn freshman Isaac Okoro is an intriguing prospect because of his ability to score near the basket. Though he is just 6-foot-6, he connected on nearly 70 percent of these looks during his sole collegiate campaign. But the biggest concern for Okoro thus far has been his ability to finish beyond five feet of the rim. If he is able to find more opportunities from his jumper, he is someone who can end up as one of the best players in this class. Until then, it will be hard for him to justify a role in the first unit.
9
Tyrese Haliburton, Iowa State
RANGE
6-14
ANALYSIS
Iowa State sophomore Tyrese Haliburton is one of the most NBA-ready prospects. What he lacks in potential star-power, he compensates for with polished professional skills like court vision and shooting. Unlike other point guards, he does not need to ball in his hands to make a difference. He has one of the best assist-to-turnover ratios at his position and also has one of the longest wingspans among point guards in this class. With his length and shooting, he will find his way into an NBA rotation sooner rather than later.
10
Devin Vassell, Florida State
RANGE
4-16
ANALYSIS
Florida State was simply a far better basketball team when Devin Vassell was on the court. He played a pivotal role in their defensive identity and also had a much higher offensive rating during the minutes that he played. He was one of the most improved players in college basketball year-over-year and he will earn consideration from nearly every team in the league due to his plug-and-play style. Even without one noticeably elite skill, Vassell is easily the type of player who can help nearly every franchise.
11
Cole Anthony, North Carolina
RANGE
7-17
ANALYSIS
No one had a bigger fall than UNC's Cole Anthony when looking at the first aggregate mock draft projections (No. 2 overall) last year until now. Anthony struggled to help the Tar Heels win keys games, though his supporting cast was far weaker than most teams North Carolina has had in the past. But it is also worth mentioning that the guard was plagued with injuries for much of the year. His poor shot selection was exposed as he took too many mid-range shots. So, too, was his inability to score from within five feet of the basket. However, with last year now in the rearview mirror, he can turn a new page and find his way back to the prospect some projected to be the top pick in the draft.
12
Precious Achiuwa, Memphis
RANGE
8-24
ANALYSIS
Considering they did not have Wiseman, the Memphis Tigers did not look like the team that many expected before the season. However, the player who benefited the most from this was arguably Precious Achiuwa. He ended up as the main option in their offense and also played up one position in their frontcourt. Originally expected to play power forward next to Wiseman, the 6-foot-9 prospect showed he can be a viable option as a small-ball five in the NBA.
13
Aaron Nesmith, Vanderbilt
RANGE
7-31
ANALYSIS
It will be hard to find someone who shot the ball better than Vanderbilt's Aaron Nesmith did last season. The wing made more than half of his three-point attempts, shooting well on dribble handoffs as well as spot-up opportunities and when coming off screens. That alone will give him consideration from teams in the lottery. But with a smaller sample size due to injury as well as game film lacking much else beyond shooting beyond the arc, it is harder to find a fair range for Nesmith.
14
Patrick Williams, Florida State
RANGE
11-25
ANALYSIS
Florida State freshman Patrick Williams has been climbing in the aggregate mock draft rankings. He ranked No. 35 overall as recently as January and jumped up to No. 20 overall back in April. Now, the 18-year-old projects as a lottery pick when surveying consensus. Williams, who won ACC's Sixth Man of the Year, is a versatile scorer who has been an effective shooter both off the catch and the dribble. But standing at 6-foot-8, the most exciting part of his game is that he has also been efficient as the ball handler in pick-and-roll sets. With an NBA system behind him, Williams is someone teams view as the player with the most upside.
15
Tyrese Maxey, Kentucky
16
Theo Maledon, ASVEL (France)
17
RJ Hampton, New Zealand Breakers
18
Kira Lewis Jr., Alabama
20
Jaden McDaniels, Washington
22
Isaiah Stewart, Washington
24
Jahmi'us Ramsey, Texas Tech
26
Vernon Carey Jr., Duke
27
Daniel Oturu, Minnesota
28
Aleksej Pokusevski, Olympiacos (Greece)
31
Leandro Bolmaro, FC Barcelona (Spain)
32
Tyrell Terry, Stanford
36
Grant Riller, Charleston
38
Immanuel Quickley, Kentucky
40
Reggie Perry, Mississippi State
41
Elijah Hughes, Syracuse
42
Udoka Azubuike, Kansas
43
Jordan Nwora, Louisville
44
Malachi Flynn, San Diego State
45
Cassius Winston, Michigan State
46
Payton Pritchard, Oregon
48
Robert Woodard, Mississippi State
49
Xavier Tillman, Michigan State
50
Abdoulaye N'Doye, Cholet Basket (France)
52
Jay Scrubb, John A. Logan
54
CJ Elleby, Washington State
55
Ashton Hagans, Kentucky
56
Markus Howard, Marquette
58
Nick Richards, Kentucky
59
Killian Tillie, Gonzaga
62
Corey Kispert, Gonzaga
64
Omer Yurtseven, Georgetown
65
Paul Eboua, Victoria Libertas Pesaro (Italia)
67
Trevelin Queen, New Mexico State
68
Steven Enoch, Louisville
69
Kenyon Martin Jr., IMG Academy (High School)
70
Kaleb Wesson, Ohio State
72
Lamar Stevens, Penn State
73
Ty-Shon Alexander, Creighton
75
Josh Hall, Moravian Prep
76
Mamadi Diakite, Virginia
77
Kristian Doolittle, Oklahoma
78
Nathan Knight, William & Mary
80
Sam Merrill, Utah State
83
Marko Simonovic, Mega (Serbia)
84
Yam Madar, Yam Madar, Hapoel Tel Aviv (Israel)
Basketball, Draft, DunkWire, Mock Draft, NBA, Aaron Nesmith, Abdoulaye N'Doye, Aleksej Pokusevski, Anthony Edwards, Ashton Hagans, Austin Wiley, Cassius Stanley, Cassius Winston, Chris Smith, CJ Elleby, Cole Anthony, Corey Kispert, Daniel Oturu, Deni Avdija, Derrick Alston, Desmond Bane, Devin Vassell, Devon Dotson, Elijah Hughes, Grant Riller, Immanuel Quickley, Isaac Okoro, Isaiah Stewart, Jaden McDaniels, Jahmi'us Ramsey, Jalen Harris, Jalen Smith, James Wiseman, Jared Butler, Jay Scrubb, John Petty, Jordan Nwora, Josh Green, Josh Hall, Kaleb Wesson, Kenyon Martin Jr., Killian Hayes, Killian Tillie, Kira Lewis, Kristian Doolittle, Lamar Stevens, LaMelo Ball, Lamine Diane, Leandro Bolmaro, Malachi Flynn, Malik Fitts, Mamadi Diakite, Marko Simonovic, Markus Howard, Mason Jones, Naji Marshall, Nate Hinton, Nathan Knight, Nick Richards, Nico Mannion, Obi Toppin, Omer Yurtseven, Onyeka Okongwu, Patrick Williams, Paul Eboua, Paul Reed, Payton Pritchard, Precious Achiuwa, Reggie Perry, RJ Hampton, Robert Woodard, Saddiq Bey, Sam Merrill, Skylar Mays, Steven Enoch, Theo Maledon, Tre Jones, Trevelin Queen, Ty-Shon Alexander, Tyler Bey, Tyrell Terry, Tyrese Haliburton, Tyrese Maxey, Udoka Azubuike, Vernon Carey, Xavier Tillman, Yam Madar, Yoeli Childs, Yves Pons, Zeke Nnaji
To leave a comment, you will need to
Sign in or create an account
if you already have an account. Typed comments will be lost if you are not signed in.