As part of an ongoing series at HoopsHype, we're breaking down three interesting topics we have seen around the NBA throughout the season.
Of course, the name of this column is derived from basketball's three-second violation rule. With that in mind, the goal of this exercise is to observe three subjects about the game. We want to explain the key to why it is happening while also providing context on what makes it interesting.
Here are three more of our highlights from the NBA's 2021-22 season:
Cole Anthony
Orlando Magic guard Cole Anthony is not currently considered likely to win the NBA's Most Improved Player. The consensus favorites are Charlotte's Miles Bridges, Memphis' Ja Morant and San Antonio's Dejounte Murray.
However, based on what we have seen from Anthony thus far, it might be time we take him seriously as a candidate. Anthony has increased his scoring average from 12.9 points and 4.1 assists to 20.2 points and 6.0 assists per game.
He has been the go-to option for the Magic near the end of games and among those who have logged at least 100 minutes in the fourth quarter, only four players (DeMar DeRozan, Kevin Durant, Zach LaVine, Giannis Antetokounmpo) are scoring more per minute.
Anthony's effective field goal percentage during clutch (66.1 percent) minutes is significantly higher than it is during normal (49.3 percent) minutes, per Inpredictable. It is a massive indication of the increased confidence that he is playing with during his second professional campaign, as he explained (via NBA.com)
"It's one thing to watch the game. It's one thing to play the game. "I've been watching a bunch of film and watching obviously the team play a lot and just kind of dissecting the game. But once you go out there and play, it's a little bit (of a) different story. It took me a second to kind of get that going. But once I got that going, it felt good man. Back to normal Cole, normal Cole stuff."
Almost all of the advanced analytics suggest that Anthony is the most improved player in the league. His year-over-year improvement on Basketball-Reference's Box Plus-Minus is third-best in the NBA, per Tom Bassine.
His DPM Season Delta (which tracks strides in daily plus-minus) ranks fourth-most in the league and ahead of all non-rookies except Darius Garland. His DRIP Delta (which measures improvement in Daily Rating of Individual Performance) ranks as the NBA's second-most, behind only Evan Mobley and ahead of all non-rookies.
The statistical assessments of his leap are nearly unanimous. Last season, his estimated plus-minus (-3.5) ranked in the 26th percentile among all point guards. This season, his EPM (2.9) puts him in the 94th percentile compared to all players at his position.
Anthony is scoring 6.6 points per game as the ball handler in pick and roll sets, per Synergy, which ranks ninth-best in the East. That puts him ahead of elite on-ball scorers including the likes of Bradley Beal and James Harden.
He is averaging 1.07 points per possession on jumpers off the dribble, too, which currently ranks in the 84th percentile among all NBA players.
how many moves look as smooth as Cole Anthony going into his bag to ignore a screen and step into a jumper?

Cole Anthony's 38% Pull-Up 3P% ranks 3rd in the NBA among players taking 3+ per game.

here's *every* Pull-Up three drilled by Ice Cole this year pic.twitter.com/8AxwZCLozf

— Beyond the RK (@beyondtheRK) December 3, 2021
Anthony, who has also dramatically increased his efficiency as a scorer and playmaker in transition, has been integral to one of the best five-man lineups in the NBA.
As the Magic continue their rebuild, their fans will have lots of reason to get excited about Anthony's development.
Grant Williams
Boston Celtics big Grant Williams and Philadelphia 76ers guard Seth Curry are the only players in the 50-40-90 club from the field, three-point line and free-throw line so far this season.
While it's not surprising to see someone named Curry shooting so well, it's more surprising to see Williams on the list. Williams is averaging 1.37 points per possession when shooting off the catch, per Synergy, which ranks in the 95th percentile. Among those who have as many attempts, only four players are shooting better on catch-and-shoot jumpers.
But what's most exciting is how much his three-point shooting is opening up the rest of his offensive game. Now that defenders have to guard him on the perimeter, he can use sweet pump fakes to fool his defender before driving to the basket for nifty floaters like this one against the Portland Trail Blazers on Dec. 4:
This is the next phase for Grant Williams. He's now unafraid to attack closeouts, using a floater or going right to the rim. That's a massive tool to pair with his three-point shooting. It's amazing how much he has added to his offensive game this season. pic.twitter.com/2EzKbgc5sC

— Ethan Fuller (@ethman43) December 5, 2021
Williams has improved as a shooter, indeed, but he is also 9-for-12 (75.0 percent) when cutting to the basket. Overall, he is shooting comically well near the basket, connecting on 22-for-26 (84.6 percent) of looks at the rim. That is the best mark among anyone in the league who has as many attempts in that zone.
He is doing nearly all of his damage from the restricted area or from the corners on the perimeter and his shot selection profile has been solid all season long.
On the other end of the floor, he is also an intriguing player on defense. Statistically speaking, based on a metric created by BBall-Index.com, Williams is actually one of the most versatile defenders in the league. While he is a frontcourt player, he is defending guards for more than one-third of his defensive possessions.
During the three games that the Celtics have played against the Toronto Raptors, Williams has defended the 6-foot-1 guard Fred VanVleet (who is in the midst of an All-Star campaign) for nearly 20 defensive possessions. When Boston faced Toronto on Nov. 28, during the two minutes that Williams was matched up on VanVleet, the Raptors star had two attempts from the field – both were three-pointers off the dribble on high pick and rolls – and he missed them both.
However, Boston is also using him on defense against talented bigs like Evan Mobley, Christian Wood and Julius Randle.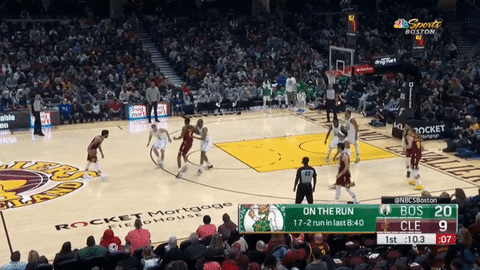 Williams defended Mobley, the lengthy 6-foot-11 Cleveland Cavaliers big man and Rookie of the Year hopeful, for approximately 30 defensive possessions over the course of two games. He got his hand in his face to contest a three-pointer and he also gave him fits while defending him in the pick and roll.
He is a versatile, low-usage floor spacer in the frontcourt and that makes him essential to the Celtics.
JaVale McGee
Casual fans may know him from Shaqtin' A Fool lowlights. But folks who follow the game closely knew the rich were getting richer when the Phoenix Suns signed JaVale McGee during the offseason.
The 33-year-old big man, who stands at 7-foot with a 7-foot-6 wingspan, has had an excellent season with the Suns.
Opponents are shooting a putrid 43-for-91 (47.2 percent) at the rim when defended by McGee. Among those who have defended more attempts from that zone thus far, only Rudy Gobert and Giannis Antetokounmpo (who are the winners of each of the past four Defensive Player of the Year awards) have allowed a lower field-goal percentage near the basket.
Awesome stretch in the second half by JaVale McGee defending the rim pic.twitter.com/oCIVLN6E5F

— Kellan Olson (@KellanOlson) November 28, 2021
Before the season, Phoenix teammate Chris Paul provided context on why McGee's leadership made him such an important signing for the Suns (via AZ Central):
"His maturity, his talking on defense, his communicating with guys. He's seen it all. The man has got three championships. He knows what it means to be a starter in this league. He knows what it means to come off the bench, but more than anything, he knows what it feels like. He knows what real teamwork and all that stuff is."
You can see the way that has come into play for the Suns, who did not lose a single game in November.
During the minutes McGee has played alongside Mikal Bridges, who has a case for DPOY this season, Phoenix's defense is elite. The defensive rating when those two players are on the floor (90.7) ranks as the third-best among two-man lineups with as many minutes logged. Their net rating (23.0) is also the third-best among similar volume duos.
Meanwhile, another reason why his defense has been so impressive is that he has done a great job as a rebounder. Per 100 possessions, he is averaging 14.3 defensive rebounds, which currently ranks as the eighth-best (minimum: 250 minutes) so far this season.
#Suns 80-78 #ValleyProud Cam Payne crazy lay up and Javale McGee put back pic.twitter.com/1uVvWYTTIP

— Arizona Sports Fan (@SportsAzFan) December 1, 2021
But he is also adding 7.1 offensive rebounds, and with those same qualifications, only three players are averaging more. McGee's value on the offensive glass has been especially important to the Suns. Phoenix has an offensive rebound percentage of 30.5 percent when McGee is on the floor and just 17.6 percent during the minutes that he is off.
That translates into scoring, per PBP Stats, as the Suns are averaging 13.8 second-chance points per 100 possessions with McGee on the floor and 8.4 points per 100 when he is not. McGee has scored 52 points on offensive rebound putbacks, via Synergy, and that puts him sixth-best in the West.
Phoenix, however, has also had tremendous success when they have included McGee in their offense.
When rolling to the basket after screens, McGee is averaging 1.52 points per possession. That ranks in the 96th percentile and among those with more than 20 opportunities, only Atlanta's John Collins has been more efficient.
McGee is a tremendous backup to Deandre Ayton and he can fill in with starter minutes as needed.